As new healthcare technologies are developed, the fields of medicine and law become increasingly intertwined and complex, requiring people to change the way they traditionally view bioethics. Policy makers are greatly involved in forming rules and regulations to add structure to the new medical technologies being used.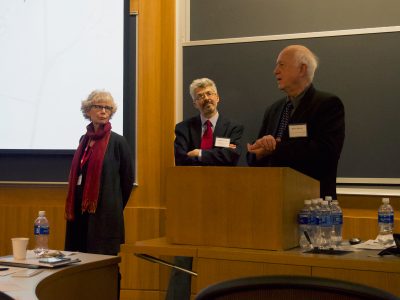 The Boston University School of Law hosted its annual American Journal of Law and Medicine Symposium on Friday. This year's event, titled "Emerging Issues in Bioethics," featured experts in law and healthcare from across the country who discussed a range of topics relevant to today's advancements in medicine, such as gene editing and artificial intelligence.
Sandra Soo-Jin Lee, keynote speaker and chief of the division of ethics at Columbia University, said after the event that it is essential to discuss a wide breadth of practices because the field of bioethics is dynamic and constantly expanding.
"I am finding that social scientists have an increasingly important role in conducting conceptual and empirical research that can significantly contribute [policy development]," Lee said. "For example, it is important to understand the public understanding and perspectives on using the latest genetic technologies to alter the human genome."
Lee said she believes a large part of the field of bioethics is how patients might respond to or feel about the new technological practices. She studies this aspect of the field through her research, where she said she interacts with people of multiple professions.
"My research focuses on the ethical questions that collecting highly personal health data and biological samples from the public and, in particular, minority populations raises," Lee said. "In this research, we engage multiple stakeholders, including genomic scientists, epidemiologists, policy makers, funders and communities historically underrepresented in biomedical research."
Laura Hoffman, researcher and assistant professor of law at Seton Hall University, offered a legal perspective on bioethics at the symposium, saying she believes the field will serve as an essential tool to conserve the values in medical practice that might otherwise be lost as more invasive technology continues to be used.
"Bioethics is going to become even more important as the crucial lens that allows us to keep our sights focused on ensuring that we move forward," Hoffman said, "but that we do so in a way that we don't lose what we view as important in medicine."
These inclusive and accessible discussions allow the public to be aware of the way they are affected by recent medical advancements, Lee said.
"As the most significant [investor] in science, the American public has an enormous stake in what scientific questions are pursued and how this knowledge is applied," Lee said. "Addressing ethical questions through public discourse is essential to understand how we, as a society, want to nurture science to create a better and more equitable world in which all human beings can flourish."
The symposium focused on more than just the effects certain practices may have on individual people, but also covered how these advances could broadly change the way healthcare systems operate in today's society.
"The role of bioethics will be increasingly important as medicine integrates emerging technologies into clinical practice," Lee said. "Bioethics also offers a critical opportunity to determine how advances in medicine and science will impact things like individual human health, but also public health and health disparities."
Hoffman's research focuses on telemedicine — the provision of health services over the internet — which she said is an example of how medical practices are changing and need to be regulated.
"We have to think about how technologies are implemented and regulated, so we do not lose sight of the importance of balancing access and quality," Hoffman said. "This is especially the case with healthcare delivery, like the area that I have been exploring in terms of the law's response to the use of technology to deliver healthcare."
Kiran Gomatam, a freshman in the College of Engineering, said she attended the seminar because of its relevance to her major in biomedical engineering. Gomatam said she learned a lot about the changing face of healthcare and the integration of technology and medicine that is replacing traditional treatment methods.
"I thought it was a really interesting event because a lot of what I'm studying is related to these new medical treatment methods," Gomatam said. "I now realize the importance of having such informative and collaborative discussions."