The largest Nazi-occuiped concentration camp during World War II, Auschwitz, was liberated 75 years ago this week, marking the end of the Holocaust, which saw six million Jewish victims.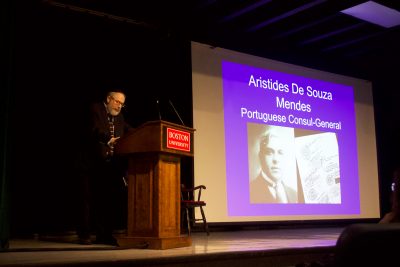 Auschwitz-Birkenau and the victims were honored at the Elie Wiesel Center for Jewish Studies' "Beyond Duty" event on Sunday, which featured heroic international diplomats who helped in ending Jewish oppression.
The exhibition featured 28 portraits of nine ambassadors who were awarded Israel's "Righteous Among the Nations" recognition, which acknowledges non-Jewish rescuers who saved Jewish lives in the Holocaust.
The event was tied to the International Holocaust Remembrance Day on Jan. 27, which seeks to better educate the general public and spread cultural awareness of genocidal history.
Nancy Harrowitz, an associate professor and director of the Holocaust, Genocide and Human Rights Studies minor in the College of Arts and Sciences, is an advocate for Holocaust survivors and their legacies. She said the event highlights the feats of honored diplomats and their drive to conquer ignorance by recognizing history.
"There are a whole lot of other diplomats who did similar things," Harrowitz said. "The exhibit really honors their memory and honors the idea of people who would go beyond what they were supposed to be doing as diplomats, and really try to rescue people out of humanitarian feelings and the desire to do the right thing.
The exhibition and subsequent panel discussion were organized by American Jewish Committee New England, an advocacy group that provides a platform for diplomats to address anti-Semitic sentiment and extremist ideology.
Fernanda Vieira De Sant'Anna, a fourth year PhD candidate in CAS, was one of about 50 attendees at the event. She said she believes the same themes of radicalism and totalitarianism in Nazi Germany are reappearing today.
"We are living in a world right now where conservative politics and fascism [are] spreading [their] wings again," De Sant'Anna said. "I think it's very important for us to keep reminding ourselves that it's happened and [should] never happen again."
During the event, Consul General of Italy Federica Sereni and Deputy Consul General of Israel Daniel Agranov emphasized the importance of preserving fundamental human rights and the moral conflicts diplomats faced in turbulent times.
Though most Holocaust survivors have passed away, speaker Lea Grossman, 75, was born during the Holocaust and continues to share her Holocaust experience.
Since moving to the United States in the mid-1950s, Grossman said she has been able to live with ease and equality as a Jewish immigrant. She said awareness campaigns help showcase the hardships of her family and other Jews in Europe.
"I feel that there are many, many Holocausts, then and today, of other races that [aren't] being paid much attention," Grossman said. "We have to talk about it and tell the stories over and over and over."
According to panelists at the exhibition, neighboring countries were reluctant to help Jewish refugees and most diplomats employed standard procedures, but some diplomats chose to defy their governments' policy.
Joao Pedro de Vasconcelos Fins do Lago, Boston's consul general through the Portuguese-American Leadership Council of the U.S., said he hopes not only to serve Portegeuse-Americans but all cultures and nationalities in order to encourage dialogue on difficult subjects like the Holocaust.
"Remembering the Holocaust is an obligation of everyone really, but maybe in a much more important way for the Western world," Fins do Lago said at the event. "We are still the ones who bear the first obligation of keeping that memory alive, so we protect the world from another disaster, such as the one we witnessed 75 years ago."
With banner posters of the diplomats' history and involvement in Holocaust relief arranged circularly in the Metcalf Ballroom, three Boston-based consuls general, including Fins do Lago, participated in a panel discussion in which they discussed the meaning of humanity and the dangers of remaining silent in the wake of tragedy.
Boston University and the Elie Wiesel Center have hosted an annual Holocaust Remembrance Day event for 12 years now, Harrowitz said. By visually representing the history of loss and trauma alongside acts of bravery and triumph, she said she hopes audiences can grasp the magnitude of the Holocaust.
"We have a lot of diplomats in Boston," Harrowitz said. "It's important for everybody to learn more about these events and understand what our past has been, what our history is and how hopefully we can prevent atrocities from happening in the future."