Renovations to update the seating area, kitchen and several food concepts of Union Court on the first floor of the George Sherman Union began in December of 2019. Renovations will be complete by the fall 2020 semester, according to Colleen McGinty, executive director of construction services.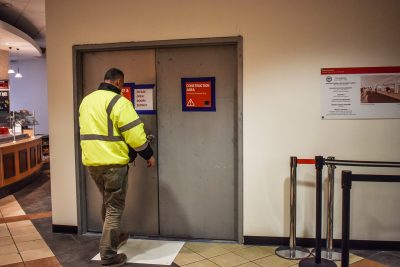 McGinty said construction services will have the entire renovation completed by Sept. 1, though they hope to be done earlier. She also said the project is taking place in phases to allow for student use of the space as renovations progress. 
"At the end of February, [Takin' It to the] Streets and Panda [Express] will open back up again. Rhett's will remain open, but to the right of Rhett's, there will be a couple of new stations that will open up," McGinty said. "Then, we will go into the food court where, for instance, Charles River Bread [Company] and Cranberry Farms are, and that will go under construction."
Paul Riel, associate vice president of BU Auxiliary Services, said Union Court's new design will be more open and allow for less backup among students in the building.
"The idea is to allow guests to come into the space and to be able to move more seamlessly through the building," Riel said, "but also make a decisive choice about where they want to eat in a more organized way, as well as a way in which students can step backwards and find something that is acceptable to their palette."
The GSU project is a part of a "master plan" of projects created by Auxiliary Services in which buildings are put on a schedule for renovation based on their age and the condition of the equipment inside. McGinty said a variety of specific projects will take place within Union Court.
"The existing kitchen is approximately 60 years old and has never been touched other than some spot renovations over the years," McGinty said. "So, the intention is to replace the flooring, the walls, the ceiling, some of the infrastructure that the plumbing and mechanicals that tie into."
The renovation of Starbucks will take place after commencement. McGinty said Starbucks will not only get a revamped exterior, but it will also expand into the space Pinkberry once occupied. 
"We have a requirement – kind of a contract – with Starbucks that requires us to do a refresh of that brand every five years, and that five years is up," McGinty said. "So it is not only in conjunction with the renovation work, but it's a part of our contractual obligation to Starbucks to refresh that."
In July, a sprinkler fire safety system will be installed in the food hall along with the phasing in of new furniture, lighting and flooring, which will continue throughout the summer, McGinty said. 
Riel said he is hopeful there will not be a decrease in the amount of seating, which has been an issue for students. He said that while he cannot guarantee the number of seats will increase, the appearance and functionality of the seating will. 
"There's going to be the elimination of booths, but there's added tables and added chairs where we can put shelves along windows," Riel said. "There'll be some stand-up table locations where people sort of stand and eat and go quickly. There will be some harvest tables, which are mostly longer tables with more chairs where you could get bigger groups."
In terms of color schemes, McGinty said locations such as Starbucks and Rhett's will keep their current appearance. However, she said the rest of the hall will be redesigned with tones of grey and beige with pops of color. 
Overall, McGinty said the renovation is an "answer to technology," and will bring the GSU food hall into the 21st century. 
To further modernize Union Court, the renovation will include the addition of online ordering through Grubhub, Riel said. 
"People's schedules are busy and there is a lot of pushing to get a lot of things done," Riel said. "The idea is to go ahead and place an order in advance using Grubhub. You can use your dining points or your convenience points to pay for it and then, just like any restaurant you can go to, you will find a mobile ordering station so you can just pick up your order and walk away." 
Neftali Reynoso, a freshman in the College of Arts and Sciences, considers the renovation to be unnecessary. 
"There's different things and there's different places that those funds could be allocated to, like scholarships or just the overall well-being of students," Reynoso said. "We are college students who need more help."
Soo Whan Park, a junior in CAS, said he's concerned that the construction will extend too long for him to enjoy the space. 
"I'm graduating in one year," Park said. "So, if the construction is longer than that, I'm probably not going to be able to use the new facility. But other than that, I'm pretty excited to have new features in the GSU. It's been a while since things got updated there."
Michelle Goltsman, a senior in the College of Communication, said the extent of the renovations is so large that she thinks they should have waited until the summer to begin. 
"I think it's definitely going to be disruptive as the semester goes on, especially if they don't finish on time because construction projects often don't finish when they say they're going to finish," Goltsman said. "I feel like this is something they maybe should have done over the summer."