Twenty young minds gathered at General Assembly Boston Tuesday night determined to learn on thing: what does it take to be your own boss?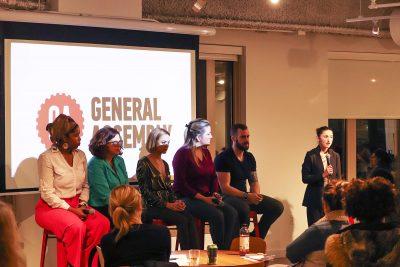 At the event, "How To Be A Side-Hustler: A Definitive Guide," five millennial side-hustlers revealed the sacrifices and rewards that come with running a side business as a full-time worker.
Kailee David, a sonographer at Massachusetts General Hospital and self-proclaimed "side-hustler," said in an interview she wanted to participate in the panel to help people understand that working for yourself doesn't have to be perceived negatively.
"I think getting the word out that even though it's stressful and people might have a negative reaction on why you've worked so much, it doesn't need to be that way," David said. "You can create your own dream and your own life and live the life of freedom."
Led by Emily Zaccardi, founder and CEO of online application Hollarhype, the discussion started with introductions before moving into topics of time management, sacrifices, navigating the money, validating one's ideas and how to deal with negative feedback and opened to a question and answer session.
Karen Pevenstein, founder and CEO of sea salt company Louis Sel, said the hard work and sacrifice necessary to work for yourself is worth it when backed by passion.
"The 'why' is if you find something you love, both a thing, a product or something that keeps your passion," Pevenstein said at the event, "then at that point, it becomes worth it."
Julian Sirkin, founder of pop-up restaurant Sirkin Supper Club, said it is okay to miss out on things for the sake of your company. But, he told the audience, it is important to be candid and upfront about it.
"Be willing to give people a good reason why," Sirkin said. "It helps significantly because it does give justification behind what you're doing and it no longer to the other person feels like some arbitrary thing."
Jackelyn Dacanay, founder and creative director of online platform THE ART OF FATE, also discussed the common challenge of time, saying she invites friends on "work dates" as a way to socialize while still being productive.
"You're still hanging out with someone and you're learning from each other and you can get feedback," Dacanay said. "They're working on something and you don't feel completely isolated."
Photographer Jen Marquez, who attended the event at a friend's recommendation, said she wants to begin a startup that empowers minority women. She said this event made her more excited to pursue that journey.
"It feels great to hear other people's stories especially when it parallels to yours," Marquez said, "because you're like okay I'm not the only one."
Marquez said the best advice she received from the panelists was to persevere.
"Listening to them just saying you're going to have some hard days and it's okay," Marquez said. "It's nice when you have someone snap you out of that [negativity]."
Mishell Ekunsirinde, founder and creative director of children's clothing store Stina & Mae, said she decided to spread her wisdom as a side-hustler through the panel because she loves encouraging the people in her life as well as strangers.
"I am the biggest cheerleader for anyone who wants to start something," Ekunsirinde said in an interview. "I love the hustle and I love sharing the hustle."
David said building relationships is key for college students in advancing their future endeavours and possibly becoming a side-hustler.
"Make connections," David said. "Come back to making connections with people and going to events that are for marketing… Those are big because they are going to offer you opportunities in the future."