After an offensive explosion last season, the Boston University men's lacrosse team must use its 19 freshmen to replace lost production.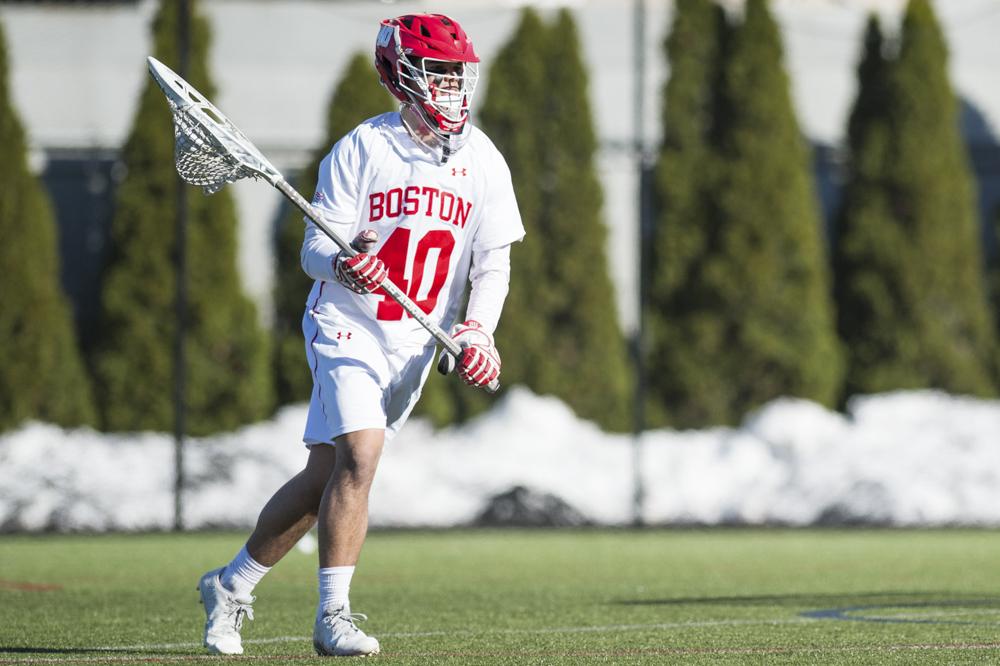 It will take a total team effort to put up as much offense as the Terriers did last year. They are losing 183 total points from the deadly 2019 duo of attacks James Burr and Chris Gray. Burr graduated and is currently a member of the Boston Cannons, while Gray transferred to the University of North Carolina.
BU head coach Ryan Polley said he believes in BU's offense this season, despite its much younger complexion.
"I think we'll just be more balanced this year," Polley said. "I think we have potential to be just as productive, but we'll just be different, where the majority of points were with [Burr and Gray] … we're hoping that some guys can certainly step up."
After three consecutive Patriot League Tournament semifinal appearances, the Terriers entering 2020 with a mix of youth and experience.
On Monday, the conference picked the Terriers to finish fourth in the league. Loyola University Maryland was selected to win the Patriot League followed by Army West Point and Lehigh University in second and third respectively.
Polley said winter break and the beginning of the semester went well for the Terriers.
"I thought it was a really good preseason. We came back seven or eight days early, it was a chance for us to get away from school and vacation," Polley said. "We just practiced the one day, but we spent a lot of time with each other.
One of the few seniors for BU this season is starting goalie Joe McSorley, who will look to build on a strong 2019 season. His .549 save percentage last season was good for 12th in the NCAA and also leads all returning goalies in the Patriot League.
McSorley is a huge piece to have for Polley, especially because of the lack of experience on the rest of the Terriers' roster.
Polley said the team often relies on McSorley.
"Any good defense typically has a good goalie … he's been super consistent in his two years," Polley said. "He's played great at times and has stolen a few games for us."
Much of the offense for BU is expected to come from two sophomores. Attack Timmy Ley was dominant as a freshman last year, racking up 34 goals and six assists. His 40 points tied the BU record for most points by a rookie. Midfielder Jake Cates added 15 goals and eight assists. 
One place where BU has experience is on the defensive end. Senior long-stick midfielders Reece Eddy and Chase Levesque are two of the most dominant players in the conference at their respective positions. 
Eddy and Levesque return as the top two players in league play at causing turnovers, combining for 65 last season. The duo will be vital to BU's success in 2020 as they can do a little bit of everything on the field. 
Eddy scooped up 71 ground balls in 2019 while Levesque had 65. Levesque will also be looking to build off his best offensive year in 2019 where he put up seven goals.
BU will kick off their season on Saturday at 1 p.m. against Providence College at Nickerson Field. The Terriers won a thriller last season at Providence in the season opener, 8-7.
A week later on Feb. 8, BU will take on Ohio State University in Boston. The Buckeyes were ranked 12th in the latest coaches' poll. The Terriers struggled defensively last season when they faced Ohio State in Columbus in a 17-10 loss.
The Terriers will also face a challenge early in the season with the weather. Cold weather can slow play at times, but it will be a test for a BU squad that has a lot of questions to answer.
Despite the uncertainty coming into this season, the culture put in place by Polley for the last eight years as head coach has brought the Terriers to a point where they can advance to the Patriot League finals.
Polley said the team needs to play at their best level all season long to make it to the advanced rounds of the conference tournament.
"We just have to play our best ball at the end of the season," Polley said. "One thing I'd like to see more is we need to be more consistent throughout the year."