By Alyssa Figueroa and Elyse Genrich
In the interest of helping Boston workers pay less on their monthly Massachusetts Bay Transportation Authority passes, the Boston City Council is considering a plan that would require employers to allow their employees to buy their passes with pre-tax dollars.
The proposal would allow workers to purchase CharlieCards with money from their gross payroll before income taxes are paid. Details on the rule's enforcement are still under deliberation.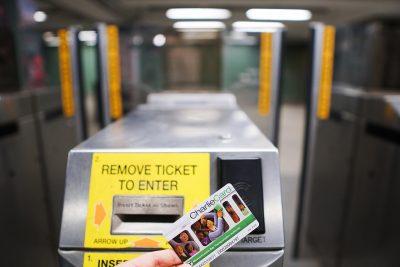 District 1 Councilor Lydia Edwards and Councilor At-Large Michelle Wu requested a hearing Wednesday on the ordinance to promote more use of public transport in the city.
At Wednesday's council meeting, Edwards said although details on the rule's enforcement are still under deliberation, the proposal "is something that's low-hanging fruit, that costs us nothing."
"But, it can benefit people on their taxes and encourage more people to take public transportation," Edwards said.
The initiative could possibly deliver results on encouraging more people to take public transit, according to Jarred Johnson, the chief operating officer and development director of Boston-based transportation advocacy group TransitMatters.
"The only thing that companies can do that encourages transit usership is not building parking or building a lot less of it," Johnson said. "Either paying for transit or at least making it easier and allowing employees to save at least a little bit of money in the form of a tax."
Johnson said he did not anticipate much pushback from employers in response to the mandate because he believes it will not be a significant cost for them.
"This is one [policy] where there really isn't too much of a downside," Johnson said. "I work for an organization that provides that benefit, so I'm somebody who already benefits from it."
Mela Bush Miles, director of Transit-Oriented Development and the T Rider's Union at Alternatives for Community and Environment, said she supports initiatives like this because they help tackle carbon emissions as well. 
"I feel that whatever the government and the people can do to move toward a more livable planet, reduce greenhouse gas emissions and [alleviate] congestion is of prime importance at this time on a planet that we live on that we only have one of," Miles said. 
More action should be taken to ensure that public transportation is accessible to everyone, Miles said, especially those who are low-income commuters.
"Everyone should be able to get on and right now, the T is able to do a fare increase every two years, so the higher it goes, the less affordable it becomes and many people just don't get raises like that," Miles said.
The MBTA is permitted to increase its fare prices by up to seven percent every two years, as a result of transportation funding legislation passed in 2017. Public transportation in Boston saw its last increase in July, when prices saw a six percent fare hike.
Several Boston residents said that T fares can become costly, and that any way to reduce them helps.
Olivia Mitchell, 25, of Brighton, said she uses the MBTA's $90 monthly pass and takes the T almost on a daily basis.
"I wish it was cheaper but it could be worse, because I do use it more than the standard amount of rides it would be," Mitchell said. "I use it twice a day five times a week, but I use it on the weekends too so I get more than it's worth out of it."
John Reilly, 48, of Fort Point, said he finds the T fairly affordable compared to subway and rail systems in other cities.
"[I take the T] when I'm just going across the city, going to MGH, things like that," Reilly said. "It's just not worth driving. It takes forever to drive."
Many students take the T, like Aya Kamel, 29, of Back Bay, did before she started to use it every day for work. This could potentially add up, she said, but eventually works itself out.
"I feel it's somehow expensive, but I think it's okay because sometimes I can't believe how often I use the T," Kamel said. "And then I feel like, okay, maybe I saved some money according to how much the ticket is individually."