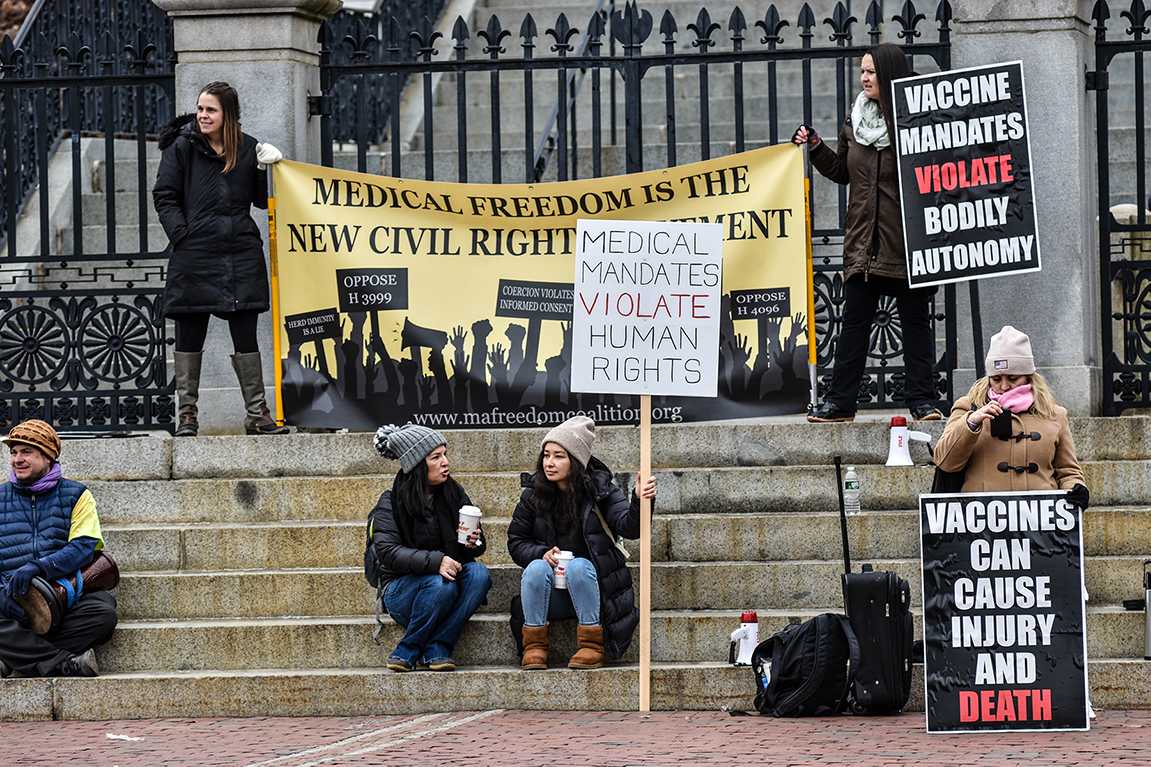 "My body, my choice."
A familiar chant to anyone who has witnessed an abortion rights debate, the phrase undertook a new meaning when anti-mandatory vaccination protesters gathered Tuesday morning before the Massachusetts State House.
The demonstration, organized by a group of mothers who call themselves the Massachusetts Freedom Coalition, opposes state legislation — a joint petition and a separate House bill — that together would schedule mandatory vaccinations for all children going to school, save for medical exemptions.
One of the acts, sponsored by Rep. Andres Vargas of the Third Essex District, would eliminate religious exemption as an option in Massachusetts. Vargas said in a phone interview he was inspired to take on the issue after his constituents expressed concern about the resurgence of measles in the U.S. in recent years.
After then speaking with scientists and medical experts, Vargas said he found data showing a 500 percent increase in the use of religious exemptions to vaccinations since the 1980s.
"I don't know about you, but I don't think there's been a 500 percent increase in religious affiliation since the 1980s," Vargas said. "So, that goes to show that the spirit of the law is really being violated."
One protester at the event said this is indeed a loophole households look to take advantage of. 54-year-old Erich Kress from Livingston, New York said after the requisites for medical exemptions in his state became "so extreme that it was nearly impossible," he began to claim religious exemption.
"A lot of people who didn't even have strong religious beliefs," Kress said, "had to resort to the religious exemption in order not to vaccinate their child."
Kress said he decided to attend the protest in Boston — which totaled several dozen people — because New York had recently removed its religious exemption option and he does not want to see the same occur in Massachusetts.
"My children have never been vaccinated," Kress said, sitting between two preteen daughters. "And we're not afraid to have the measles. In fact, my kids had the measles."
Measles, Kress said, make individuals "more strong and healthy." He said he thinks children are brainwashed in school to believe in the efficacy of vaccines, which is why he chooses now to homeschool his.
Massachusetts Freedom Coalition member Samantha Medeiros, 31, of Lakeville stood atop the stairs to the State House holding one end of a banner that read, "Medical freedom is the new Civil Rights Movement." 
"My own son had several reactions to several vaccines and his body just seems to be hypersensitive to them," Medeiros said. "And I, through the community, have heard many stories."
Vandana Madhavan, clinical director for Pediatric Infectious Disease at Massachusetts General Hospital for Children, said in a phone interview some vaccines contain a "very small" amount of virus to generate an appropriate immune response.
"The minor fever or rash someone would get from the MMR vaccine or the varicella vaccine is not the same as getting the actual disease itself," Madhavan said. "Vaccines do not cause the illnesses that they protect against."
Protestor Amelia Coburn, 35, of Southbridge is also a member of the Massachusetts Freedom Coalition. Restraining a one-year-old son scrambling around at her feet, Coburn said she has been "lucky" not to have experienced any negative consequences from her own family's vaccines, but has heard contradictory accounts from others she knows.
"I have had friends who have had babies who have died immediately after vaccines," Coburn said. "I have friends whose babies are now in and out of the hospital with really severe problems, and I do think it's linked to vaccines."
Madhavan said a common misconception is that falling sick after getting vaccinated means the vaccine did not work when, in fact, the victim coincidentally contracted a different illness.
"The anecdotal evidence of someone falling sick after a vaccine," Madhavan said, "has never proven that the vaccines themselves cause issues."
62-year-old Johanna Keefe of Back Bay, who attended the protest in support, said she is concerned that vaccines inject harmful toxins into the body.
"One of the most dangerous [toxins] is aluminum," Keefe said. "That's just one adjuvant that is meant to agitate the immune system to make these things work."
Adjuvants, according to Madhavan, are vaccine components that trigger the immune system to respond more robustly. Chemicals viewed as foreign when used as adjuvants, Madhavan said, are oftentimes already present in children from different sources within their environment.
"Yes, aluminum is in some vaccines," Madhavan said. "But a breastfeeding infant receives more aluminum through breast milk from the mom than they do from doses of vaccines."
Keefe said she also believes children must undergo certain diseases — those nearly eradicated by vaccines today — to "prime themselves" for a strong immune system in later life.
"Certain diseases should run their course naturally," Keefe said. "You know, things like the measles and the chickenpox."
Aside from Tuesday's protest, Vargas said he has received an overall positive public reaction to his bill. Some, he said, are surprised Massachusetts hasn't already ruled out religious exemptions.
"We've also heard from anti-vaxxers who have contacted me saying things like they wish ill on my future kids, messaging my wife on social media," Vargas said. "But I got into public service to make a difference. And sometimes when you want to make a difference, you got to take the hits."
UPDATE: A previous version of this article used the term "anti-vaccination," which has been changed to read "anti-mandatory vaccination" to differentiate the movements.