Since 1976, the United States has officially recognized and given voice to the African American community every February through Black History Month. In the following decades, citizens and researchers have continued to pursue the truth and understanding of the untold stories of black history.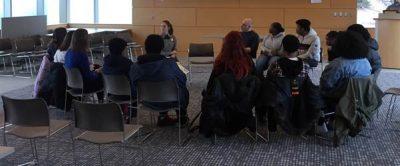 The Mattapan Branch of the Boston Public Library, in coordination with the National Park Service, held an interactive discussion on Saturday called "Sarah's Long Walk for Equality in Education." The event centered around the life of Sarah Roberts, a young black Bostonian whose family sued the city of Boston in 1848 when she was denied adequate, accessible schooling.
This conversation was part of NPS's larger outreach to promote African American heritage throughout the month, with topics including the Underground Railroad, Buffalo Soldiers and the history of black enslavement in the country.
Dave Santucci, education technician and interpretive park ranger for NPS and host of the conversation, pointed to NPS's drive for city involvement through their Urban Agenda and the importance of reaching large populations that reside in Boston and beyond.
"We're lucky to be in Boston, lucky to have the residents of Boston be so close by, and a way to do that is going to them and being part of the community, being a fabric in the city," Santucci said. "There's so many things that happened right here in Boston that a lot of our students in Boston public schools don't know."
Santucci and his colleague Amanda Pollock, both Boston park guides, have been collaborating with BPL for two years. Their presentation focused on racial discrimination in Massachusetts schools, both past and present.
The event encouraged all 20 participants to engage with progress in the African American community by sharing their own experiences in public schools and sociocultural prejudice. As audience members raised questions on current problems in Boston education, Santucci and Pollock made connections to Roberts' struggles with racial segregation in the past.
After the discussion, Victoria McCormick, a second year graduate student at Boston College, said she believes the topics of discrimination and diversity are still pertinent today, and that often, policymakers and those in power neglect students' needs based on arbitrary traits.
"I think a lot of the issues and things that you see in the public schools in Boston and Massachusetts today go back to issues of things that Sarah experienced," McCormick said. "Laws around busing and segregation and things like that are totally relevant in the school systems today."
Veronica Burke, a sophomore in the Wheelock College of Education and Human Development, wrote in an email that growing up, she always attended primarily white Catholic schools in Cambridge and Arlington, where administrations often waited until issues of racism between students arose before taking steps to create a more welcoming community.
"Unfortunately it wasn't until specific incidents that my school took steps to teach about racism and ways for students and teachers to minimize discrimination," Burke wrote. "Conversations about race, racism, discrimination, and implicit bias in schools need to happen ahead of time for the amount of incidents to actually be minimized."
Burke wrote that in her future classrooms, she hopes to incorporate these issues into the curriculum to create an environment free from discrimination, which she said all communities, including Boston University, should strive for through these conversations.
"At BU, I think that both in BU Wheelock and around the university in general, just starting with discussions like this is always a good way to start," Burke wrote. "But it shouldn't stop there."
During the discourse, Santucci and Pollock posted quotes from Roberts' court case — Roberts v. The City of Boston — on the walls of the room, asking attendees to stand beneath one that had the greatest impact. Anna Jackson, another second year graduate student at BC, chose a quote from Massachusetts Chief Justice Lemuel Shaw in which he endorsed segregation in Boston public schools.
"This prejudice is not created by law, and probably cannot be changed by law," Shaw's quote read.
At the trial's conclusion in 1849, Chief Justice Shaw decided that Roberts could not attend a white school, reasoning that there had been special facilities created for colored individuals, and that societal biases will persevere regardless of legal action.
Even though democracy grants citizens the right to create and enforce laws reflective of their desires, Jackson said there is a persistent, cyclical pattern of unequal legislative power in the hands of the elite.
"The same language is still used, like blaming the student, blaming the culture, which we heard in that quote," Jackson said. "Really it's just a cop out and a way to push away responsibility."
Emphasizing the importance of the NPS's education unit, Santucci said he hopes all people engage and interact with this history. He said citizens and members of the Boston community should seek out African American history every month, not solely February.
"Oftentimes, we look at our history, and we don't think about the importance of the sites closest to us," Santucci said. "Yes, it was the start of Black History Month, but Black History Month is every day in Boston."