WBUR CitySpace hosted a panel Tuesday night to discuss the role climate change will play as a central issue in the 2020 presidential primaries. While the speakers — one former federal legislator and two climate advocates — all agreed climate change is a major problem, they deliberated over how best to solve it.
The three panelists included Yanisa Techagumthorn, electoral lead of the Boston Hub of the Sunrise Movement, and Elizabeth Turnbull Henry, president of the Environmental League of Massachusetts. Also speaking was Carlos Curbelo, former U.S. Rep. for Florida.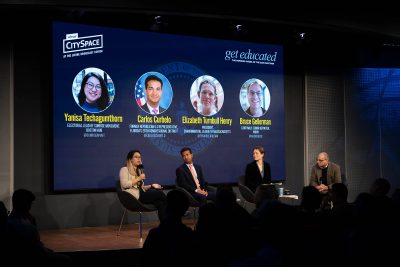 Curbelo took a more conservative approach to climate change as he debated with Techagumthorn, a supporter of the Green New Deal, on whether the concept of this far-left initiative is viable.
Curbelo said that as someone who has been in Congress and has seen how difficult it is to get people together and build a coalition, the plan is not possible.
"It's just not realistic. You know, a lot of people mock carbon neutrality by 2050," Curbelo said. "It would be probably the greatest achievement in the history of humanity if we were able to do that."
Techagumthorn said the Green New Deal would be an effective way to move the country from fossil fuels.
"I would say the most efficient way would be to invest directly into renewables rather than waiting for the market to discourage people from using fossil fuels," Techagumthorn said. "So they would need to dramatically change how they do their business. And I don't I just don't see the fossil fuel companies leading on switching themselves." 
Bruce Gellerman, senior WBUR reporter and the moderator of the panel, said markets are changing and people are no longer investing in fossil fuel companies.
Curbelo then said he believes that market shifts like this are actually the best way to transition away from fossil fuels.
Yasim, however, said she believes the free market is not the way to alleviate climate change, as corporations are not motivated to help the environment.
"One thing I want to point out about that is Exxon knew about climate change since the '80s. That was before I was born," Techagumthorn said. "So they would need to dramatically change how they do their business, and I just don't see the fossil fuel companies leading on switching themselves."
Curbelo said he wants Republicans who believe climate change is a problem to have the chance to speak up about their opinions. When asked who he would vote for in the next presidential election, Carbelo said he has not yet made a decision.
"There are candidates who, in a way, represent a change from the president," Carbelo said, "but who, similar to the president, lack a unifying capacity and lack the disposition and the approach that can actually deliver solutions as opposed to charging up people politically while not actually solving anything."
Henry responded to more questions about the looming election, saying that she would vote for a candidate who made climate change a priority.
"Yeah, I think if, if there is a politician who is willing to address the urgency of the climate crisis with the vision and the resources and the courage that it requires," Henry said, "he or she would have my vote."
Techagumthorn said although she thought the panel was a good discussion overall, she disagreed with her fellow panelists on the issue of carbon pricing. She said the government should look toward other solutions, such as investment in renewable energy and jobs.
"Because carbon taxes can change behavior," Techagumthorn said. "But they also transfer a lot of those impacts on lower-income communities and poor communities who might have to rely on cars and use gas and things like that."
After the panel, Henry said that she was excited about the concord that the panelists exhibited despite their differences.
"I take some heart in the fact that it's 2020," Henry said, "and you have a diehard climate activist and a seasoned environmental advocate and a former Republican congressman, all kind of agreeing."
Pedro Fravien, 42, of South End said a candidate's focus on climate change would influence his vote.
"Climate change is really important," Fravien said. "It's an issue, people are dying. So, it's not a good ecosystem."
My Nguyen, 22, of Dorchester, said she feels climate change is significant and that she appreciates the way social media has magnified the issue's prominence in people's minds.
"And I feel like we don't get enough funding for climate change, as much as we should," Nguyen said. "I think it's very important due to our current state right now."
Ryan Rapkowicz, 31, of South End said he feels climate change is an issue the next president should address immediately.
"If [a] candidate's platform doesn't include something within the next five or seven years to significantly address climate change and get back on track with the rest of the world," Rapkowicz said, "then I wouldn't even consider them."
Cathryn Pappas, 58, of West Roxbury said she believes it's necessary to get the government involved or else there won't be an increase in environmentalist initiatives.
"I think the only way it is going to change is this, the government does something," Pappas said, "because I think the oil companies and things like that are obviously not going to try to change that because [they're] making money off of it."
Correction: A previous version of this article misspelled Bruce Gellerman's name as Bruce Guellerman. The article has been updated to reflect this change.