In an age where information about sex and female health is readily available but sometimes untrustworthy, Boston University students are taking a step to bring inclusive conversations and access to necessities to campus.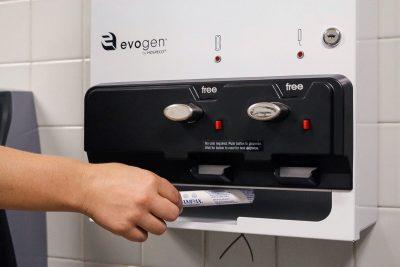 The Menstrual and Reproductive Rights Coalition hosted their first event, a panel on reproductive and sexual health at the BUild Lab on Jan. 30. Before the panel began, seats were completely filled, while free pizza and Diva Cups vanished from the tables.
The coalition, formed in the Fall 2019 semester, comprised of the Center for Gender, Sexuality and Activism, PERIOD, FemCo and Students for Reproductive Freedom.
Hayley Gambone, a panel co-organizer and coalition co-founder, said the panel was in part to spread information on menstrual cups. The senior in the College of Arts and Sciences said it was important to provide cups to attendees because they are typically expensive.
"The purpose of the event was to socialize the idea of menstrual cups on campus by allowing students the opportunity to ask questions and learn about mental and reproductive health," Gambone said. "And get a cup for free."
CAS sophomore Christa Nuzzo, a panel co-organizer and coalition member, said the event was also aimed at educating people in an inclusive way they might not have had in the past.
"The purpose of the event was to educate the students at Boston University about the sexual health and reproductive education that they were either not given in high school or that they were left out of," Nuzzo said, "because there was no talk that included their gender identity or their sexuality or anything along those lines."
Lisa Tornatore, director of [email protected] and Danielle O'Banion, a family physician at Fenway Health spoke on the panel, in which Gambone said was attended by around 80 people, with roughly 20 turned away.
Nuzzo said the abundance of questions asked by attendees represented the necessity and popularity of the event.
"I think [the attendance] shows how much people want to know and how much folks aren't getting that information elsewhere," Nuzzo said. "Or at least they're not getting information that they can't trust elsewhere."
O'Banion, who spoke about everything from pap tests to sexualy-transmitted diseaseas to contraceptives, said she was pleased to be able to speak to BU students about these issues as it is a timely topic to be discussed.
"I think, for me, being able to talk to people at this time in your life feels huge," O'Banion said. "Some of the traits that you form in college are some of the habits that you maintain for your entire life.
Tornatore touched on the sustainability aspect of menstrual products, such as pads, tampons and menstrual cups, which she said is a highly relevant factor surrounding these products.
"Generally, the products that we're talking about — menstrual products and menstrual health products — are pretty much not recyclable," Tornatore said. "Moving toward reusable in these types of products and other types of products in our daily lives is something that we at [email protected] definitely promote."
Nuzzo said the panel was meant to have anonymous questions, so no one could feel uncomfortable speaking up about such topics, but she said she was pleased with the fact that the anonymity factor they had planned for proved unnecessary.
"It was very interesting how topics that are usually super scary to talk about, especially with so [many] people around… but people still felt comfortable and nothing was super awkward," Nuzzo said. "So I think from that perspective it was super cool, super educational."
In the future, Gambone said the coalition hopes to host similar events, continue to supply free menstrual cups and potentially establish a speaker series featuring O'Banion.
"We definitely want to get more cups and have them available," Gambone said. "Even if it's buying a hundred and having them in the CGSA for anyone who stops by."
Charlotte Beatty, a sophomore in CAS, said she was glad she made it to the panel because of how inclusive it was.
"It was refreshing to hear from a doctor who is so knowledgeable, not only about sexual health, but also on queer inclusion," Beatty said. "I really loved her attitude and how she handled the topics."