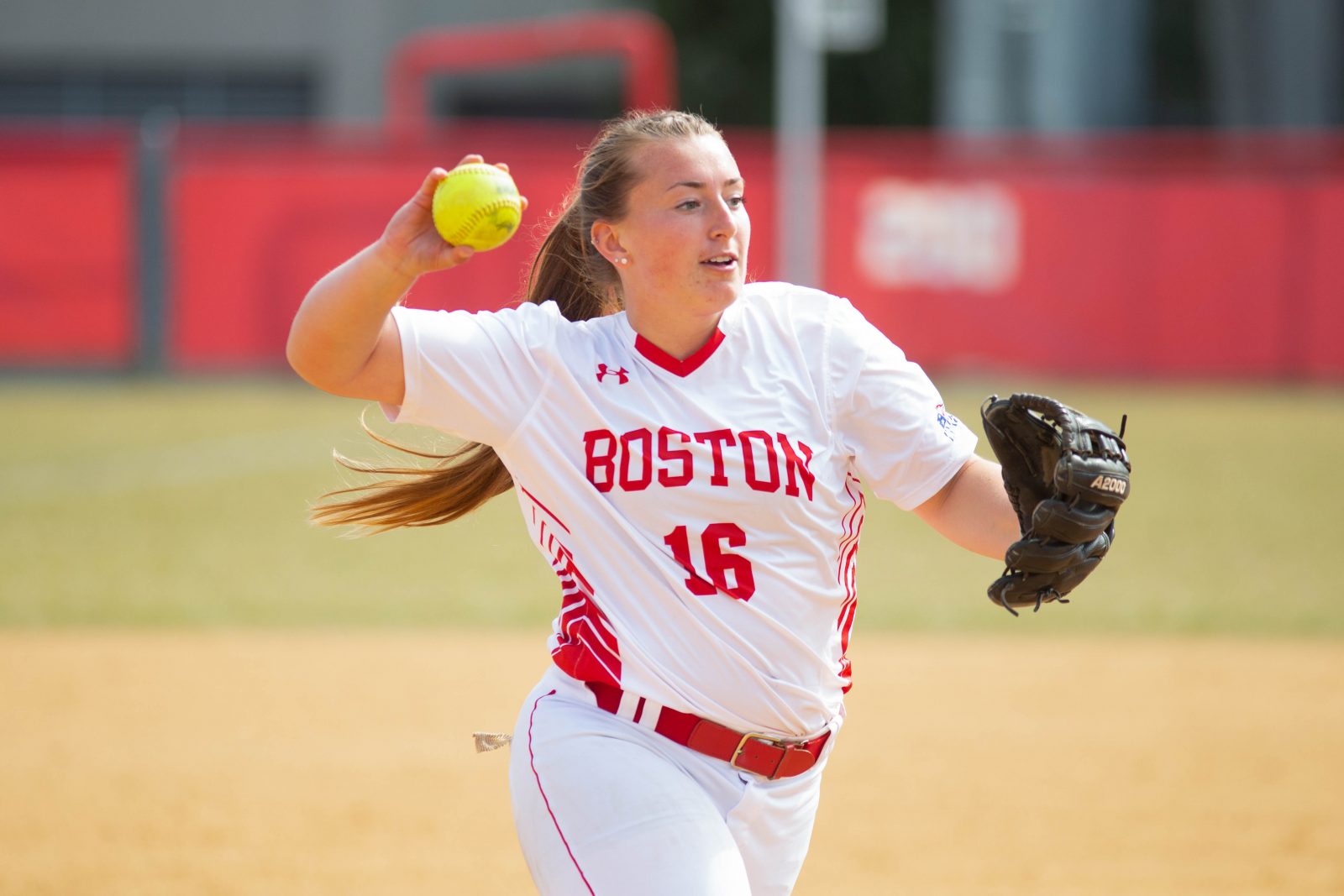 The reigning Patriot League champions are going to be playing softball again this Friday. Boston University softball will kick off its season then in the Stetson Lead-Off Classic in Deland, Florida.
BU will play a doubleheader on Friday, starting off by facing Sam Houston State University at 12 p.m. Friday, and Stetson University later that day at 3 p.m. On Saturday, there will be another doubleheader that will start earlier, with the first game against George Mason University starting at 10 a.m, and another game against Stetson at 3 p.m. The weekend of games will wrap up Sunday at 10 a.m. with one final match against Sam Houston. 
Key players from the 2019 team will continue to play through the 2020 season that will start against the Bearkats Friday. The pitching duo of junior Ali DuBois and sophomore Emily Gant will continue to be the top aces on the mound as they were last season, BU Head Coach Ashley Waters said.
DuBois, the two-time Patriot League Pitcher of the Year and 2018 Patriot League Rookie of the Year, has shown no issues to Waters. After only two years of playing at BU, DuBois is already  tied fourth all-time at BU in wins with 51, tied-for-fifth in shutouts with 20 and sixth in strikeouts with 393. In addition, she was the first BU softball player to be put on USA Softball's Player of the Year Watchlist since 2011.
Waters said DuBois always gives the Terriers a chance to win.
"[DuBois] is the two-time pitcher of the year," Waters said. "So anytime you have [DuBois], you're in a good place."
According to Waters, Gant pitched "okay" last year, saying that Gant would admit it, too. However, Waters is confident in the Patriot League All-Conference selectee's ability to bounce back, as well as be able to uniquely contribute on the diamond and in the batter's box. 
"You don't see Emily in the circle, she's going to be in the outfield, she's going to be in the batting lineup," Waters said. "I do think that this year will be a breakout year for her."
Along with the pitching duo of DuBois and Gant, there will be two new freshman arms joining the Terrier squad. Freshmen southpaw Allison Boaz and righty Lizzy Avery will be available to come in and give the rotation the depth it needs.
Waters said she fully believes in her pitchers.
"Our pitching staff has so much depth," Waters said. "I think we have that area covered, I feel really confident in the circle right now."
Some standout scorecard names have graduated and will not be on the squad anymore. Alex Heinen, a heavy-hitting catcher, two-time Patriot League player of the year and all-time leader of RBIs at BU, wrapped up her prestigious collegiate softball career last spring. Emily Morrow, the keen-eyed infielder that led the team in walks last season with 24, has also graduated. In the 2019 season, Heinen and Morrow were first and second place respectively in batting average and hits.
Waters is confident that the new line of freshman position players will be able to fill those gaps. In particular, Waters said infielder Caitlin Coker is a hitter that will be able to fit right into the team.
"I think you're going to be seeing her name a lot," Waters said. "She just has such a great swing and she's so offensive-minded."
Waters also remains confident in the abilities of sophomore outfielder Aliyah Huerta-Leipner. Waters said that the All-Patriot League Second Team honoree had a great freshman year, and her game can only improve in her sophomore campaign.
"I think that now after her first year being under her belt, she did very well," Waters said. "I do think she'll be an offensive catalyst,"
Right now, Waters plans to have Huerta-Leipner batting leadoff, Coker in the two-hole and Gant in the third spot — a trio that Waters is excited to see in the box.
"I think that's a really, really tough combo to get out," Waters said.
In addition, sophomore infielder Bella Gargicevich-Almeida, who appeared in five games last year before suffering a season-ending injury, will be returning. Waters expects Gargicevich-Almedia, along with junior infielder and Long Island University Post transfer Patricia Dun to be able to put the ball in play towards the middle and bottom of the lineup.
Last season, the Terriers won the Patriot League title for the third time in four years under Waters' guidance. In the NCAA tournament, they were two-and-out, losing to both No. 8 University of Florida in the first round, and then to Stanford University. 
In her 5th season as head coach, Waters' goals have remained the same as it's always been: to win as many games as possible and be strong contenders for the Patriot League crown. The best way to prepare for that is to play tough opponents before conference play, according to Waters. Before Patriot League play will begin for BU, Waters slated up two matches against No. 21 University of Arkansas, and one game against No. 4 UCLA and No. 17 University of Michigan.
"We're young, but for me, it's more that we throw them to the wolves preseason," Waters said. "We have some tough competition preseason, but that always preps us for when we get back for conference play."