Known for its conversations, collaborations and sharing of ideas, WBUR CitySpace welcomed the sharing of food, too.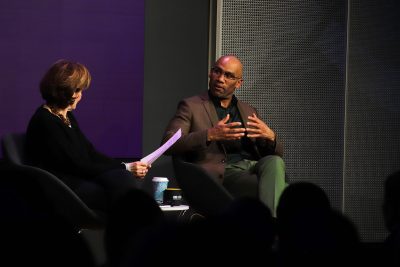 Douglass Williams, a Boston-based chef, has cooked in Thailand, Paris and New York City. He indulged 70 audience members with delicious conversations about his bittersweet journey as a chef and even brought some ginger gelato as part of WBUR's Curated Cuisine series on Monday.
Williams is the owner of MIDA, an Italian restaurant in Boston's South End, named after an Italian phrase that translates to "he gives me." He said he was inspired to become a chef primarily after his diagnosis with Crohn's Disease, a chronic illness involving inflammation of the digestive tract.
Williams said having this disease encouraged him to live a healthier life. Nutritious foods and fulfilling his passion were the perfect recipe, he said.
"I wanted to use cooking as a way to heal myself," Williams said in an interview. "I thought the more I knew, the more likely I would survive and thrive."
Sheryl Julian, a former food editor of the Boston Globe and moderator of the event, prompted Williams to share his story of how he got involved in the food industry. Williams said that upon his diagnosis, he discovered the importance of stress management to his health. He took up a passion to cook and became attracted to working in restaurants to make him feel in control, despite his disease.
"I said, well why don't I become a little more tranquil in everyday life," Williams said at the event. "Restaurant life doesn't make me stressed."
After finishing his degree in culinary arts, Williams worked under world-renowned chefs before opening MIDA in 2016. His next project, Apizza, is set to open in Hub Hall in North Station.
Williams said he selected Italian cuisine for MIDA, because he loved the freedom to explore and the history of the cuisine although he is not Italian.
"I think that there's a level of sensibility in the Italian culture that comes through with cuisine," Williams said in an interview. "The simplicity with Italian cuisine allows you to apply your inspiration, your past, other cultures to that and allow it to merge simply."
Williams shared with the audience that the challenges of achieving perfection and meeting others' expectations can make his work exhausting. However, he said his passion and obligation drive him to work hard each day.
"It's an incredible amount of work that it takes to just open a restaurant that day, it's almost like you're throwing a party," Williams said. "You feel exhausted, that last person leaves and you just basically collapse… but it's about the passion and it's about the leader at the top that's helping drive the vision and why you're there every day."
Williams said he has not experienced racism as a person of color in the industry, always staying focused on the food itself and aspiring to be the best chef he can be.
"If someone was racist, I wouldn't have known, and even if they were, I made them my friend," Williams said. "Food is my weapon. I use that to get through anything. That is my sword."
Williams said he recommends hospitality to any young person who has the same passion and empathy he does. He said the best advice he could give is to get involved with it as soon as you can.
"If you feel really passionate about [hospitality], then you should go work in a restaurant or a hotel or something that you think is fascinating and do it for a day," Williams said in an interview. "And if you don't like it, try it one more day after that because it's always hard the first day and then base your decision off of that."
Curated Cuisine is a monthly series featuring different local Boston chefs each session, Amy Macdonald, director of community engagement for WBUR and organizer of the series, said. The series, which kicked off the first Monday CitySpace was open in early March 2019, is a crowd favorite, Macdonald said, keeping people wondering who the next chef will be.
"When we started CitySpace, we knew we needed content and we thought don't reinvent the wheel. You're in a great city of scientists and innovators and academics and restaurants," Macdonald said. "People love food, so we came up with this idea."
Kristen Gayer, 28, of Brighton said she is a WBUR listener and came to this event as she was interested about food.
"I loved listening to his story and hearing about his restaurants and watching him make something," Gayer said. "It was very informative."