Eric Hansen wasn't always a fan of school. But one ordinary day in seventh grade science class, he asked a question about a slideshow project that would change his life forever: "Can I make a video instead?"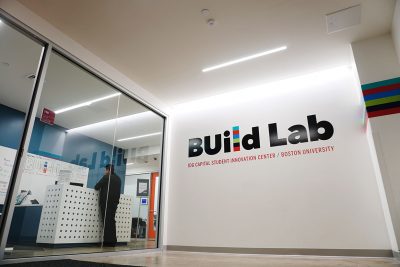 Hansen, a junior in the College of Communication studying film and television, triples as the founder, instructor and owner of the organization SpecGraphixEDU, a company that offers weekly classes for kindergarten through fifth grade students focusing on video production, graphic design, coding and engineering, Hansen said.
Hansen said he created the company to give students a chance to achieve the same fulfillment he received from making that first video.
"Before I made that video, I was nobody," Hansen said. "But then, after I showed the video to the class, everybody loved it. I became, like, famous overnight at the school. All of the affirmation from my classmates really made me feel like I had a purpose."
SpecGraphixEDU kicked off in January 2019 upon a partnership with Driscoll School in Brookline and the Brookline Adult and Community Education, Hansen said. He joined the BUild Lab at the same time.
Upon seeing schools cut arts programs due to budgetary constraints, Hansen said he is motivated to offer these programs for kids with passions similar to himself.
"I talk a lot about this. 11 percent of all kids are right-brain thinkers that suffer in regular academics, but really excel in creative academics," Hansen said. "Taking away these classes, all those 11 percent of kids are really suffering and their abilities and talents are being ignored. That's completely unfair. And I want to try to change that as best I can."
Hansen teaches all of the courses himself at the Driscoll School after regular school hours. The first two SpecGraphixEDU classes were implemented in the spring of 2019 at Driscoll School, expanding to four classes and a winter vacation program the following semester, Hansen said.
Now, SpecGraphixEDU intends to expand to the Lawrence School in Brookline, also implementing a summer camp and a student portal that would allow young children to access video programming online.
In the video production class, Hansen said he teaches professional skills to the third to fifth grade group, including storytelling, mise-en-scene, the rule of thirds and composition. By the end of the eight-week course, the students write and shoot a video themselves using an exclusive software that allows them to insert CGI effects with "very little effort," Hansen said.
He said his experience working at the BUild Lab made this success possible, with the department offering him everything from monetary funds to mentorship and legal advice.
Rachel Spekman, program director of business ventures at Innovate@BU, said Hansen's business has grown "tremendously" since his time at the BUild lab.
"He came in with basically an initial idea, as a lot of students do, but he had a few things off the ground," Spekman said. "It's really quite a lot of resources and time and energy into acquiring laptops, growing programs, growing different assets [and] bringing on new team members."
Hansen said Spekman helped him move forward on the "Innovation Pathway," a four-step milestone directed approach to help students turn their ideas into reality.
Spekman said Hansen embodies the qualities that it takes to be successful in innovation.
"I think what it takes is a lot of perseverance, determination, resilience, all those wonderful buzzwords, but they're real and it takes vision and discipline," Speakman said. "I think Eric has all of those."
Ian Mashiter, managing director of the BUild Lab, oversees the entrepreneurial projects through Innovate@BU. He said the BUild Lab helps students get concrete experience that helps students gain practice in entrepreneurial skills.
"We'd like our students to come through the BUild Lab to really acquire an entrepreneurial mindset," Mashiter said. "We know that employers, they're not just looking at what grades students got but they're also looking for what did you actually want to accomplish?"
Hansen said the appreciation he receives from his students, in the form of gifts or words of gratitude, is the most rewarding part of his work.
"Kids telling me I'm their favorite teacher of all time," Hansen said. "You know you're doing your job right when that happens."
CORRECTION: A previous version of this article identified Eric Hansen as a sophomore. An updated version identifies Hansen as a junior.