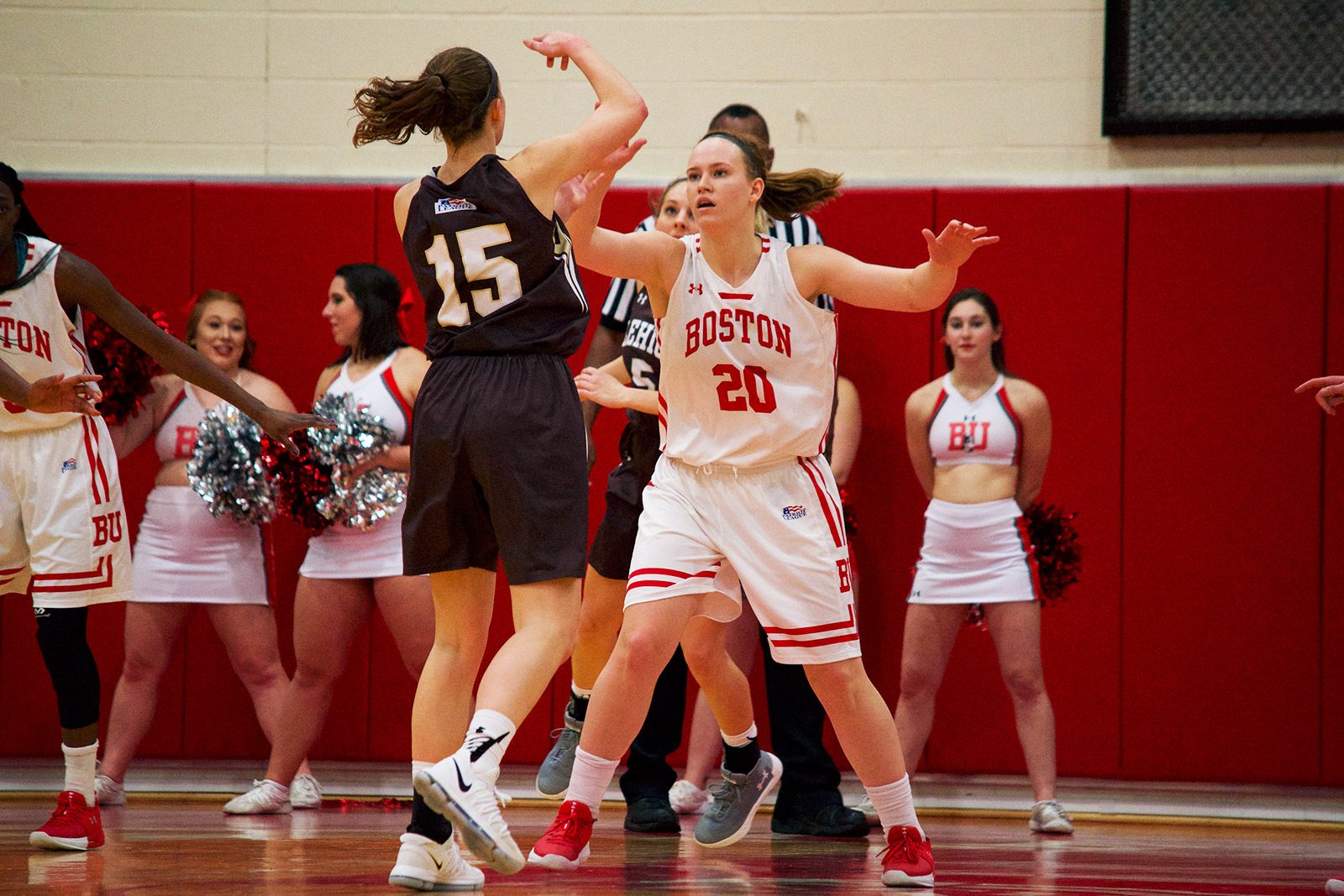 Standing at the free throw line in Christl Arena with a little more than three minutes left in the third quarter against the Army Black Knights on Jan. 12, Nia Irving raised her arms up and sank her free throw before running back down the court to play defense like she had made any ordinary shot.
Except this shot was special.
The Boston University women's basketball team's senior forward and captain had just become the 23rd player in program history to reach the 1,000 point mark for the Terriers.
Irving said she didn't even realize that she reached the milestone until after the game.
"It was after a foul shot, so I wasn't really thinking too much at the moment, especially since we really didn't have a break in the play," Irving said. "I had a lot of family and friends there who traveled all the way to [New York] just to see it, so that was really cool."
The Fairfield, Maine native has established herself as one of the focal points of the BU offense for the better part of three years now. Over this three-year span, she has averaged 11.4 points and 6.9 rebounds per game since her sophomore campaign.
Despite the impressive numbers that Irving has put up through her career, she has battled through adversity to get to the 1,000 point plateau.
Irving said she's faced many challenges over her career, but injuries stick out the most to her.
"I've had my fair share of injuries over my four years," Irving said. "Right now, I've been playing on a knee injury all this season and half of last year." 
Irving's offense comes from a strong inside presence where she is able to use her 6-foot-1-inch frame to battle for easy layups inside. Irving leads all regular starters in field goal percent with a .44 percent clip from the field this season.
Irving has only attempted 14 3-pointers in her career and said she lets the offense flow to her, rather than forcing passes or shots.
"I mostly just try to work down low a lot, whether I'm posting up in the box as a five or I'm at the top of the key or the foul line as a four," Irving said. "I just try to let the game come to me and not try to force as many things to happen."
Irving's presence is not felt just on the hardwood either. BU Head Coach Marisa Moseley is in her second year of coaching the Terriers and had to figure out how to implement her program. Moseley claimed Irving helped her ease into her first year of coaching an established group of players by creating an engaged atmosphere at practice.
"I think she led by example, the way she came to practice everyday, worked hard, was positive at practice," Moseley said. "I think that definitely helped to set the tone and really reinforce the type of environment that I wanted to have at practice everyday."
Even though Moseley has only worked with the senior for a year and a half at this point, she has seen significant growth in Irving. Moseley emphasized Irving's presence in the locker room as a point of growth in the player.
"I think she had recognized with her and Vanessa [Edgehill] being our two seniors, that she needed to have a little bit more of a voice," Moseley said. "[She had to] make sure whether it was on the court or off the court that her presence was felt.
Irving's influence in both the clubhouse and on the court has helped turn around a floundering women's basketball program at BU.
The Terriers went 13-17 her freshman year before falling further down the standings in the 2017-18 season, when BU went 10-19 — 5-13 in the Patriot League — before getting bounced in the first round of the playoffs.
As Irving developed further her junior year, and along with the university's hire of Moseley, BU went 15-14, its first winning season since the 2012-13 season.
Irving said the arrival of a new coach was a challenge at first, but the team believed in Moseley's plan.
"We really bought into the coaching staff," Irving said. "It was challenging learning [Moseley's] style of play, but she made it easy because she's a really good teacher."
As BU's season is reaching its climax, the Terriers sit tied for fourth in the Patriot League and have a chance to host its second-ever Patriot League home quarterfinal game.
Irving said her senior season goal was simple.
"Most definitely, win the Patriot League championship," Irving said. "That's all we talk about all the time."