Years ago, students were always told not to use Wikipedia as a source when doing any type of research assignment in school. But that is beginning to change as users are learning how to edit Wikipedia pages, and professors are even implementing this process into their coursework.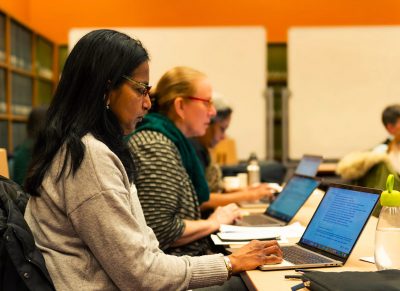 BU Communication, Media & Film Librarian Lara Jenemann organizes the "Wikipedia in the Classroom" program at Boston University. Jason Prentice, the Digital/Multimedia Expression Coordinator for CAS Core Curriculum, was also involved in the organizing and posed a question to the professors in attendence at the workshop Thursday.
"Do you want to write an essay that one person is going to read and then no one's ever going to read it again?" Prentice asked. "Or would you rather write an article that is going to live on in some form and is useful to somebody?"
Prentice said he thinks most people would choose the latter, which he said is one reason the organizers value encouraging students to edit on Wikipedia.
BU Libraries, in collaboration with the College of Arts and Sciences, hosted their fourth "Wikipedia in the Classroom" workshop in the Estin Room at Mugar Library, educating BU faculty on how to integrate Wikipedia editing into college classrooms.
BU professors who had seen or heard about their colleagues giving Wikipedia assignments in their classes came to learn from seasoned Wikipedia editors.
Ken Liss, head of liaison and instruction services at BU Libraries, in his introductory remarks said Wikipedia changed the way he thought about information and how it is received.
"As a librarian who works a lot around information literacy, that's really such a key, because one of the things that [people don't] always think about [is] how is the information that they use produced," Liss said. "Here, you get to actually see how it's produced and actually contribute to it, and I think that transparency is really a strength."
Professors from different departments in BU discussed ways they had implemented Wikipedia editing in their classes and seen favorable results.
Malavika Shetty, a professor in the CAS Writing Program, presented a report on the Wikipedia editing assignments done by her students, which she said helped them learn important research skills, use of citations and rules of fair use.
"Wikipedia is an encyclopedia, you should be getting things from different sources and putting them together," Shetty said. "There is no space for your opinion or space for you making things up."
Editing on Wikipedia helps students learn how to write on public forums, Shetty said, and realize they are contributors to a real body of knowledge, which she said motivates them.
"For [students] to see some of their work out there on one of the most searched websites in the world," Shetty said, "it just empowers the students."
Prentice said this information gap can be bridged if universities like BU that teach a global population can prepare their students and teachers to contribute. People can choose topics that are unique to their culture or linguistic group or that they are not familiar with, he said.
"There is no substitution for the people of a specific country, linguistic group or culture for telling their own story and for developing their own body of knowledge," Prentice said in an interview. "But there are things that anyone can do."
Prentice said he supports different modes of digital literacy and digital multimedia expression, but said Wikipedia is an application that offers a democratic platform for increasing information literacy.
"One thing that is wonderful about Wikipedia is it's not a big, for-profit corporation," Prentice said in an interview. "It's a collective that runs on donations."
The "Wikipedia in the Classroom" program has most widely been adopted in the CAS Writing Program, but the number of colleges in BU adopting this method is increasing.
Nevertheless, Liss said he believes assignments on Wikipedia can hold students accountable to their work on a level different than if they were to hand it in to a professor, who is oftentimes the only person who reads the paper.
"When they're actually writing for Wikipedia, knowing that other people are going to see it, that's just a whole different experience," Liss said. "I wouldn't be surprised if students show their parents and their friends, send them a link and they're probably not showing them the research paper that they wrote."
CORRECTION: A previous version of this article stated Jason Prentice as the organizer of the event. It has been updated to include Lara Jenemann, who coordinates the Wikipedia in the Classroom program.