Music can play an important role in the stories of different cultures, and a new concert series at BU is aiming to tell these important social stories.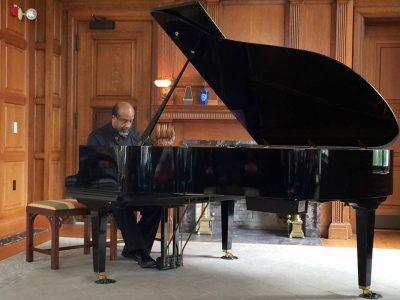 The Mosaic Concert Series, hosted by the College of Fine Arts, held its first concert Thursday afternoon in the CFA Concert Hall in conjunction with the School of Music. BU students and faculty from the music, visual arts, theatre, religion and African American studies departments were brought together to create an impactful performance to honor Black History Month.
Leland Clarke, a professor of musicology and ethnomusicology who composed and performed the accompaniment to "Family" by Maya Angelou, said this concert was an opportunity for students to perform for members of the BU community.
"There is an interdisciplinary and outreach committee from the music department and what that committee does is it helps students showcase their work outside of the BU community," Clarke said. "Recently the committee said, 'What will be really great is that not only should students have an opportunity of doing it outside of Boston University, but wouldn't it be great to do it on campus as well?'"
Bayla Keyes, associate professor of music, said another reason for the creation of the Mosaic Concert Series was to integrate the various programs within CFA.
"The idea is that we're trying to involve faculty and students," Keyes said. "Not just from the School of Music, but from digital arts, from theatre."
Keyes, who gave remarks before a performance of Bach's Chaconne, said she felt excited and grateful to be a part of such a powerful concert.
"I felt very privileged to be there, and I felt very honored to be able to contribute in every way that I had," Keyes said. "For me, that's why we do the things that we do is for those moments of coming together like that."
Emily Ranii, artistic director of Wheelock Family Theatre at BU, read Angelou's poem "Family" in the concert. She said that she was enthusiastic about collaborating on this event.
"I was just in awe and drinking it all in, and you know, really there to celebrate and to learn from the other incredible artists in the room," Ranii said.
Joyce Hope Scott, a professor in the African American Studies program and shared a few words during the concert, said she views the concert as a way to recognize and celebrate African American history and culture, and that music plays an important role in the telling of this history.
"Music has been fundamental as a foundational public presentation of the African American experience, whether it's been new religious music or even today's popular music," Scott said. "So it's an appropriate segue into looking at the history of what we call a Black History Month."
Performers had the opportunity to choose what they wanted to perform within the theme of Black History Month, Clarke said.
"They were not given a list of pieces and saying, 'Well which one can you play?'" Clarke said. "They selected what they wanted to, which made it even more powerful because it was their choosing and what they were familiar with and what they had great passion about."
In addition to the performances, a raffle was also held at the event. Winners received children's books from the Who HQ biography series on historic, prominent black Americans. Clarke said the goal of this raffle was to share these stories with children who might not have heard them before.
"That gives the responsibility of the person winning the book at the concert," Clarke said. "Yes, you could read it, enjoy it, but then find someone younger than you, a child, and give that book to them as a gift, so that they will now know the story if they have not read the story before."
Clarke said that as a teacher, he wanted to emphasize the educational elements of the concert.
"I wanted that to be another part of the conversation during the concert," Clarke said, "that it wasn't just about the entertainment."
Scott said she hopes that audiences left the performance with a broader understanding of African American history and culture.
"It's crucial that we embrace the musical legacy from its origins all the way up to now," Scott said. "This month is an appropriate month to celebrate, to recover and to acknowledge those geniuses, known and unknown.
In remembrance of an honored social issue each month, the Mosaic Concert Series will host a performance on the first Thursday of the month, continuing with Women's History Month in March and Armenian Genocide Remembrance Month in April.