On a mission to discover land in the west in the mid-1800s, John C. Fremont sought to find the world's tallest mountain. After staking an American flag at its peak, writing of his discovery and naming the piece of land after himself, Fremont made the revelation that the mountain is not the tallest, and was not one of the 100 tallest summits in the country.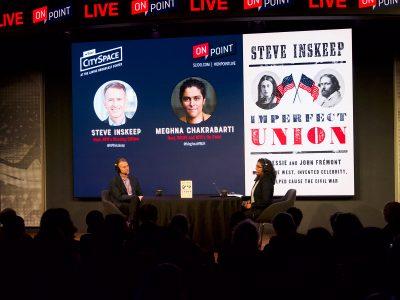 This story was shared by NPR host Steve Inskeep, author of "Imperfect Union," in a live recording of the program "On Point" with WBUR host Meghna Chakrabarti at WBUR's CitySpace Thursday night, in an effort to better understand current affairs and their relation to prior American strife.
Inskeep's book is a historical retelling of Fremont, the first Republican Party candidate, and his wife Jessie during the Civil War period. During the live recording, Inskeep said history is foundational to modernity, offering comparisons between the Fremonts and the Trump administration.
Inskeep spoke about Fremont's rise in the political sphere, expeditions across the West and support of anti-slavery movements. He said he hopes to capture this historical figure and give voice to the diverse and influential characters who were erased from the timeline.
"One of the reasons that I wanted to write this book and the previous one is to go back into that time and reinterpret it, reimagine it, re-understand it," Inskeep said at the event. "It was a time when white men did get to make all of the decisions, and yet if we look at the people who built the country, who participated in the building of the country, all kinds of people were doing it."
Grace Tatter, associate producer to "On Point," said Inskeep's message that the nation is polarized just as it was over 200 years ago is a meaningful and vital one.
"There's a lot of parallels between the time period leading up to the Civil War and now, which is not to say that we're on the brink of civil war," Tatter said in an interview. "But we are clearly, undeniably in a time of fractious politics."
Amy Macdonald, director of community engagement at CitySpace, said she believes Inskeep's work allows readers to become more involved in politics by contextualizing present day conflicts with issues of the 19th century.
"It's a way to look at history to reflect on what's happening right now in the present day," Macdonald said. "It's always important to learn something about our history that you never heard of, to know that there are episodes in U.S. history that were front page news and we don't know about them anymore and characters that we don't know anymore."
"On Point," which airs Monday through Friday out of WBUR, explores topics of interest in two-hour live segments, according to their website. Typically a radio broadcast, Macdonald said, the show is presented to a studio audience of around 200 people and then played on air Friday morning.
Caroline Love, "On Point" intern, said the ability for audiences to hear celebrated radio personalities discuss interesting topics directly creates a reciprocative, more compelling experience.
"I think that interpersonal interaction for the audience, to be able to actually see Meghna, see Steve Inskeep, [is important]," Love said. "There's just a lot lost when you don't have that face-to-face."
During the Q&A, Inskeep said the U.S. has strong political tensions, resembling historical issues, that it must work to resolve.
"I still think that, as a country, we have more in common than not, and so the first challenge for us is to remember that," Inskeep said. "I think that many of us are manipulated through media and through politicians to be angrier at each other than we need to be."
Erin Santacroce, 44, of Quincy, said exposure to different fields of thought at events like this can offer a chance to participate with the material. Coming from a background in medicine, Santacroce said cultural gaps fill in understanding.
"[CitySpace] is trying to take us out of our sphere… so it kind of throws us into this different world," Santacroce, who attended the live recording, said. "[I] come to these shows because [I] learn new things, and [my] horizons are opened up."
In a lasting message to "On Point" listeners, Inskeep said he believes diversity and support is an important part of the American identity, especially in a turbulent political climate and zeitgeist.
"It is in the push and pull between different kinds of people that we find America," Inskeep said in the Q&A. "If we understand that better, collectively, we will realize first that we're going to continue to have arguments and that's okay, but second, that we all have a place here, that we all belong here, in one nation."