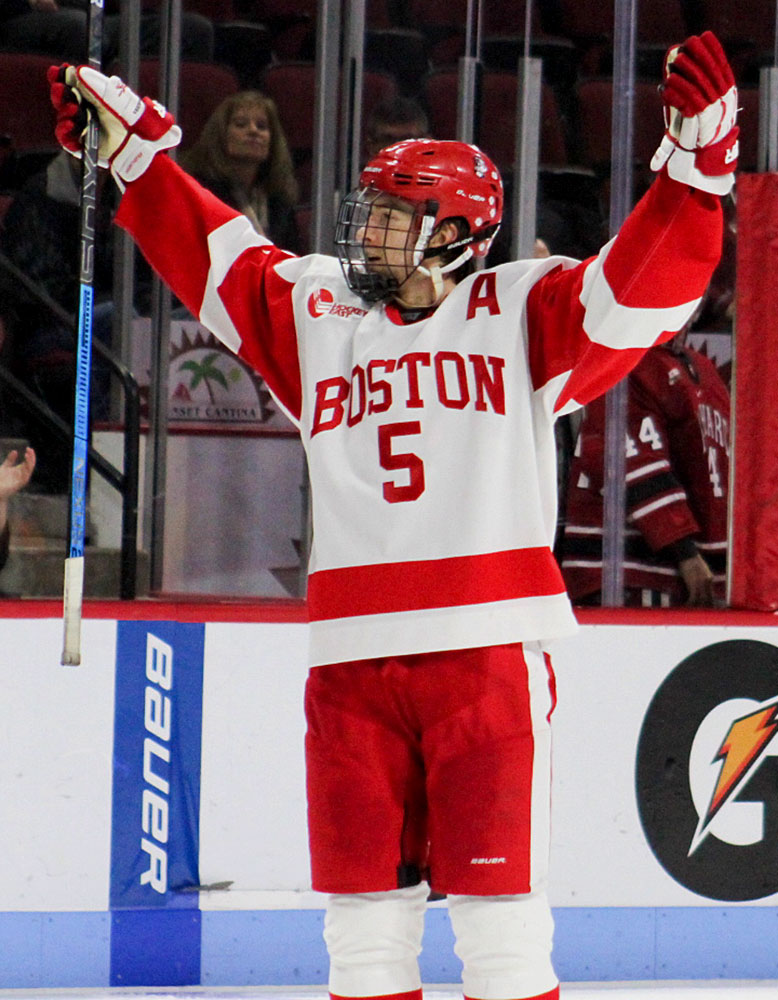 Last year, youth paid-off for Northeastern during the Beanpot semifInals against BU with then-freshman forward Tyler Madden scoring the overtime-winner and sophomore goaltender Cayden Primeau stopping 26 of 27 shots to defeat the Terriers.
This year, BU freshman netminder Ashton Abel stopped 35 shots, freshman forward Robert Mastrosimone scored a goal late in regulation to give the Terriers the lead and freshman forward Wilmer Skoog scored the double-overtime game-winner against No. 4 Boston College to lift BU to the Beanpot finals where they will meet the No. 13/12 Huskies (15-8-2, 8-7-1 HEA) once again.
The Terriers (10-9-7, 7-5-5 HEA) had a blend of youth and veteran experience get them past BC last Monday, but junior defenseman and assistant captain Cam Crotty knows his group cannot focus on past performances nor opponents.
 "We don't really care what team we're playing," Crotty said. "If we come and play our 'A' game and our players are going the way they should, it's really tough for us to lose games." 
On Dec. 7 in the final game before the semester break, the Terriers defeated the Huskies, 6-3, at Agganis Arena, but BU head coach Albie O'Connell is not putting much stock in the teams' first meeting of the season.
"They were coming back from Northern Ireland," O'Connell said. "They're a lot better team now …  we're a lot better team than what we were then."
Not only are the Terriers better, O'Connell said, but they are also nearly a completely different team as well. As midseason additions over the break, Abel and Skoog were not even on the roster, and junior forward and assistant captain Logan Cockerill was out with injury when BU and Northeastern first met this season.
"We played well against [Northeastern] in the first half, and we've had great games against them in the past," Crotty said. "I think it just comes down to being disciplined."
Unlike BU's women's team, who are defending their Beanpot title from last year, the upperclassmen on O'Connell's squad don't know the feeling of winning the Beanpot, with the seniors having made it to two fruitless Beanpot finals in a row in 2017 and 2018. 
Crotty said he and his fellow upperclassmen have been trying to keep the group focused on the task at hand, coming off of the semifinals and heading into Monday night.
"Sometimes it's hard as a younger guy to have that desperation, knowing you have another go at it, and the seniors have their last shot at the Beanpot, ever," Crotty said. "Between periods and before the game [last Monday], we were emphasizing 'If you can't play for yourself, play for the [seniors]' because they're never going to get another chance."
Two veterans who could make a difference for BU are senior forward and assistant captain Patrick Harper and junior defenseman David Farrance. The team-leader in points, Farrance got BU's comeback started on Monday before Harper tied things up for the Terriers.
For Northeastern, Madden is pacing the team offensively with 17 goals and 18 assists for 35 points in 25 games. junior assistant captain Zach Solow and senior captain Ryan Shea are both scoring at a point-per-game clip.
In goal, graduate transfer Craig Pantano boasts a 15-8-2 record with one shutout, a .915 save percentage, and 2.42 GAA in 25 starts.
Contrary to BU's path to success last Monday, it was the veterans who stepped up for the Huskies in their semifinal matchup against No. 17 Harvard. Solow tied the game up for Northeastern in the first period, graduate transfer Brendan Van Riemsdyk scored the game-winner in the second period, and Shea added insurance with the empty-netter late in regulation on top of 27 saves for Pantano in the 3-1 win.
Taking on an older team, Mastrosimone feels an extra buzz among the young Terriers and said he thinks the team can use the added energy as an advantage.
"I think that's a huge win for us against a good team in BC," Mastrosimone said. "I think we can use all the momentum.
Freshman forward Sam Stevens said the young players on the team need to stay focused under the bright lights.
"It would be easy to count us out because of how young we are, but we're just trying to be mature and go about our business," Stevens said.  "At the end of the day, it's another hockey game, three 20-minute periods and whoever wins, wins. It's a championship game obviously, so there's just a little more to it."
The Terriers last won the Beanpot, the program's 30th, in 2015 when now-Boston Bruins defenseman and former BU captain Matt Grzlecyk scored the overtime winner against Northeastern. Puck-drop is scheduled for 7:30 p.m. at TD Garden.