With Valentine's Day less than a week away, artists, small business owners and community members alike gathered for an afternoon market in a hub of love and creativity on Saturday.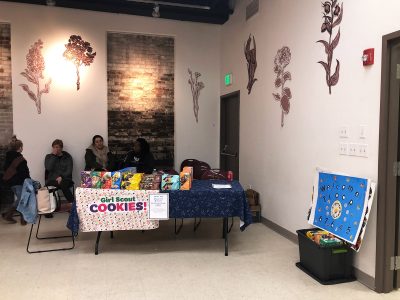 Connexion, a United Methodist Church in Somerville, hosted their second pop-up market "Hopeful Hearts and Local Arts." Themed after Valentine's Day, the market hosted local artists and community vendors to promote the church and raise funds for the church.
Mahli Rivera, the pop-up event coordinator, said the event allows for artists in the community to show and sell their work, while still benefiting the church.
"It's a market to have local artists and local vendors sell what they make and also building funds for the church at the same time," Rivera said. "It's a thing where everybody wins."
The market featured artists like Nathaniel Devarie and Veronica Pedrosa, as well as the candle shop SoyYoCo, Life Petals Photo and Design, Hiroshi Minato Jewelry and the Girls Scouts of Eastern Massachusetts.
The first market was held two months ago with a Christmas theme, Rivera said. She said the church hopes to arrange a pop-up every two months, each with a different theme.
Connexion originated as the United Methodist Church in 1928, moving to its current location on Broadway Street in East Somerville in 2010 along with a new name, Connexion, according to the website.
Although Connexion participates with community events, Rivera said this bi-monthly market is a way to promote Connexion alone.
"It's important for us to be more visible to the community," Rivera said. "We already do a lot of things within the community and have a lot of community partners. But as a church ourselves — we haven't in recent years — held anything here for ourselves to actually be more visible."
Anita Maldonado, who co-founded Life Petals Photography and Design with Rivera, said she first got involved with Connexion as their music director. The photos she sold in the market were focused on families and infants.
"We love to support any type of organization that we know of that is impacting communities," Maldonado said. "Connexion obviously is one of those."
Maldonado said she understands the importance of photography in capturing a family's history.
"We just know that photography is such a beautiful way to keep a history of your family, an instant, a moment, that is literally frozen. It's a capsule," Maldonado said. "That's why we feel passionate about photography. We love the idea that we can offer that to people."
Devarie, another artist at the event, said that though he doesn't usually sell his art in pop-up events, he made an exception for Connexion. He said he is a painter who also works in figure modeling for local artists and anatomy classes at local art schools. Devarie said Connexion felt like a very open and safe environment for all, contrasting other more "strict" churches he's worshiped at.
"Entering a church like Connexion that's more focused on people's hearts than rules and having people connect with one another naturally," Devarie said, "that's been really wonderful."
Devarie also said he most enjoys being able to connect to parishioners at Connexion. At the event, he said he enjoyed talking to other artists about their work and welcoming them to the space.
"I knew the space already so I was able to walk in, set up and just talk to make other people feel more welcomed," Devarie said. "I know that can be nerve-wracking when you go to a place you're not familiar with and then meet all these strangers."
In regards to the future of Connexion, Rivera said the church hopes to expand their audience.
"Eventually, I hope that there's just so much foot traffic and everybody is able to sell what they bring and also just get to know Connexion in general, that we're here," Rivera said.
Beyond the market itself, Rivera said she hopes people learn about the church through its events.
"We really want people to know us and know that we're here," Rivera said.