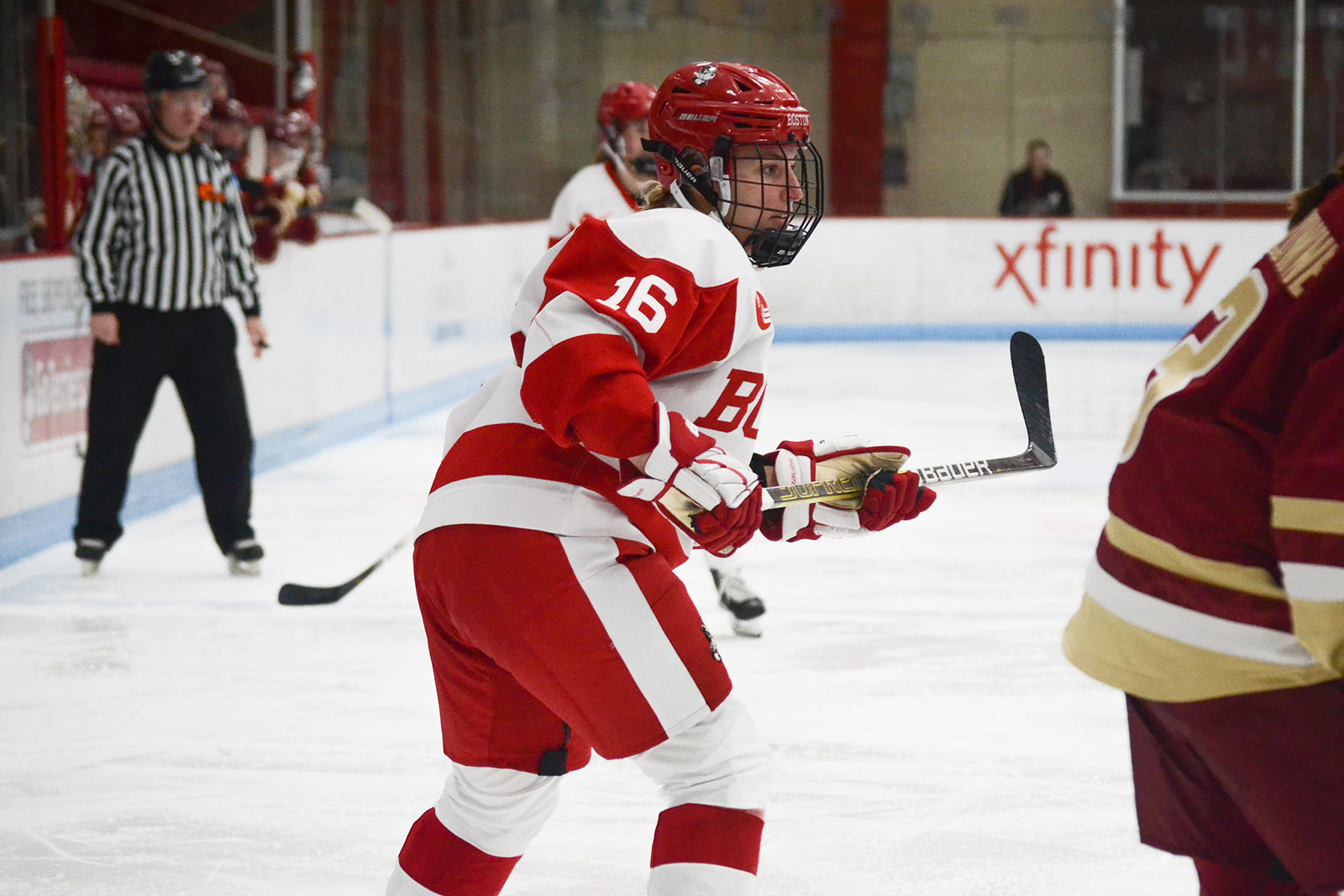 For Boston University women's hockey, Tuesday night will be more than a chance at defending its first Beanpot title in 39 years, it will be a chance at redemption.  
BU has faced Northeastern University three times this season, and the No. 2/3 Huskies (25-3-1, 21-2-0 Hockey East) have upended the No. 8/9 Terriers (20-6-3, 14-6-3 Hockey East) each time.
The Huskies are currently running away with Hockey East as they lead the second place Terriers by 11 points, and while the Beanpot does not affect conference standings, it can have an effect on BU's momentum as it enters the final leg of its season.
Head coach Brian Durocher said winning the Beanpot gives the team a motivational boost and can help the team move up in the national rankings.
"That immediate gratification of the trophy and knowing that it's in your rink for 365 days," Durocher said. "It's not only another 'W' in the win column, but maybe one that because it's against an upper level opponent, skews the numbers in our faith."
In the three previous games this season, Northeastern has only outscored BU by a 6-2 margin with the biggest win being a 2-0 victory on Nov. 2.
Durocher praised the all-around ability of the Huskies.
"I mean, a well-rounded thorough team is an easy way to explain it," he said. "Everything from outstanding goaltending to very good special teams and certainly a one-two tandem in Mueller and Aurard that rival anybody."
The key to victory for BU will be in slowing down Northeastern's high-octane offense. The Huskies' "one-two tandem" that Durocher described are sophomore forwards Alina Mueller and Chloe Aurard, the top two scoring players in Hockey East.
Mueller leads the conference in goals with 20, but has only burned the Terriers once this season, which came in the form of a shorthanded goal last month in Northeastern's 2-1 victory at Matthews Arena.
Aurard has yet to register a point against BU this season, but is always a threat when she is on the ice.
Durocher said the Terrier defense has done its job in the previous meetings, but BU needs to find just one more goal to match the Huskies.
"I think we've done a good job of holding their offense down, it's more a matter of us getting that goal," he said. "When we're leading 1-0 last time we played, if we got the second one, that changes the complexion of the game."
BU has offensive weapons of its own though. Redshirt senior forward Sammy Davis is third in Hockey East in scoring. The power-play unit is also lethal, with the top three power-play scorers in the conference being Terriers. 
As a team, BU leads the country in power-play conversions since Nov. 19, scoring on 33.3 percent of power plays, however, the Huskies excel when down a player and rank second in the nation with a .937 penalty kill percentage.
In terms of goaltending, this matchup consists of two of the top five goalies in the country. Huskie junior Aerin Frankel is statistically one of the best goalies in division one, with the best save percentage in the nation at .959 and a goals against average of 1.057. Terrier junior Corinne Schroeder ranks just behind Frankel with a .943 save percentage and a 1.504 goals against average.
Durocher said BU must do two things to beat the Huskies' star goaltender.
"When the time comes, don't shoot it over the top of the net or just wide because you got too cute," he said. "Make her make the save. The second biggest thing you've got to do is try take the goalie's eyes away."
This will be only the second time that BU and Northeastern have met in the Beanpot final, after the Huskies downed the Terriers, 4-3 in overtime, in the 2012 championship round.
Northeastern is seeking its first Beanpot title since 2013, and is playing in its first title round since losing to Boston College, 2-1, in 2017's tournament.
The Terriers are coming off of last year's 3-2 overtime victory over Harvard University when Davis sniped the game-winning goal to hand BU the title.
Puck drop is scheduled for 8 p.m. at Walter Brown Arena.
Durocher said the opportunity to play in front of a home crowd is a thrilling one.
"To do it at home [will] be pretty exciting," he said. "We'll have a chance to put some extra people in the building, it's a very energized rink.