Boston Mayor Marty Walsh announced Friday the largest slate of affordable housing funding for the city since he took office, totaling $69.2 million.
The money will contribute to creating and preserving more than 1,000 housing units in Boston. A majority of these units will serve households making at or below 60 percent of the Area Median Income, which is currently set at $71,100 for a family of four.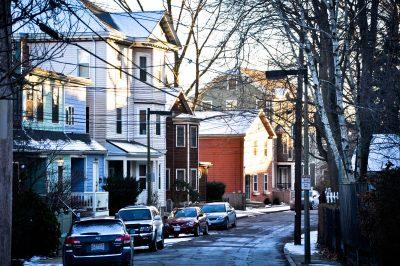 A Mayor's Office press release stated these awards make up the city's largest funding project for housing since the 2014 release of Housing a Changing City: Boston 2030, which set goals for affordable housing production to meet the needs of a growing municipal population. 
The effects of these most recent grants will be seen in 11 neighborhoods across Boston, not including Fenway, Kenmore or Allston. Approved projects within the areas will receive their funding from the Department of Neighborhood Development, Neighborhood Housing Trust and Community Preservation Fund.
Jessica Boatright, deputy director of neighborhood housing development at the Department of Neighborhood Development, said all projects go through a review process before they are approved for funding.
"When we do the reviews," Boatright said, "we are especially paying attention to the project feasibility to what kind of community outreach they've done and what kind of community support they've shown us."
Boatright said project design — how housing integrates into the neighborhood — and the development team's experience and capacity also factor in, as well as a project's proposed affordability levels.
The plan will include mixed-use projects, developments that can serve both housing and commercial uses, Boatright said.
"Oftentimes, that mixed-use has to do with the location it's in," Boatright said, "and also the developers and the neighborhood looking to maximise opportunity of a construction process to get as many community benefits out of that as possible."
Joe Finn, president and executive director of the Massachusetts Housing and Shelter Alliance, said the development of more affordable housing will help reduce the number of people living on the streets.
"The fact that [Walsh is] including something to assist in the development of 147 units for chronically homeless individuals is incredible," Finn said, "because that will make a big dent out of Boston's chronic homeless problem."
Finn said he thinks efforts to reduce homelessness in Boston have been more effective than in other cities.
"Even in a time in the country where in some places chronic homelessness may be growing in including other places around Massachusetts," Finn said, "in Boston, it's actually on the decline."
Alex Miller, 22, of Allston said he has noticed housing is more expensive in Boston than it was when he lived in Florida.
"There were two-bedrooms for $800 a month [in Florida]," Miller said. "The price of living was definitely cheaper but [housing] was harder to come by because it was a small town."
Vatsal Sanghavi, 26, of Allston said he's noticed an increase in housing costs since moving from Durham, North Carolina.
"My size of the house is like half the size of my house in Durham and double the rent," Sanghavi said. "30 percent of my take-home income goes into my rent."
Sanying Cao, 27, of Fenway said she has experienced high housing costs as a student at Berklee College of Music, and that she believes affordable housing projects should target students as well.
"It's unbelievably expensive," Cao said. "There are apparently more working people in the city compared to students, and we don't have that support."