Presidential candidate Pete Buttigieg kept his supporters at Nashua Community College waiting Tuesday night as the New Hampshire primary race tightened between himself and fellow candidate Bernie Sanders. 
By the time Buttigieg came on stage to greet his supporters, about 70 percent of the vote had been tallied, indicating the former South Bend mayor would place second to Sanders with 24 percent.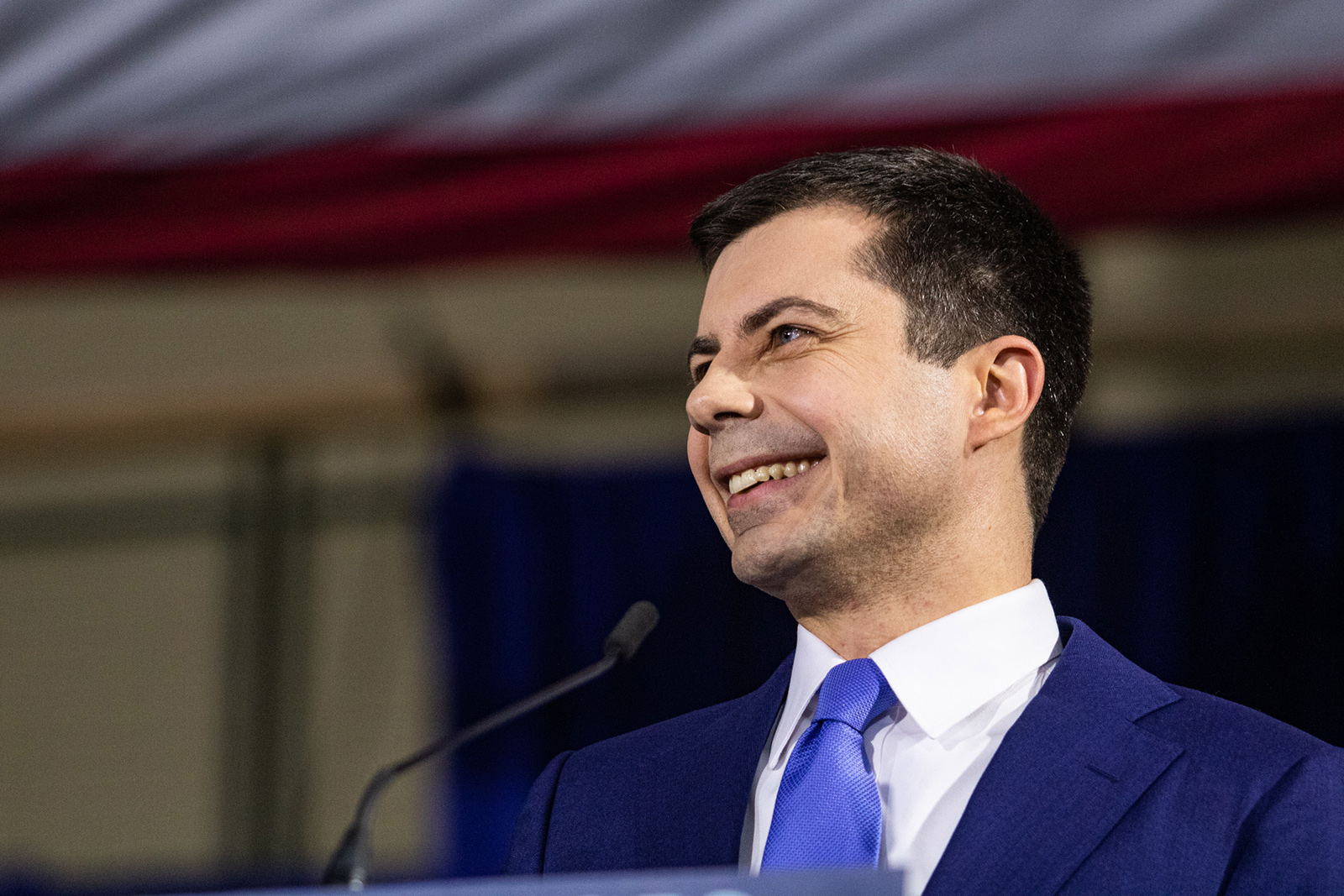 With all precincts reporting, Buttigieg remained behind Sen. Bernie Sanders with 24.4 percent of the vote.
The event, which drew an at-capacity crowd of 1,200 people, saw Buttigieg compliment his opponents' strong campaign efforts in New Hampshire. 
"I admired Senator Sanders when I was a high school student," Buttigieg said of Tuesday night's victor during his rally. "I respect him greatly to this day and I congratulate him on his strong showing tonight."
Buttigieg was also quick to emphasize unity amongst the Democratic Party by mentioning a crowd he had seen at a polling site earlier in the day.
"I know that we all share the spirit that we heard from some of our volunteers at a polling site earlier today who welcomed a competing candidate with chants of 'vote blue no matter who,'" Buttigieg said. "We are on the same team." 
Even though Buttigieg made sure to bring up unity early on, he also commented on the ideological differences between himself and his competitors and what it will take to enact the ideals they share. 
"But where does that leave the rest of us? Most Americans don't see where they fit in that polarized vision," Buttigieg said, "and we can't defeat the most divisive president in modern American history by tearing down anybody who doesn't agree with us 100 percent of the time."
While doors were not scheduled to open to the public until 7 p.m., supporters began arriving as early as 5 p.m. outside the event. The first of which was Stephanie Eisenberg, 47, who had traveled with her son all the way from Miami, Florida. 
"[Because of] the urgency of the moment and the change that's needed," Eisenberg said, "it felt required [to take] that kind of action, so we took action." 
While Tuesday night's rally may have been Buttigieg's most consequential event in New Hampshire on the campaign trail, it was preceded by days of neighborhood canvassing in the state led primarily by volunteers.
One volunteer at Buttigieg's event Tuesday night was David Carlson, 52, from Maplewood, New Jersey. The day prior to Buttigieg's rally, Carlson was going door-to-door in Concord, New Hampshire asking residents who they are supporting and encouraging them to vote. 
When asked about attacks on Buttigieg's lack of experience in Washington, D.C., Carlson said he is confident in the candidate's ability to appoint people to work with him.
"I have a lot of trust in his judgement," Carlson said. "I think he is going to pick smart people who are going to help him and that's the end of the game… I have a lot of faith in his ability to do that." 
Although Buttiegeg supporters came from all across the country, Richard Dowd, 73, did not have to travel far to make the event. Dowd, who lives in Nashua, New Hampshire and serves as the Alderman for ward 2, said he began fully supporting Buttigieg approximately last week. 
"It's an honor to have him here today," Dowd said, "and from what I can tell, he is doing exceptionally well and I have a lot of confidence that he'll continue to do well."
Dowd also said that the added attention toward Nashua due to the primary is a positive thing for New Hampshire.
"It's great for the state," Dowd said, "because it brings in not only all the candidates, but all of the news media and the attention to all the things we have to offer here in New Hampshire, in Nashua, is phenomenal." 
Another New Hampshire resident, Joyce Askenaizer, 67, from Hollis said she chose to support Buttiegeg because she sees him as a fresh face, as well as an articulate and intelligent politician. 
"I think it really makes a difference how a candidate excels in New Hampshire," Askenaizer said about her home state. "I think people are very independent thinking here." 
When asked what she would tell college-aged students about this ongoing election cycle, Askenaizer said it is imperative for younger Americans to vote since it is their future at stake. 
"I'm stepping up and voting for someone in the younger generation," Askenaizer said. "So I expect the younger generation to do the same thing."