Stories of the #MeToo era often focus more on the abuser rather than the victim, but Director Kitty Green is looking to shift the focus.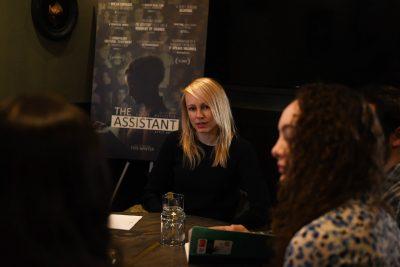 "The Assistant," a pre-#MeToo period drama, premiered at the Sundance Festival on Jan. 24. Written and directed by Green, the film is about a passive observer of, partaker in and victim of systematic abuse in a film company run by a tyrannical boss.
Green's first feature film, "The Assistant" broaches the topic of workplace harassment and abuse through the perspective of a junior assistant to a film production house executive.
In a roundtable interview at the Kimpton Nine Zero Hotel, Green said her intention with the film was to tell a story that went deeper than the coverage of the #MeToo movement, and to show that this issue is bigger than a few isolated incidents
"My anger around the reporting around #MeToo is we're focusing on the men a lot and the predators and this idea that if we get rid of Harvey Weinstein, it would fix everything, which is insane," Green said. "I was definitely interested in making sure people can see that it's bigger than just one or a few rotten apples and it's a systemic and cultural problem."
To tell this story, Green chose to narrow her focus on one character with the least power at a company and one day in her life at work, Green said.
"[Let's] figure out what her day is like and why she isn't being promoted," Green said, "as opposed to concentrating on the few people who somehow survived and got to the top."
The film takes the audience through a regular workday in the life of Jane, an aspiring film producer, who has been working in a film production house for five weeks. But through her mundane tasks, petty chores and tiny interactions with others, the audience notices the corrosive work environment that pervades the office. Jane does the jobs assigned to her without question — making copies, getting food, picking up an earring from her boss' office and even scrubbing the couch.
In the days after the Weinstein scandal broke, Green said she decided to shift her focus from researching consent and power structures on college campuses to the stories she knew of from her time working in Hollywood.
Green said she interviewed people from studios in New York, Los Angeles, London and Melbourne, where toxic practices were still prevalent.
Green is known as a documentary director, but said she chose to make "The Assistant" a feature film to capture smaller human moments more so than a documentary could.
"I felt like it's something that fiction can do because you can really hone in on gestures and looks and glances and just exactly how much something is hurting another human being," Green said. "You don't get those tiny moments [in a documentary]."
Through her collaboration with Julia Garner, who played Jane, Green said these small moments and Jane's emotional state came to fruition.
"The script doesn't have much detail about how she's feeling," Green said. "We spent a month in pre-production figuring out where she was at emotionally."
The humanness of the film also came through in the soundtrack. The movie uses minimal music and relies upon many everyday sounds, which resonate in and outside any office environment, like the sound of coffee brewing, the copier, lights and buses outside.
Green said she made the choice to use these sounds to make the story feel like an authentic day.
"I really wanted the audience to be in her shoes," Green said. "And in that sense, I didn't want to fill it with music because that would have almost felt false somehow."
Green said she hopes "The Assistant" will help bring about "actionable change," such as in her partnership with groups like the New York Women's Foundation, which provides community allies to bring about action against abuse of power, according to its website.
"By partnering with them," Green said, "it's like we can move into that next step of actually seeing change."
Green said she hopes audiences realize the issues explored in "The Assistant" are deeper than a few individuals and require serious work to fix.
"We need to rip the whole system apart," Green said. "We got a lot to do, a lot of work to do."