As a young political refugee, Tatyana Kleyn immigrated to the United States with the support of sponsors and the American legal system. But today, as an educator, Kleyn acknowledges that her personal experiences lack resemblance to those of modern immigrants, who face far more difficult obstacles to obtain the same freedoms.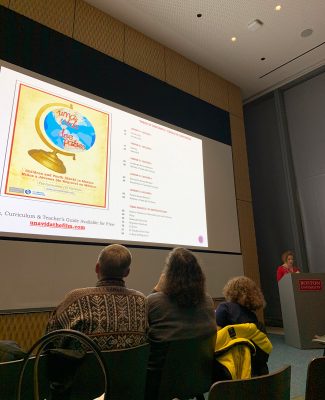 To address immigration conflicts at the Mexican border and their implications in U.S. schools, Wheelock College of Education and Human Development invited Kleyn, an associate professor in language at the City College of New York, for a discussion entitled, "Immigration and Education in the U.S. and Mexico, A Multimodal Approach to Transcending Borders."
The event, part of the Language Education Speaker series in the Wheelock Department of Language and Literacy, was moderated by Christine Leider, the program director of bilingual education, who said immigration was and remains a politically-charged topic in the U.S.
"I think immigration has always been a big issue in our country," Leider said. "There's a lot of heightened conversation and discourse in the media that portrays immigration, particularly migrants from Mexico in a negative light, which is very harmful and paints a dangerous narrative."
In addition to speaking about immigration policies and migration rates, Kleyn displayed photographs of immigrant families that will be featured in her upcoming book. She also played a portion of her documentary series, "Supporting Immigrants in Schools," in an effort for audiences to identify immigrants' stories and struggles.
After contextualizing border politics, Kleyn shared the sociocultural implications of strict immigration policy and augmented news coverage and said immigrants experience a wide range of prejudice that extends beyond legality due to the current executive office.
"I think what's happening in our society, this discrimination against immigrants, it's been amplified with the Trump administration… so the students feel it as well," Kleyn said in an interview. "They feel they're not welcome here, they feel they're not wanted, they feel discriminated against."
While schools are required to admit K-12 students regardless of immigration status, Kleyn said she is concerned that the education quality for English learners could be diminished because of their limited English proficiency.
"I think what is challenging is the quality of education students are receiving, which is uneven," Kleyn said. "They don't speak English, so we just need to give them English. They don't need other things, they don't get the arts, they don't get all those things."
Elizabeth Romano, a graduate student in Wheelock, said she attended the event to feel better prepared to support underprivileged students. Romano, who is focusing her masters on English as a Second Language, said she wants to be respectful and knowledgeable about these issues in her future classrooms.
"As a new teacher, I would say that my main takeaways are to be very aware of your students and their backgrounds," Romano said, "because there's a lot that goes on in the world and how the society and the government affects families in ways that some of us might not realize."
Kleyn said it is important to understand changes in immigration policies in order to best provide support for immigrant families, including emotional and physical safety for at-risk children in school.
During the lecture, Kleyn said she believes history is fundamental in conversations about current politics, but said it is also critical to stay informed with changes of current immigration policies.
"I think we need to help students understand and participate in local and federal government," Kleyn said during the lecture. "But we often stop there when we teach about immigration, and that is a real crime because our students' realities are not Ellis Island, they're very different."
The border between the U.S. and Mexico, Kleyn said, is composed of a physical wall, as well as an intangible wall of culture and language barriers.
"Some people have more privileges and more opportunities," Kleyn said during the presentation. "Unfortunately, most students in this country don't have access to bilingual education."
Romano said issues facing immigrant families often go unnoticed, so it is the responsibility of teachers to recognize those truths and share them.
"It's our role as educators to raise awareness," Romano said. "It's more of a bigger issue where different facets of life such as the government, psychology, education. These types of institutions need to come together and really get to the root problem."
Toward the end of the evening, Kleyn said it is important to inform educators on how to approach students with international backgrounds or birthplaces in order to, above all, create an open discourse and comfortable environment in school.
"Sometimes we want our students to share their story, but we must remember that their stories can often be very traumatic for them," Kleyn said at the event. "What we want to do in schools is to be educational, informative without being an alarmist."