American rapper Marlanna Evans, who goes by Rapsody, has had what can only be called an accomplished decade: she had a guest feature on an album that would go on to become one of the first rap albums archived in Harvard's Library, secured two Grammy nominations for an album dedicated to her grandmother and is currently on tour in support of her 2019 album "Eve," stopping at The Sinclair in Cambridge on Feb. 7.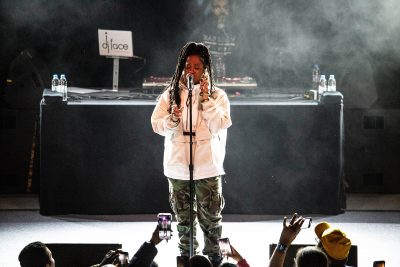 Each of the songs in "Eve" are named after various notable black women throughout history, from poet Maya Angelou to former First Lady Michelle Obama. If she had to include another track on the album, Rapsody said in an interview with The Daily Free Press she would name it after Assata Shakur, member of the Black Liberation Army and aunt to Tupac Shakur.
"For the people who don't know who [Shakur] is and about her story," Rapsody said, "it's a story I would love for people to learn about."
When it came to deciding which samples of previously written songs were to be used throughout the album, Rapsody said there was one song her team felt needed to make an appearance.
"The only [song] that I went 'I want to sample this, I have to sample this' was Tupac on 'Afeni' with 'Keep Ya Head Up,'" Rapsody said.
Afeni is the name of both the final track on the album and Tupac's mother.
Rapsody said she attributes her growing up with a music-oriented family as her inspiration to pursue music as a career.
"I grew up in a house that played music all the time," Rapsody said. "Music was always around me."
Rapsody started professionally pursuing rap after rapping at North Carolina State University with groups H2O and Kooley High. Other stepping stones in her career were collaborating with fellow North Carolinian producer 9th Wonder and late Boston rapper Young Guru.
Rapsody's first accredited verse on record was a guest verse on 9th Wonder-produced track "We Ar Jamla" by Skyzoo. Reflecting on what she would tell her younger self, Rapsody said this first experience helped her grow as a musician.
"9th Wonder and Guru had prepared me and taught me so much," Rapsody said. "[I would] be more patient with myself, and to know that what I do is enough."
Rapsody said she also attributes rapper MC Lyte's television appearances in the late '80s and early '90s as one of the first sparks of inspiration for her to pursue music.
"She was the first female that I saw rap," Rapsody said. "It was representation for me and inspiration. Like, 'Yeah, I could do that, that would be crazy, that would be a dream.'"
Rapsody said she believes women in rap have historically been denied the access to the public consumption of hip-hop that male rappers have been afforded.
"I wouldn't say that the general public has ignored women in rap… it's access," Rhapsody said. "The majority of Americans get their music from radio and television, and these platforms and these mediums are creating spaces that women can have their voice and can share their talent that a lot of people don't know where to find it."
Rapping for over a decade, Rapsody has had time to reflect on her status as a veteran and on whether or not she has satisfied herself in regards to honing her craft. Comparing herself to the artists she looks up to, Rapsody said she finds herself in the same conversation when it comes to being as talented as her rap predecessors.
"Some of my favorites are Jay and Queen Latifah," Rapsody said. "Skill-wise, in song-making, I do think I'm on par [with them]. On a fame level, on a notoriety level, that's the difference in my eyes."
Rapsody also cited contemporaries as pushing her to further her craft, particularly rappers she had collaborated with in the past.
"My peers like Kendrick Lamar and Big K.R.I.T. Those two I always look to for inspiration," Rapsody said. "I love J.I.D., I love Summer Walker, I love the way that she writes. Those are a few [artists] I can think of."
Rapsody said she had been looking forward to performing in Boston, and said the anticipation for performing in the city was akin to "a Boston-Lakers game."
"Every time I come here, I don't know what it is about the city, but they show so much love," Rapsody said. "I felt good about coming here, just bringing the tour here and having another dope family reunion with a bunch of hip-hop lovers."