Oh Wonder released their third studio album, "No One Else Can Wear Your Crown" Friday, using their close relationship with each other to spread love through music.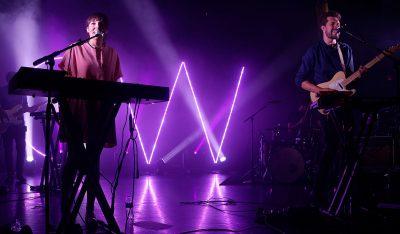 In 2015, the British duo Josephine Vander Gucht and Andrew West set out to release a single each month, culminating in their debut album, "Oh Wonder." Despite the restrictive deadlines, critics deemed the album cohesive and well thought-out. Similarly, their last album in 2017, "Ultralife," was well-received by fans.
The two channel their experiences living together and their closeness for this project that is coupled with sweet lyrics set behind soft, bouncy synths.
Reminiscent of their previous releases, Oh Wonder stays true to their wistful and reflective nature with "No One Else Can Wear Your Crown."
The dreamy first track, "Dust," calms listeners but also seeks to empower with its encouraging and resolute message. "When people try to get you down / Remember that I'm here for you." It is a message that hopes to unify despite differences and similarities, setting a positive, powerful and hopeful direction of the upcoming tracks.
"Happy" is a perfect radio hit. Clever violin accompaniment in the chorus and layers of intricate percussion allow for a vivid collaboration with the song's motifs of moving on from a painful past relationship. There's no hard feelings in this song. It's one that depicts the joys of loving and having loved, for the better.
"Better Now" continues down the path of hope despite the pain hidden behind it. Beautifully and hauntingly minimalistic, the duo expresses their wishes toward a hospitalized friend. Backed by piano and choir-like hymns, their emotions are elevated. This track solidifies the standing of this album among their already impressive discography.
Arguably the best track on the album, "Hallelujah" is a shout of defiance against non-believers and naysayers. The heart-pumping instrumentals and musicality embody Oh Wonder's come-up and perseverance over the past decade as they chase their dreams. This track reflects their belief in staying true to themselves, despite what others may say.
West and Gucht's relationship has always been speculated as being more than just platonic or professional. But with "In and Out of Love," the two seemingly confess their gratefulness for having found each other and having found "the one." The song — backed by piano acoustics, with only a few orchestral and percussive accents throughout — feels like an intimate serenade where the duo is in a world by themselves. It's incredibly personal and feels much like a love letter.
Oh Wonder proves once again that they are the masters of relatability in "Drunk On You," a track that gets the feelings of going out with someone for the first time right on the nose. Above all else, the duo shines in their ability to appeal to the human experience. While many of these songs may seem sickly sweet and over-the-top to a new listener, long-time fans know that empathy is what the couple does best.
No song better captures the emotions involved in love as does the album's closer "Nebraska." It captures the anxiety that comes with needing someone, the intensity of one's affections for that person and the way they're able to make one feel at home. The duo exhibits their songwriting prowess with bare-bones instrumentals. As the song plays on, the instrumentals and the two reach their peak before the song fading out into nothingness, creating a sentimental and satisfying ending.
Heartbreak, self-acceptance and love. Oh Wonder walks us through it all, defined by their personal context. They successfully remind us of the ups-and-downs that come with life through an almost child-like perspective.
In the past, the pair has shown consistency with their style, and it continues to work for them, as "No One Else Can Wear Your Crown" is their most honest and vulnerable piece yet.