Sen. Bernie Sanders claimed victory Tuesday at his Democratic primary party in Manchester, New Hampshire, where supporters watched as he pulled in more than a quarter of the vote.
Sanders earned 25.7 percent of votes with all precincts reporting. The senator celebrated with around 500 people at Southern New Hampshire University.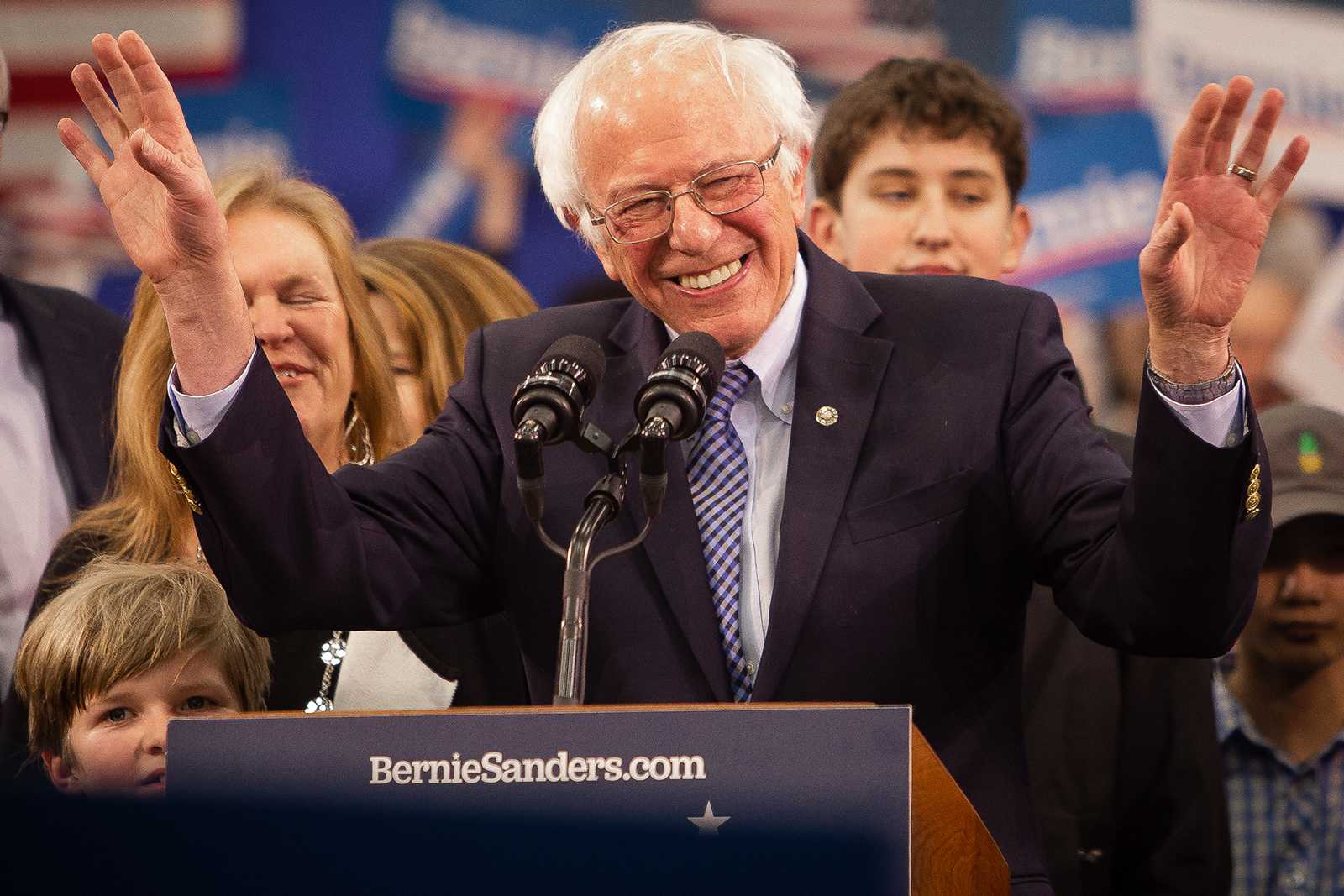 At his election night event, Sanders cut off second-place finisher Pete Buttigieg's speech playing live on a screen to make his own victory speech. Both Sanders and Buttigieg finished with nine delegates.
Sanders said that as he continues to move forward in the race, his campaign will further zone in on the country's super-rich.
"At this point in the campaign, we are taking on billionaires and we're taking on candidates funded by billionaires," Sanders said, "because we have the agenda that speaks to the needs of the working people."
Sanders also reiterated his win in the Iowa caucus, the results of which are currently under dispute as too close to call between himself and Buttigieg.
The senator won by a smaller margin of votes in this year's New Hampshire primary than in 2016 when he beat Secretary Hillary Clinton by as much as 22 points in the state, but went on to lose the nomination. 
Christopher Goudreault, 29, of Manchester, New Hampshire said he voted for Sanders because he sees the senator as an outsider to the Democratic Party who will focus on Social Security and Medicare.
"Health insurance in general is really terrible right now. I'm struggling with it a lot," Goudrealt said. "I'm paying an arm and a leg, and I see lots of other countries that aren't."
Gale Emerson, 72, of Manchester said she voted for Sanders because she saw him leading in the polls and her number-one priority is getting Trump out of office.
"I always vote, but this election is super important," Emerson said, "more so than ever because of Donald Trump."
On the eve of the primary, Sanders held a rally at the Whittemore Arena in the University of New Hampshire featuring New York Rep. Alexandria Ocasio-Cortez and rock band The Strokes. Over 7,500 attended the rally, in which Sanders was the largest democratic rally in New Hampshire that night.
"In case you hadn't noticed, there are a lot of people here," Sanders said. "Three times more people here than any Democratic Rally in New Hampshire tonight."
The same evening, President Trump held a rally in nearby Manchester, where Trump advisors hoped Secret Service presence would interrupt Democratic voters in the primary. Ocasio-Cortez said that President Trump held the rally due to his fear of Sanders' popularity.
"Let's talk about November. We know in every poll that Bernie beats Trump. Trump knows that," Ocasio-Cortez said. "Why else do you think he has come here tonight? For anybody else?"
Thousands of people waited in lines outside the arena all afternoon for the event, holding posters and signs for the senator. 
John Jones, 76, of Sutton Hills, New Hampshire stood on a pile of snow outside the arena doors with a tarp that read "Veterans for Bernie 2020." Jones recalled meeting another Democratic candidate years ago, while speaking about the importance of voting during the primary.
"When I was a young fellow, my privilege was to go and listen to a fellow from Massachusetts," Jones said. "I liked his speech and we all loved him. His name was John F. Kennedy."
Anastasia Samara and Kelly Kong contributed to the reporting of this article.