With Valentine's Day rapidly approaching, the scramble for that perfect present is in the air — and the smell of chocolate is stronger than ever.
In a January press release, the National Retail Federation said Americans plan to spend an estimated $2.4 billion on candy this year. Three chocolate shops in Boston face the Valentine's buzz every year, each sticking out with their own delicious twists.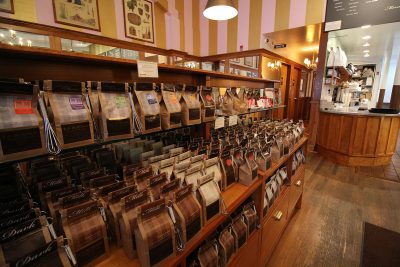 L.A. Burdick
L.A. Burdick has been in its Clarendon Street location for nearly eight years, General Manager Jamie Hablin said, among its five other locations nationwide. Hablin said the store offers a wide variety of chocolate items made without any artificial extracts or syrups.
"The focus is on high-quality, fresh ingredients and all-natural things," Hablin said.
Customers can get their chocolate fix either at the chocolate retail section or the cafe in the form of hot chocolate or coffee. Hablin said the same customers keep returning because the quality has stayed strong.
"I think we're definitely well-known for a reason. The original founder of the business blended some cocoa beans to what his palate [thought was] the best," Hablin said. "Even though we've been open for so long now, we've never skimped on the quality and I think that really shows through."
Hablin said one of the signature treats of L.A. Burdick are the chocolate mice. She said the shop will introduce champagne and rosewater flavored mice this year.
"They're certainly unique," Hablin said. "Just as delicious as all the rest of the bonbons."
The store's foot traffic would most likely peak this week, Hablin said, since Valentine's Day falls on a Friday.
Hablin said one special, romantic memory of the shop occured in 2017 when Mark Zuckerberg rented out the Cambridge location for just himself and his wife one evening in honor of their first date there years earlier.
Max Brenner
Max Brenner on Boylston Street joins its other locations in New York City, Philadelphia, Australia, Israel, Japan and Russia.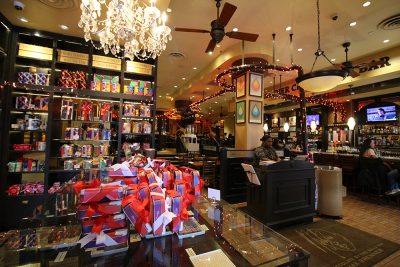 A restaurant with a twist, the Max Brenner menu incorporates chocolate into every dish, from mixing cocoa powder into ranch dressing to dusting chocolate on top of their waffle fries.
Cristine Franco, general manager at Max Brenner's International, said the shop's focus on experience, not just taste, is what makes Max Brenner a unique brand.
"The experience is all the same and we try and keep it consistent," Franco said. "We want people to feel welcome, we want them to feel happy, like visiting Charlie and the Chocolate Factory."
Franco said she has been touched by the gestures on Valentine's Day at the restaurant, which have ranged from poster boards to engagements.
"It's really amazing to share that experience," Franco said. "We have a lot of notes this year here where people are celebrating either their first wedding anniversary or they're celebrating because they got engaged here."
Barth said she feels grateful that she gets the chance to provide chocolate as a "token of love" for not only couples, but mothers, children, grandchildren and grandparents.
"Giving someone a chocolate sweet, it's what makes people feel good, gets you in the mood, makes you want to be more amorous," Barth said. "I'm lucky in that respect because I'm glad there's Valentines Day. It's just a feel-good holiday, the holiday of love and romance, something that you want to share with somebody."
Beacon Hill Chocolates
Tucked in a shop on Charles Street, Beacon Hill Chocolates carries artisan chocolate and gelato of a variety of flavors, including lavender, ginger and hot chili pepper, Founder Paula Barth said.
Employee Donna Gaspar said the Valentine's Day rush, consisting primarily of "gentlemen," never fails to awaken the shop.
"The line is out the door… the day before Valentine's or even the day of Valentine's," Gaspar said. "It is a challenge but we're up for it."
Barth said the line is long in days nearing Valentine's Day because men handpick each piece of candy to put in a heart box.
"I find the whole [Valentine's] culture very funny and entertaining," Barth said. "In my shop, the reason to wait is we're not like a package-and-go place."
Beacon Hill Chocolates opened in 2006 when Barth, who had a love of chocolate but no retail experience, went with her "gut instinct," to provide what she said she saw as a need in the area.
"I realized that in the Beacon Hill area, there wasn't a spot to get some good artisan chocolate," Barth said. "So, me being personally addicted to chocolate myself, I said okay."
Every product sold is wrapped in handmade, keepsake boxes made unique for each customer, which manager Tiffany Lee said is a testament to the shop's focus on customer service.
"Our customer service is number one, we pride ourselves on that. But also our keepsake box is what we're known for," Lee said. "The owner wanted a concept where it's like a jewelry box for your chocolate, so you're not just getting a plain, boring, brown cardboard box."