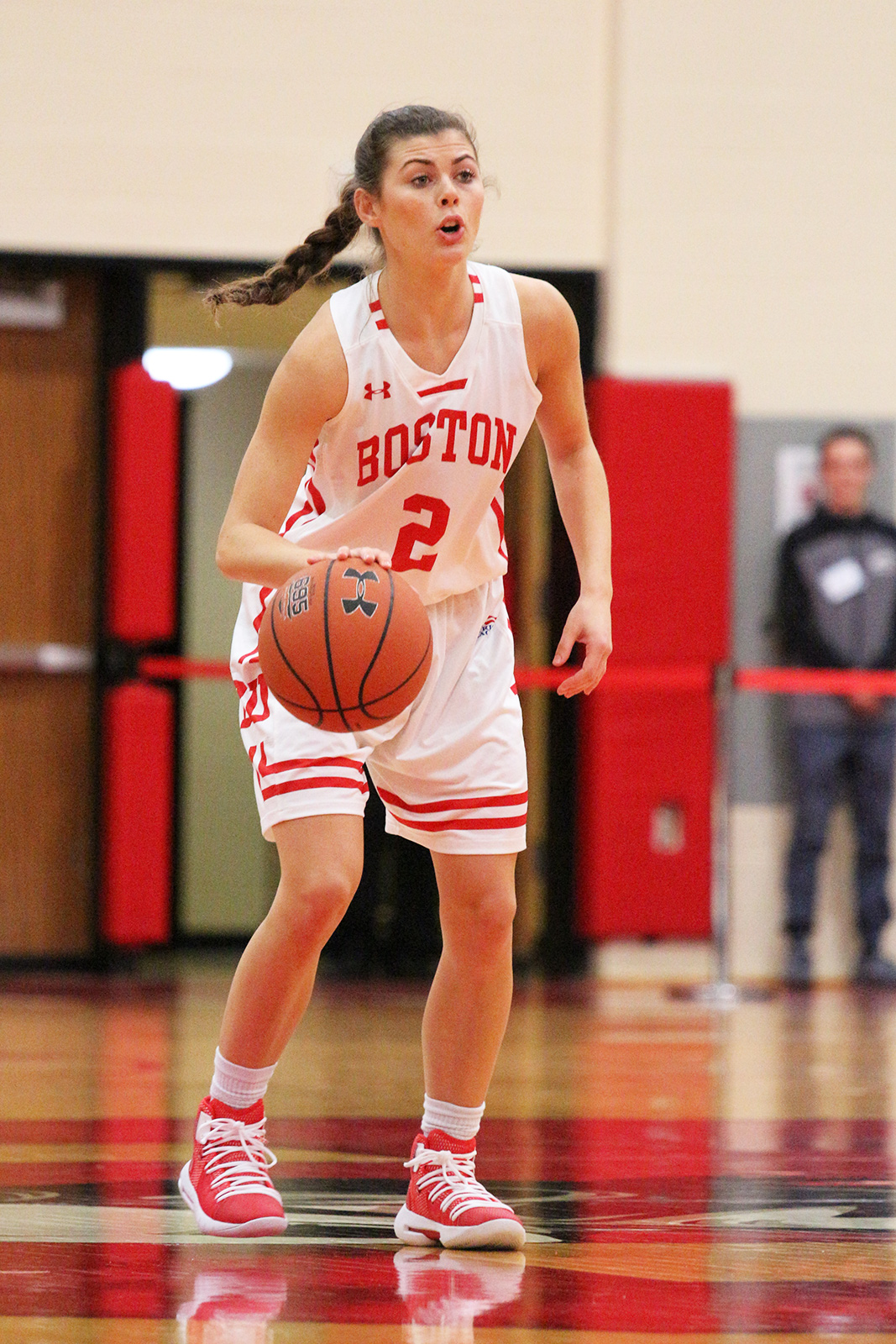 The Boston University women's basketball team extended its win streak to five games in a narrow 60-58 victory against second-seeded Colgate University in Hamilton, New York Wednesday night. 
It came down to the final seconds, but the Terriers (13-10, 8-4 Patriot League) survived a fourth quarter rally from the Raiders (16-7, 8-4 Patriot League), who came back from a seven-point deficit at the end of the third quarter.
BU is now the first team to defeat the Raiders on their home turf at Cotterell Court this season after Wednesday's victory. 
BU Head Coach Marisa Moseley credited Hamilton as "a tough place to play" and said this game was a huge victory, especially for a young team starting three freshmen.
"I'm just really proud of all of our kids and I think we had some great contributions from people off the bench in [junior guard] Tenisha Pressley and [senior forward] Nia Irving, and so I think all-around it was just a really great team effort," Moseley said.
Freshman forward Maren Durant scored seven points on the night, but none more important than the two free throws she made with 1.5 seconds left in the game.
Despite maintaining a lead for the majority of the game, a series of turnovers in the fourth quarter quickly put BU's lead in jeopardy. 
BU committed 28 turnovers in the victory, but held the Raiders to only 19 points off those turnovers with 11 coming in the final frame.
Moseley said Colgate's transition game was a huge factor in the Raiders nearly winning at the end of the game.
"They're really good in transition, especially [Colgate senior guard] Rachel Thompson, so we had done a pretty good job up to that point of containing her in the half-court," Moseley said. "But her in the open floor definitely was tough for us to contain, anybody to contain, she's speedy." 
Thompson, who is the top scorer for the Raiders and second-highest scorer in the Patriot League, nearly recorded a double-double against the Terriers with 12 points and nine rebounds. Thompson also contributed five assists and five steals. 
Senior forward Abby Schubiger led the Raiders in offense throughout the game, scoring a team-high 14 points and tallying an assist as well.  
The Terriers had a strong offensive showing from freshman guard Maggie Pina, who scored a game-high 18 points, while shooting 50 percent from the field and 67 percent from beyond the arc. Pina was named the Patriot League Rookie of the Week for the fifth time this season earlier this week. 
Junior guard Katie Nelson played all 40 minutes and scored 12 points, while sophomore forward Riley Childs had a strong all-around performance with nine points, four steals and six rebounds.
Moseley said Pina's strong offensive performance has helped "spread the wealth" in allowing the Terriers to have three strong perimeter shooters on the floor at a time with Nelson and freshman guard Sydney Johnson.
"I think [Pina] has been really consistent for us game in and game out," Moseley said. "I think our players really trust that she's going to make big shots in big moments, and I think she has a lot of confidence in her shooting."
The Terriers took a late lead, but the Raiders were able to tie the game with 19 seconds left.
On BU's last possession of the game, Durant caught an offensive rebound at the block and was fouled with 1.5 seconds left.
Durant sunk both free throws, despite an attempt from the Colgate coaching staff to ice her by calling a timeout.
The Raiders had one final possession but were unable to even get a shot off, giving BU a 60-58 victory, moving the Terriers up into second place in the Patriot League.
Moseley believes that her team has proven itself capable of not only winning the Patriot League tournament, but also making a run into the NCAA tournament as well.
"Our goal from the beginning has been to win a Patriot League championship and go to the NCAA tournament," Moseley said. "We said that back in the summer as what we wanted to accomplish." 
Moseley said that her team is focused on putting itself in a position to win the remaining six regular season games and go on to the Patriot League tournament riding a wave of victory.
The Terriers will look to extend their win streak to six games this Saturday against the United States Naval Academy (7-16, 2-10 Patriot League) on senior day. Irving and fellow senior Vanessa Edgehill will be honored before tipoff, which is set for 1 p.m. at Case Gym.