The era of technology demands fast-paced, nearly instantaneous changes and developments in almost every aspect of corporate life. The stock market is no exception, but Boston University student Yahia Bakour is determined to keep pace.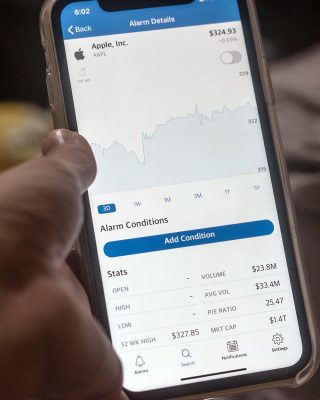 Bakour, a senior in the College of Engineering, was named the Vice President of Growth to Stock Alarm in January after inquiring about features he thought were missing in the application. The app provides real-time stock alerts to users by calling them within a minute of any change users specified.
As the VP of Growth, Bakour works in coding, designing and marketing for the app, saying he is passionate about the service.
"The project is important to me because we're offering a service that no one else does at the moment, which is phone calls when the alarm goes off," Bakour said. "Our slogan is 'wake up when it matters most.'"
When Bakour joined in December, the company had about 400 monthly active users and 600 total users, he said. In the month since then, the company has doubled, with nearly 800 monthly active users and 1,200 users total.
Morgan Howell, a Facebook senior software engineer who co-created the app, said that when Bakour approached them with product improvement ideas, Howell was immediately intrigued.
"[Bakour] never saw Stock Alarm as a simple alarm clock for the stock market, rather a platform for packaging a library of complicated signals as simple alarms so that anyone, regardless of trading background, could quickly enable a range of strategies in their portfolio," Howell wrote. "The fit was obvious."
Though numerous other platforms exist that allow users to monitor stock changes, Stock Alarm has customization features that allow users to have an active involvement in the alerts they recieve, such as an option to request an alert type, Bakour said.
"On a weekly basis, we decide what's most important," Bakour said, "and then we build that [feature]."
The Stock Alarm app officially came out five months ago, Bakour said, now with a paid model for $5 a month and a free version online. It also involves a blog on its website that features advice on how to enter the stock market, Bakour said, including posts from student writers.
Osama Alshaykh, a professor in the Department of Electrical and Computer Engineering who had Bakour as a student in the fall, said software development, like the kind Bakour is doing, requires a lot of creativity.
"When you think about software development, people think of people writing code, but it's actually a creative process of how you can build things," Alshaykh said. "It's almost like an architect where she or he [is] basically imagining the outcome and how it will help the people and how they can reach that outcome in steps and milestones with building blocks."
As a professional in product design, as well as a software engineer and owner of a software company himself, Alshaykh said an app must have a purpose that helps the target audience. He said Stock Alarm is already showing signs of success, as gaining revenue from subscriptions this early on is a "major milestone."
Joshua Weiss, who teaches a course called "The Business of Technology Innovation" in the Questrom School of Business, said the Stock Alarm app could make improvements to better distinguish itself from others. He said a potential improvement is for the app to analyze complex systems that affect stock — such as news and weather — to detect potential changes and alert people before they occur.
Despite Weiss' suggestions for improvement, he said the app can currently appeal to both retail consumers and people just getting into the field.
"The way things are now in the stock world, it's all happening with high performance, high speed algorithms based on supercomputers and high speed trading," Weiss said. "I think that they're playing into a space that is more targeted maybe at the retail consumer and not at the high volume traders."
Though users cannot currently execute trades through the app or see trending news about the products, Bakour said he hopes to add these and other new features in the future to expand the impact of Stock Alarm.
"We're adding more features every day," Bakour said.
Dennis Karpovitch, a junior in Questrom and president of BU BizTech club, said he invests in stocks himself and sees the appealing user-friendly qualities of the app.
"As a tech enthusiast, I see this kind of app as something that really caters to the way that I use technology," Karpovitch said, "and really just allowing me to monitor things in the background without necessarily having to watch the ticker all the time."
Bakour said BU Finance and Investment Club, FinTech BU and Biztech are examples of BU organizations that demonstrate student interest in investment. He said this app could help ease their transition into the world of stocks.
"All these students are trying to get into the market now and it's better for them to have a greater grasp of what's going on," Bakour said. "So that's why we offer this app as opposed to just blindly jumping into money."