Joshua Shifrinson, an assistant professor of International Relations at Boston University's Frederick S. Pardee School of Global Studies, will join the Wilson China Fellowship at the Woodrow Wilson Center's Kissinger Institute in the United States and China, according to Pardee's website.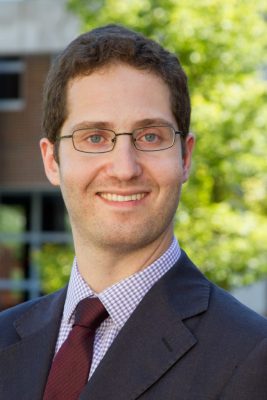 This fellowship allows anyone with a PhD received after Jan. 1, 2009 to participate and hold research about socio-economic, political and security issues related to China, China's increasing influence over the Indo-Pacific area and its relationship with the United States, according to the Wilson Center website.
The fellowship is a one-year-long program, spanning March 2020 to February 2021, according to the Wilson Center website. Participants get a $20,000 stipend for the coordination of their studies and at the program's end, each fellow is expected to produce their own research paper and present their idea at the conference in November 2020.
Shifrinson's past works covered great power politics, the rise of China and the relationship between the two countries, he said in an interview. He applied for the fellowship program as it is at the Wilson Center.
"I think what is attractive about the Wilson Center and the China program in particular, is that the Wilson Center has a reputation for [taking] academic insights and applied into policy debates and bridge blend the research agendas," Shifrinson said. "So it was an obvious opportunity for me to take my research passions and apply them to the real world."
Shifrinson also said participating in this program will help improve his teaching methods and curriculum.
"I think this activity will really help me as a BU professor, accelerate the education of my students and help me connect my students to ongoing discussions," Shifrinson said, "both in the university world, as well as in the policy world."
Shifrinson's research idea is not concrete, he said, but he knows there will be a focus on different perspectives to examine the competition between the United States and China.
"Everyone's saying the United States and China are now competitors," Shifrinson said. "But competition can be lots of different things. And the way that competition plays out internationally can evolve in different ways."
Thomas Berger, one of Shifrinson's colleagues and the director of the Center for the Study of Asia in Pardee, said that although Shifrinson is not an expert on China right now, he has been greatly interested in rising powers.
"It's a professional development opportunity," Berger said, "and it allows him to develop that kind of expertise that he wouldn't otherwise."
Steven Le, a freshman in the College of Arts and Sciences, said this program could improve students' academic experiences at BU.
"I think it's a good idea to have one of the professors here study Chinese global studies as well to get a feel of their culture and what they do and how they academics work," Le said. "Over the past years, China has been economically growing at a rapid pace. They could also put other countries at risk. In the U.S. itself, they're a big competition."
Matteo David, a sophomore in CAS, said BU students having opportunities to connect with students from around the globe will make them more open-minded.
"I think it's a very good initiative," David said. "It's very important to know about the cultural aspects of China because we will have a deeper understanding of where they come from and where they made their decisions their way, the way they made them."
Joseph Pohoryles, a freshman in the College of Communication, said he thinks that BU should take further actions to strengthen on-campus experience surrounding cultural diversity.
"If they're looking to [strengthen our experience], hire new staff or professors, just prioritizing that field and that point of knowledge," Pohoryles said. "For the people who are already here, emphasizing or encouraging them to get more educated on these issues [is] probably the first step of where they could go with that."
NOTE: Spring 2020 Editor-in-Chief Victoria Bond represents the Frederick S. Pardee School of Global Studies as a dean's ambassador. She was not involved in the reporting or editing of this story.