Graffiti related to ongoing protests in Hong Kong appeared on the sidewalks outside of The Daily Free Press office and whitestone residences on Commonwealth Ave. Thursday night.
Workers began cleaning the sidewalks late this morning as students passed by between classes.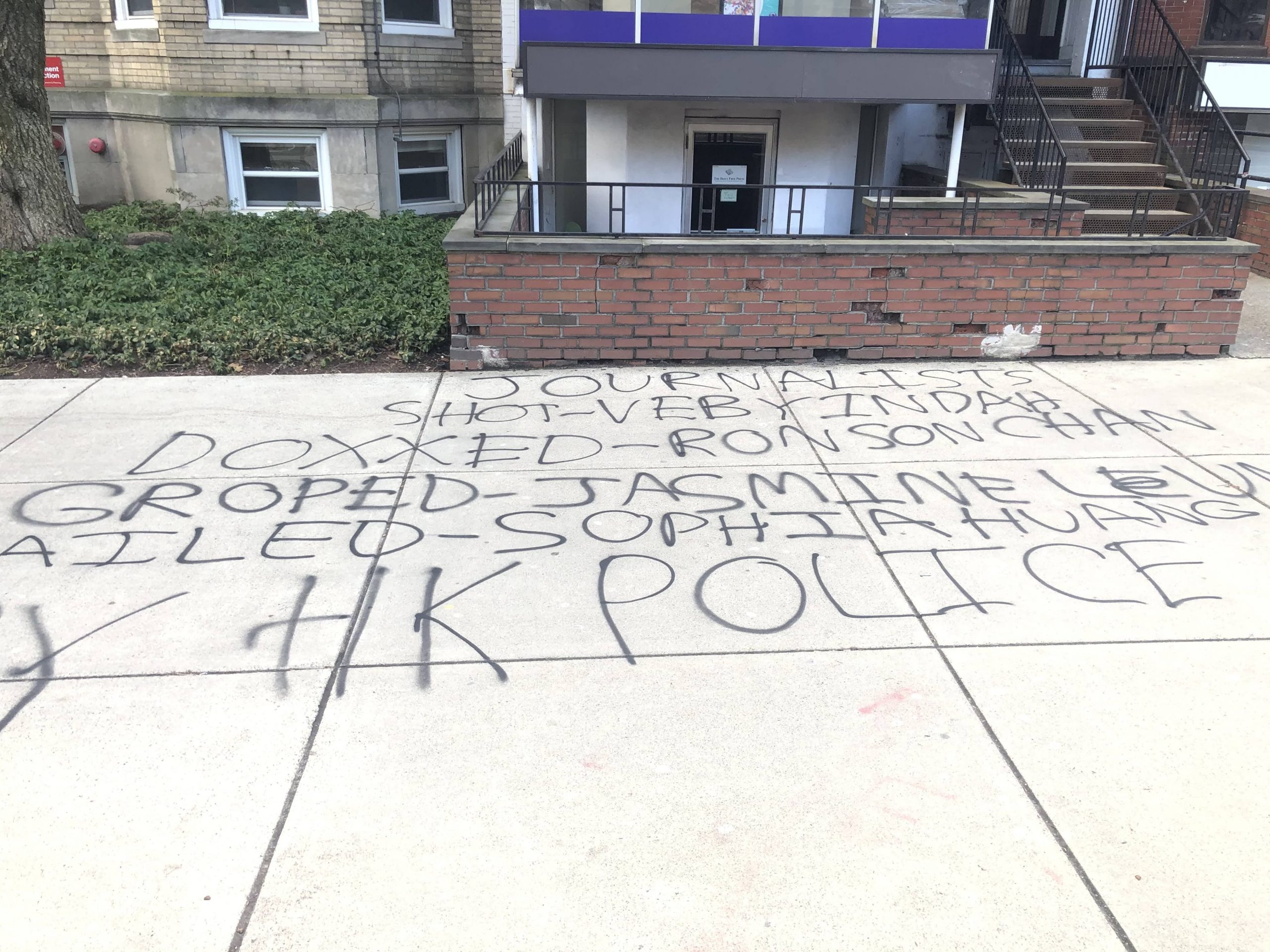 The writing outside The Daily Free Press read "Journalists Shot – Veby Indah Doxxed – Ronson Chan Groped – Jasmine Leung Jailed – Sophia Huang by [Hong Kong] police" in all capital letters.
Outside the whitestones, the graffiti read "10.1 Never forget never forgive," also in capital letters. Also depicted was a white and black flower that resembled the bauhinia flower featured on Hong Kong's flag – a symbol that has become central to the Hong Kong protests.
This incident appears similar to the vandalism that occurred last semester outside the College of Arts and Science and Hillel, among other places, where vandals wrote phrases including "Free Hong Kong" and illustrated the bauhinia flower.
Colin Riley, a BU spokesperson, wrote in an email that the graffiti was "disturbing and counterproductive." He also wrote that the university has initiated a formal investigation into the vandalism.
"The destruction of property is an unnecessary and counterproductive tactic to getting a group's message out," Riley wrote. "The university considers this behavior unacceptable and has asked [the Boston University Police Department] to formally investigate the incident to identify the person or people responsible for the damage."
The list of names and associated citations refers to individuals who were endangered or exploited by Chinese police during the protests.
Veby Indah, an Indonesian video journalist, was blinded in one eye by a misdirected projectile fired during a police riot in Hong Kong Sept. 29, according to Al Jazeera.
Ronson Chan, a reporter, was covering an event when a Hong King police officer displayed Chan's reporter identification card to a camera sharing live video feed Dec. 26, according to South China Morning Post.
Jasmine Leung, a freelance multimedia journalist with NBC, was reportedly groped by Hong Kong police during a riot in December, according to a tweet by Ezra Cheung.
Sophia Huang was number one on the list of 10 Most Urgent, a list created by the One Free Press Coalition to draw attention to oppressed journalists, according to Forbes. Huang, a #MeToo activist in China, was arrested for disturbing the public Oct. 24, according to The South China Morning Post.
Rose Chen, a junior in the Wheelock College of Education and Human Development, said she believes the coronavirus is detracting from other news coming from China.
"I feel like all the news about Hong Kong and everything that's happening there is being covered up [by the coronavirus]," Chen said, "so they really want to get their message out."
Aashna Ranka, a sophomore in CAS, said she thinks vandalism is the wrong way to go about spreading this group or person's message, and they should find other options for advocating their cause.
"I think finding them and guiding them would be better [than punishing them]," Ranka said, "because they obviously feel strongly about their country, which is why they're acting out in this way."
Annika Chun, a freshman in the CAS, said she understands the motivation behind the graffiti, but does not necessarily find it to be the most effective means of protesting.
"I think it can be inefficient because it does require people to clean it up," Chun said. "But I do understand that there are certain issues that sometimes students feel like are not being heard and the only way they can be heard is to demonstrate some radical act of protest."