A passage in the Bible details a farmer who goes out to sow his seeds on different soils, but some fail to sprout. The narrative stands as a metaphor with many different interpretations, and appears in countless texts, one being the namesake novel "Parable of the Sower."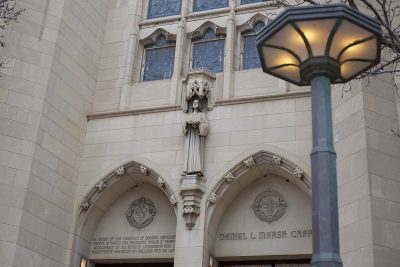 Boston University's Marsh Chapel held their first of two readings of "Parable of the Sower" Thursday, part of a Boston-wide program in which the book will be presented by ArtsEmerson, the Boston Public Library and New Roots Church.
The event involved an open-communication discussion between two people based on the book, engaging the community in conversation about climate change and improving humanity.
Tom Batson, a Marsh associate and senior in the College of Fine Arts and the College of Arts and Sciences, said he believes the chapel provides a space to engage in important conversations, especially topics unique to church life that are inaccessible elsewhere. This emphasis on seeking a deeper meaning of spiritual life, Batson said, builds a closer-knit group of people in the city.
"I think Marsh Chapel provides an inclusive space for both students and also members of the Boston community to join in fellowship and learn together in a variety of different ways," Batson said. "Events like [the reading] foster an emphasis on communication and also dialogue so that we can understand theology more broadly."
Author Octavia E. Butler centers the book around protagonist Lauren, as she mirrors Jesus' mission to gain followers in a new religion. The people Lauren meets, who are extremely skeptical to engage with her faith, are interpreted as the seeds in the Biblical parable.
In alignment with themes of doubt and starting a new life, the reading covered a broad range of current politically-charged topics, from race to climate change to humankind's self-inflicted environmental damage.
Marsh Associate Shruti Gupta, a junior in CAS, wrote in an email that, despite difficult and divisive conversations, Marsh Chapel welcomes individuals with differing backgrounds and religious beliefs. Her identity, she wrote, did not outcast her role in the organization, but rather motivated her to explore herself in a safe space.
"I'm actually a Hindu, not a Christian, and being part of the Associates has allowed me to critically examine my faith through a social justice-based lens in a way that I'm not sure any other on-campus organization would allow me to," Gupta said. "The Marsh community has helped me grow in ways that I never thought I'd have the opportunity to."
The reading was held in the basement of the Marsh Chapel, where Brother Lawrence Whitney, the university chaplain for Community Life, discussed the impact of the book with an attendee who had read the novel beforehand. Although the subject matter caused tension, its leaders emphasized the importance of respecting others and promoting community engagement.
"The Parable of the Sower" incorporates motifs of climate change, wealth inequality and corporate greed, but these themes were simply introductions to alternate dimensions of Butler's novel. Attendees posed questions about race relations in the novel, sharing different viewpoints with personal examples from their life experiences.
By working through contentious subject matter in chapel-run events, Reverend Karen Coleman, associate chaplain for Episcopal Ministry at Marsh, said she hopes the BU community views the chapel as a beacon of safety and understanding on campus.
"We meet people where they are, no matter where they are on any journey [or] the journey through BU," Coleman said. "We offer a wide range of programming — Dean Hill [of Marsh Chapel] likes to say we have programming in the building every day."
The events hosted by Marsh Chapel are in the spirit of fostering unity among students and faculty at BU, Coleman said. Volunteers at Marsh echoed a similar sentiment that every voice matters.
A collaborative group, Batson said, is one of the best ways to learn new ideas, especially theology, keeping theologian Howard Thurman's vision of enriching student life in diverse ways.
"Thurman's common ground principle is definitely evident in the daily rhythms of the spiritual and academic life at Marsh," Batson said.