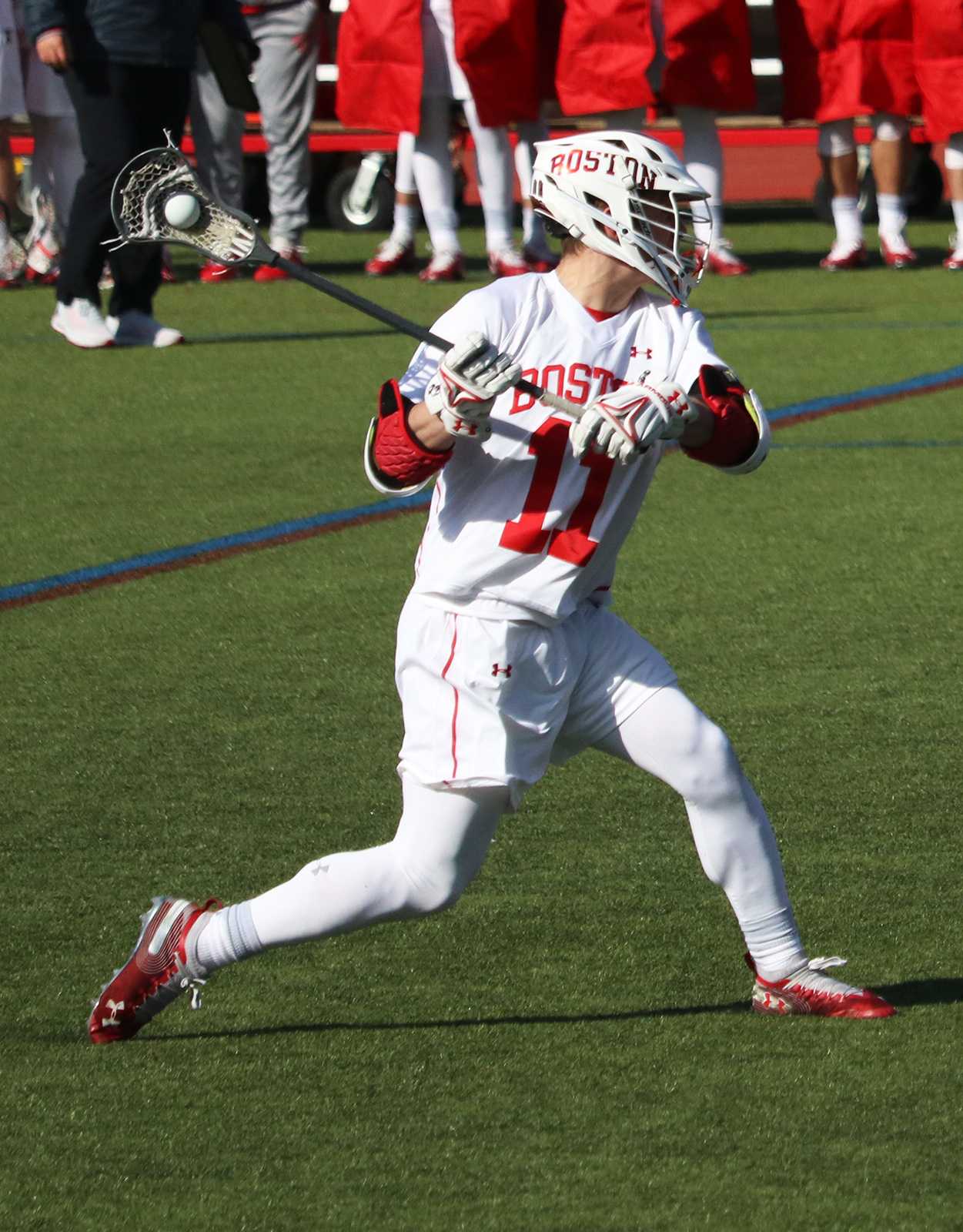 Saturday: Boston University 13, University of Massachusetts Lowell 5
After losing the first two games of 2020, the BU Men's Lacrosse team (1-3) used a ferocious start to take down UMass Lowell (1-2) 13-5 on Saturday.
BU scored the first seven goals of the game and took a 9-2 lead over the River Hawks into the locker room at halftime.
Senior goalie Joe McSorley was dominant in goal all day for the Terriers making 17 saves, his most since a 20-save performance since April 20 of last season against the College of the Holy Cross.
A pair of freshmen led the way for BU, each scoring their first collegiate hat trick. Attacks Vince D'Alto and Thomas Niedringhaus combined for six of the 13 BU goals. D'Alto also added two assists and scooped up a ground ball.
BU Head Coach Ryan Polley said BU's offense is going to have to come from up and down the roster.
"We're going to rely on a lot of young guys," Polley said, "including the freshmen, who have to kind of step up and account for our production."
The five points on the day for D'Alto was a career high before Tuesday's six-point performance.
Polley said D'Alto is starting to get comfortable at the Division 1 level.
"I think that [D'Alto] is starting to figure it out," Polley said. "He's been really productive in the last two games, he's been looking for a shot, he's had a couple really nice goals."
Another Terrier freshman who got in on the action was attack Louis Perfetto. He finished with one goal and two assists as eight different Terriers put at least one ball in the back of the net on Saturday.
Every class contributed for BU on both sides of the ball which led to the wire-to-wire victory and the Terriers' most complete game of the young season. Sophomore midfielder Jake Cates and attack Timmy Ley each scored one goal. It was Cates' first goal of 2020 while Ley now has three goals through three games.
The Terriers stifled the River Hawks offense all day and it never allowed them to get into any sort of flow, leading to many transition opportunities for BU and a season-high 47 shots, with 29 shots on goal.
Ball movement was another positive for BU as they assisted on six of their 13 goals, another season high.
While McSorley was getting his job done in net, the BU defense stood strong even when they were a man down. UMass Lowell went 0-5 on extra man opportunities.
The second half was more competitive than the first but BU had enough breathing room after the first 30 minutes that the game was never close, even though the Terriers only won the second half in terms of goals, 4-3. 
As the final seconds bled off the clock, the Terriers got their first win of 2020.
Tuesday: Bryant University 15, Boston University 10
BU was back on the field on Tuesday to take on Bryant (1-2) in a game that was filled with rain and offense as the Terriers ultimately fell 15-10 to the Bulldogs.
Both teams battled through the conditions and the Terriers only trailed by two goals at halftime before Bryant pulled away in the second half to hand the Terriers their third loss in their first four games of the season.
Polley said miscues gave Bryant plenty of chances to its lead.
"We came out flat," Polley said. "We went down 3-0 … you can't make that many mistakes where [Bryant] can exploit that and score six goals in a quarter."
The bright spot of the day for the Terriers was D'Alto again. He scored five goals and added one assist to give himself six points. Tuesday's performance gives D'Alto 11 points in his last two games.
McSorley did his best to keep BU in the contest making 16 saves, giving him 33 stops in his past two games. 
Bryant jumped out to a quick 3-0 lead in the first quarter just under four minutes into the game. The Terriers battled back and entered the third quarter down 5-3 before the Bulldogs made their push, going on a 5-0 run to extend their lead to 10-3.
Despite the slow start for the Terriers to open the season, they are first in the Patriot League in caused turnovers with 12.33, which is also good for fifth best in the nation.
BU will be back in action on Saturday when they take on Bellarmine University (2-3) in Louisville, Kentucky. Opening faceoff is set for noon at Owsley B. Frazier Stadium.
Polley said the focus for Saturday is more on the Terriers rather than their opponent.
"We need to worry about ourselves, making sure we're prepared to play and ready come out with energy," Polley said. "This is our last game before the Patriot League so we're still trying to figure out just how to do all the little things."