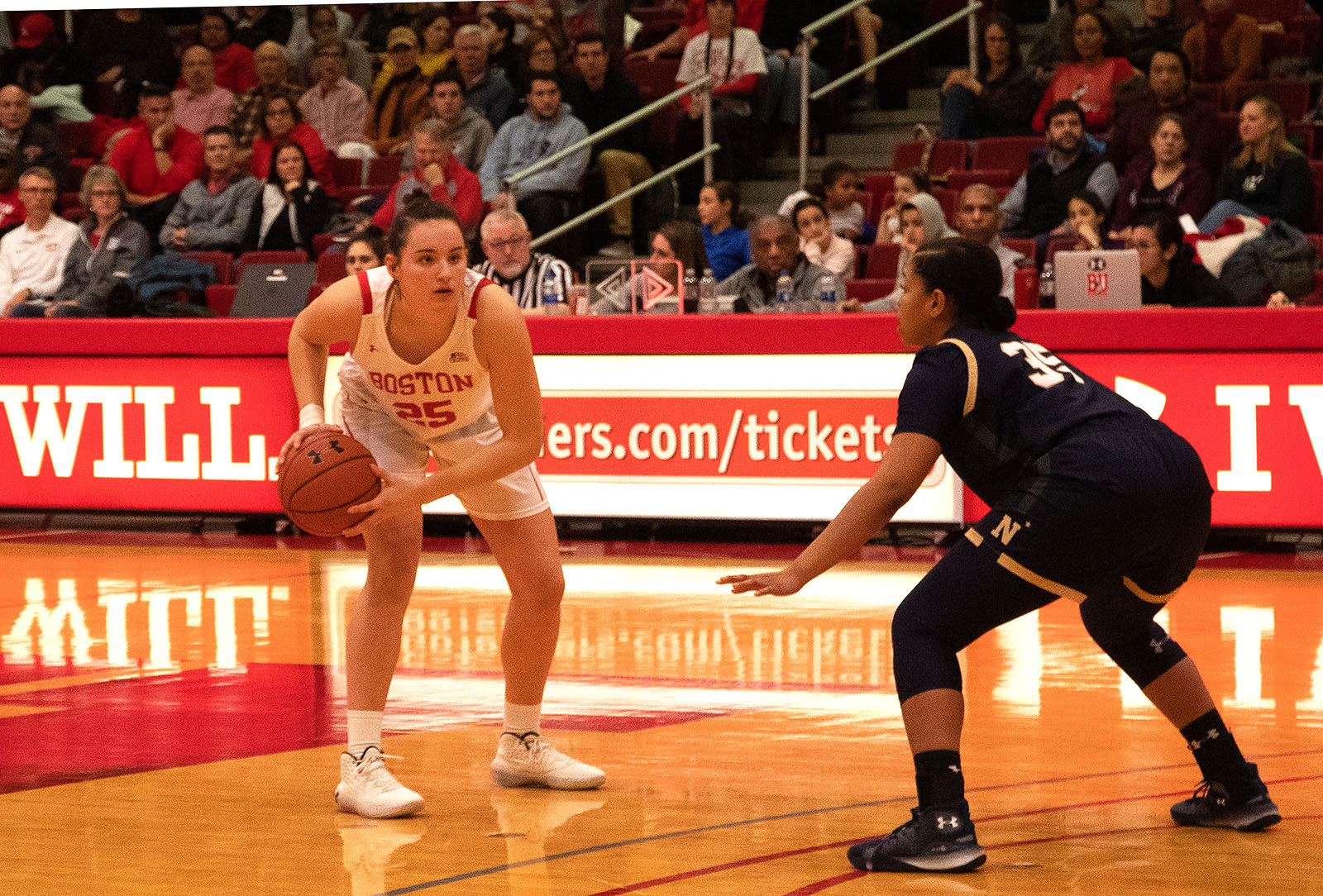 Riding a season-high six-game win streak, the Boston University women's basketball team entered into an important Patriot League matchup on Wednesday night against Lafayette College. Led by an early offensive surge, BU grinded out the win, 47-40. 
 Coming into this matchup, the Terriers (15-10, 10-4 Patriot League) were tied for second place in the Patriot League with Colgate University and were two games behind first place Bucknell University, while the Leopards (12-12, 8-6 Patriot League) were tied for fourth.
 The Terrier offense started firing early, going 4-for-8 from the floor in the first six minutes of the first quarter, allowing BU to get out to an early 9-7 lead. The Terriers' momentum continued for the rest of the first quarter, ending with a shooting percentage of 50 percent and an 18-13 lead.  
 BU head coach Marisa Moseley expressed her pleasure with the team's offensive performance early on. 
 "I thought we just moved the ball really well," Moseley said. "We were crisp … anytime you knock in shots, you feel good." 
 BU's offensive explosion continued into the second period with the Terriers getting up to a 29-18 lead six minutes into the period. Lafayette then went on an offensive run of their own to end the half, scoring seven unanswered points to cut the lead to 29-25 at the half.  
 Moseley also recognized that the Terriers need to be able to sustain leads and put teams away when they have the chance.  
 "We let them go on a little bit of a run," Moseley said. "We should have just been able to put the hammer down at that point."
 BU was led on offense by junior guard Katie Nelson who scored a game-high 13 points and tallied a team-high three assists as well. Sophomore forward Riley Childs also had an impressive performance for the Terriers, scoring 11 points and tallying three assists, while also pulling down 10 rebounds. 
 The Terriers ended the half going 12-of-25 from the floor.
The Leopards were paced on offense by senior guard Sarah Agnello who scored a team-high of 10 points and added a team-high three assists.  
Both BU's and Lafayette's offenses cooled off at the start of the third quarter as both defenses began to pick up their intensity. The Terriers ended the period shooting 3-for-11 from the floor, good for an 27.3 field goal percentage, while the Leopards fared slightly better, shooting 4-for-13.
Despite the offensive struggles in the second half, Moseley praised her squad's defense for being able to secure the win.  
 "We were scrappy. We were kind of moving a little bit quicker," Moseley said. "We were kind of cheating towards shooters and getting there and contesting shots."
 On defense, the Terriers were also led by Childs, who secured a team-high 10 rebounds with nine of them being defensive rebounds. Childs also rejected a shot as well in earning her second double-double in five games.
 Freshman forward Maren Durant also had a notable defensive performance for BU. Durant secured nine defensive boards and rejected a team-high three shots.  
 For the Leopards, junior forward Natalie Kucowski was the defensive leader. Kucowski secured a team-best six defensive rebounds. Senior forward Tasha Vipond also tallied six defensive rebounds and blocked a shot. 
 Despite the defensive dominance, the Terrier's managed to score 11 points in third period, giving them 40-35 lead to start off the fourth quarter.  
 In the final period both teams played tight defense, with BU scoring only seven points in the period and Lafayette scoring five, allowing BU to secure a crucial Patriot League victory.
When asked about BU's second half performance, Moseley kept it simple.
"Brutal. That was brutal," Moseley said. "I don't know if we got anxious or we've got 'Men in Black,' where someone took our bodies and our minds."
 With this victory, the Terriers still sit tied for second in the Patriot League, two games behind first place Colgate.  
 Despite the league season coming to end, Moseley said the team is focused and taking each game one at time. 
 "If we can keep just being 1-0 in each of these games," Moseley said, "then the winning and the seedings will take care of itself."
The Terriers will be back in action again Saturday, Feb. 22 against American University (10-14, 6-8 Patriot League) with tip off slated for 2 p.m. at Bender Arena in Washington, D.C.