Wind machines, war, astronomy and birds don't typically come to mind when thinking of classical music. It's the incorporation of these elements, embedded in life experience, that makes French composer Olivier Messiaen's scores charming with a rare wealth of impossibilities that both inspire and humble the artistic.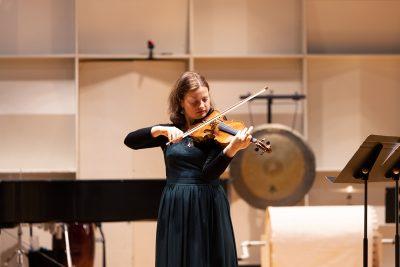 Recent School of Music graduates, faculty and current students filled the College of Fine Arts Concert Hall on Sunday. The audience waited patiently to hear the "Charm of Impossibilities" performance as part of the Messiaen Concert series, a tribute to the composer. The program was conducted by second year CFA graduate student Jacob Schnitzer, who co-organized the concert.
Elena Levi, a junior in CFA, had her own personal Messiaen-inspired piece, entitled "Memoire de Claire," performed at the intimate show by BU alumnus and violinist Aija Reke.
Levi, who studies violin performance and composition and theory, composed "Memoire de Claire," an ode to Messiaen's first wife, Claire Delbos, herself. Despite being unfamiliar with the late composer's works, Levi said it was Messiaen's relationship with his wife that inspired her violin piece.
"The central theme to my piece was actually a quote from one of the works that [Messiaen] wrote for [Delbos]," Levi said in an interview. "I remember the day that I really found his backstory and the story about [Delbos], that pretty much the bulk of the piece was written just within that day, just being so touched by her story."
Messiaen experienced the turmoil of World War II, according to Levi's note in the concert program. In an effort to represent this history through a song, Levi said she found that a simple and steadfast approach to the song's origins proved best.
"I really did a lot of research into a lot of his personal life especially," Levi said, "which was the inspiration for the violin piece."
Besides "Memoire de Claire," the program consisted of Messiaen's "Quatuor pour la fin du Temps," which means "Quartet for the End of Time," and "Des canyons aux etoiles," translating to "From the Canyons to the Stars."
Schnitzer said Messiaen's works were uniquely tied together through experimentation with birdsong, wind and the spiritual realm in an effort to explore melody.
"It's very spiritual music and very inspired by the natural world," Schnitzer said in an interview. "He's been an inspiration to me and to a lot of other musicians who are interested in contemporary music and experimenting with new kinds of classical music."
But Messiaen's music is rarely showcased in a public sphere, Schnitzer said, and the meaning behind the pieces may confuse some and bewitch others.
"I think that his music is very evocative and loved by audiences, [but it] isn't performed very much," Schnitzer said. "This is a unique opportunity to hear it."
Levi said Messiaen's music is one of a kind because he had synesthesia, which caused him to associate certain colors with his music.
"A lot of what makes Messiaen's music unique to him is that he actually had synesthesia," Levi said. "He would have a color in mind and work around what he felt fit into that colorful landscape in his mind."
The "Charm of Impossibilities" concert consisted of a variety of solos and collaborations between faculty and student performers. The show was orchestrated by Schnitzer and Andrew Shenton, an associate professor of music, with performances by Professor of Music Eric Ruske and an ensemble cast composed of a chamber orchestra and several soloists.
Schnitzer said it is important to provide a platform for student musicians to showcase their talent and provide a physical and metaphorical stage to express themselves and their passions.
"[The composition faculty] wanted to support the work of a student composer and give the opportunity to commision a new piece of music for [Levi] to write," Schnitzer said. "It's never been performed."
Jonathan Chang, a junior in the Questrom School of Business, said he attended the concert to understand and appreciate Messiaen's complex blend of work.
"[The concert was] rich in texture," Chang said after the event. "The choices of music compliments the theme in the program well."
Working on the piece has blossomed and strengthened Levi's composing experience and insight, she said. Above all, she said the concert embodied the same sentiments of graces of opportunity and charms of impossibilities as it did for the composing faculty.
"It ended up being a really, really fun project that I was just so grateful to have been able to work on," Levi said. "Trying to imagine the kinds of colorful landscapes that Messiaen envisions in his works, and try and emulate that in my own writing."