While Black History Month is a time to celebrate the accomplishments of Black Americans throughout history, it also presents an opportunity to discuss further empowerment not only in recognizing their heritage, but admiring the work they do in their fields.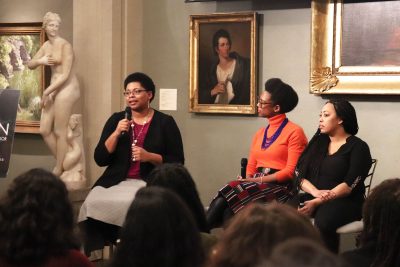 Black women in the art world are widely unrepresented: only 4 percent of the art found in American museums were created by women of color, according to the panel description.
A variety of Black women who work in Boston's arts and culture sphere spoke at the EmpowerHER panel Wednesday evening, about how to empower women on their strive to make the art world more inclusive for all artists.
The event was held at the Boston Athenæum, a library that engages dynamic conversations, in partnership with the Network for Art Administrators of Color Boston division of ArtsBoston.
During the conversation, the panelists and hosts — whose areas ranged from theater to culture curation to urban planning — said they believe it is essential to maintain diversity in Boston and that people of color embrace their heritage and be "unapologetically Black."
Lyndsay Allyn Cox, the director of Theatre Arts at the Boston Center for the Arts and member of the NAAC, said she is interested in supporting other female administrators.
"I'm always interested in supporting conversations around what it is like for arts administrators of color, particularly in this city," Cox said in an interview. "I think that they've assembled a really strong group of women to have this conversation."
In addition to the panel discussion, EmpowerHER also included a variety of performances from Black female artists from the Greater Boston area.
Amanda Shea, an organizer and poet for ArtsBoston, performed two spoken word poems at the panel. Her first poem drew from Shea's personal experience being a Black woman, and her second poem related to the resilience every woman of color possesses.
In her poetry, Shea discussed the removal of one of her ovaries, generational difficulties with parents and how Black women always hold the weight of their struggles on their own shoulders. A few of the audience members were visibly moved to tears by her words.
In an interview, Shea said she participated in this event because she believed in what it stood for.
"The fact that it's all women panelists, all women performers, are just things that I strive to be a part of," Shea said. "I think women empowerment, especially right now, is really, really essential to the culture and to the progression of more opportunities for women of color and women in general."
Allegra Fletcher, an Afro-Caribbean Latina singer-songwriter and multimedia artist, also performed at the event. Fletcher said she was excited to perform alongside other talented women of color.
"I took one look at the lineup for the panel and I said, 'Absolutely, yes, I'll be there,'" Fletcher said in an interview. "I just know that they're all really strong and passionate about what they do, and they do their work well."
The organizations that hosted EmpowerHER held a raffle with three winners. One winner received a free day pass to the Boston Athenæum, and the other two became members of the institution.
Cox said events like EmpowerHER can have a positive effect on future conversations between Black women in the artistic workforce by bringing them into public view.
"I think that we have these types of conversations in private, with our friends and our colleagues," Cox said, "but to bring this conversation forward and to put POC women at the front of the conversation is really important."
Shea said she hopes attendees left the event feeling a little stronger than they were when they arrived.
"If anybody could just leave with something, it would be strength and empowerment and the fact that we are all resilient beings," Shea said. "No matter what we go through, we can always come out of it stronger and more powerful."