Choosing between two passions can be a turning point in one's career.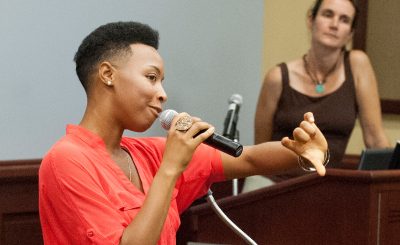 When Carolyn Malachi was a student at Shepherd University, she was a center on the school's women's basketball team — until she had to choose between basketball and pursuing music.
"[My coach] was like, 'It's either going to be your internship and your music and these other things or it's going to be basketball,'" Malachi said. "I was like, 'Well, it's been fun.'"
The 2010 Grammy-nominated artist said choosing music was definitely the correct choice for her, but said she still had a great appreciation for her coach.
"She was super gracious about it," Malachi said. "Definitely no hard feelings."
Since the start of her career, Malachi has made a name for herself through performing around the world, receiving a Fulbright-Hays grant, which supports research and training in foreign countries, in 2017 and raising awareness for education and technological accessibility.
Malachi said she started out producing music while she was an undergraduate student at Shepherd University.
"I just kind of fell in love with the idea of using technical platforms to make music," Malachi said. "I decided that I would really focus and hone in on songwriting and performance and arrangement."
To ensure she is "writing from an authentic place," Malachi said she draws on her own personal experiences. Malachi described the ability to convey complicated scenarios that she's lived through in a simple way through writing and performing as being very cathartic for her.
"If I don't know the experience and I don't feel the experience and I'm not really able to write about it," Malachi said, "performing it is just weird at that point."
The authenticity Malachi puts into her music causes her songs to resonate deeply with fans, she said. One song where this connection is especially clear is her 2013 song titled "Beautiful Dreamer."
"I know there's a lot of people who wake up to that song, like that's their alarm tone," Malachi said. "I really can't express how beautiful that is. You make something and somebody wants to make that a part of their daily meditation."
While her own stories influence her lyrics, Malachi said other artists also inspire her throughout her creative process as well. She said she appreciates the complexity of rock band Radiohead's music and tries to mirror that complexity in her own work.
"I just sit there and I listen and I'm like, 'How did you guys do this?'" Malachi said. "Sometimes in my studio, I'll try to replicate what they've done and I can get pretty close, but not exactly."
Malachi also said she enjoys the storytelling elements utilized by jazz vocalists like Sarah Vaughan and Billie Holiday. Malachi said these artists are inspiring to her because of how adventurous they are in their writing and producing, which is something she said she tries to do in her own work.
"I try to create without any sense of boundary," Malachi said.
While her career has included some standout moments, Malachi said it is hard for her to identify a single event as a highlight. She said she feels it is better to appreciate her career as a whole, rather than through single moments in time.
"When you look at a life, when you look at a career, you're really looking at a journey," Malachi said. "You're looking at it as an arc of the story."
In addition to being a performer, Malachi is also a professor at Howard University, teaching audio production. Malachi compared being a professor while also being a performer to having a huge pizza, with a third topped with extra cheese, a third with sausage and a third with pineapple.
"Everyday is a different slice of pizza," Malachi said. "I get so much variety and I'm full. My heart is full, my schedule is definitely full, but I'm full and I'm balanced."
Despite her busy schedule, Malachi said she is always looking to improve her craft, such as in deciding to receive a Master's in audio technology from American University last year.
"That itself has opened so many doors," Malachi said, "including one for me to live the dream that I currently am living."
Malachi will be performing at the Isabella Stewart Gardner Museum with rhythm and blues duo BOOMscat and Nigerian performer Dokun Oke on Feb. 27. Having performed in Boston previously, Malachi said she enjoys the openness that comes with the audience in the city.
"I really get a sense that folks come to the show to have an experience that is new for them and different from what they're used to," Malachi said.
Malachi said she wants this show to feel like "one big scented candle." Malachi said that for this performance, she'll be bringing some of her friends, as well as her band to perform with her.
"I just want it to be a chill vibe night with a lot of heat," Malachi said.