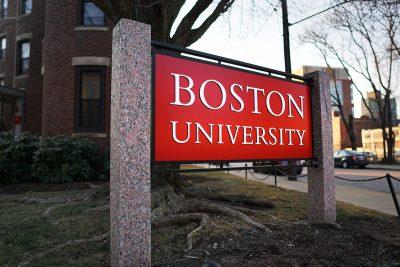 Boston University has announced that they are officially discouraging all university-sponsored travel to China in an email to the community Feb. 19. The warning comes after the widespread outbreak of the coronavirus, which recently led to the cancellation of BU's study abroad program in Shanghai. 
The email stated that all travel plans should be sent to the Global Travel Risk Assessment Committee, which is "tasked with assessing travel-related risk, reviewing petitions for exceptions to this policy, and offering support to individuals and groups abroad during emergencies," according to their website.
The Committee operates under the principles of the International Travel Risk Policy. The policy states that university-sponsored travel is regulated for countries with a level three or four travel advisory by the U.S. Department of State.
Currently, China has a level four travel advisory. In accordance with the International Travel Risk Policy, all undergraduates are barred from university-sponsored travel to China as a result of this advisory. Faculty and staff are not prohibited from traveling to China, but are discouraged from doing so.
Ann Aschengrau, a professor of epidemiology at BU, said the handling of coronavirus thus far has been necessarily drastic.
"They're trying to [prevent the spread] with very drastic measures," Aschengrau said. "Which is basically home quarantining."
Aschengrau said the decision to put this warning effect until the end of the Spring semester makes sense as the severity of the virus' impact will likely diminish as it gets warmer.
"Viruses don't survive very well when the weather gets warmer," Aschengrau said. "And also, people aren't necessarily spending as much time indoors, where there could be more opportunity for transmission among individuals."
The university's travel warning will be in place until the end of the Spring semester May 9. While certain groups are not allowed to travel to China when the trip is sponsored by BU, the email did not announce a formal ban.
Robert Redfield, director of the Centers for Disease Control and Prevention, talked about the reassessment of CDC practices with the evolving information of the coronavirus at a press conference on Jan. 29. 
"Based on the evolving information from China, CDC has reassessed it's entry strategy and decided to expand to screening travelers from the five airports originally to twenty airports in the United States," Redfield said. "CDC, in conjunction with the State Department, has updated our travel guidance and now recommends that travelers avoid unnecessary travel to China."
Allison Backus, a junior in the College of Arts and Sciences, said she understands the rationale for BU's travel warning, but believes the level of fear surrounding the virus may be disproportionate to its impact.  
"The common flu kills more people than the coronavirus has killed," Backus said, "and the coronavirus I think usually kills people who are very young or very old or have a weakened immune system. So, in general, that's not usually college students."
Arielle Rubel, a freshman in CAS, said she understands BU's precautions surrounding the virus, but thinks some students may be upset by it. 
"I think it's great that precaution is being taken against coronavirus, but it's definitely a hard situation because people are unable to see their families," Rubel said, "or are put into hard positions to find housing, and I guess some people may not even have the means or resources to afford to do that."
Lucas Taylor, a sophomore in CAS, said he understands the difficulty in striking a balance between student safety and abroad opportunities.
"It's kind of unfair to stop people, but then it's also about safety, so I guess they don't know what the right thing to do is," Taylor said. "They're just trying to do what's best for everyone."