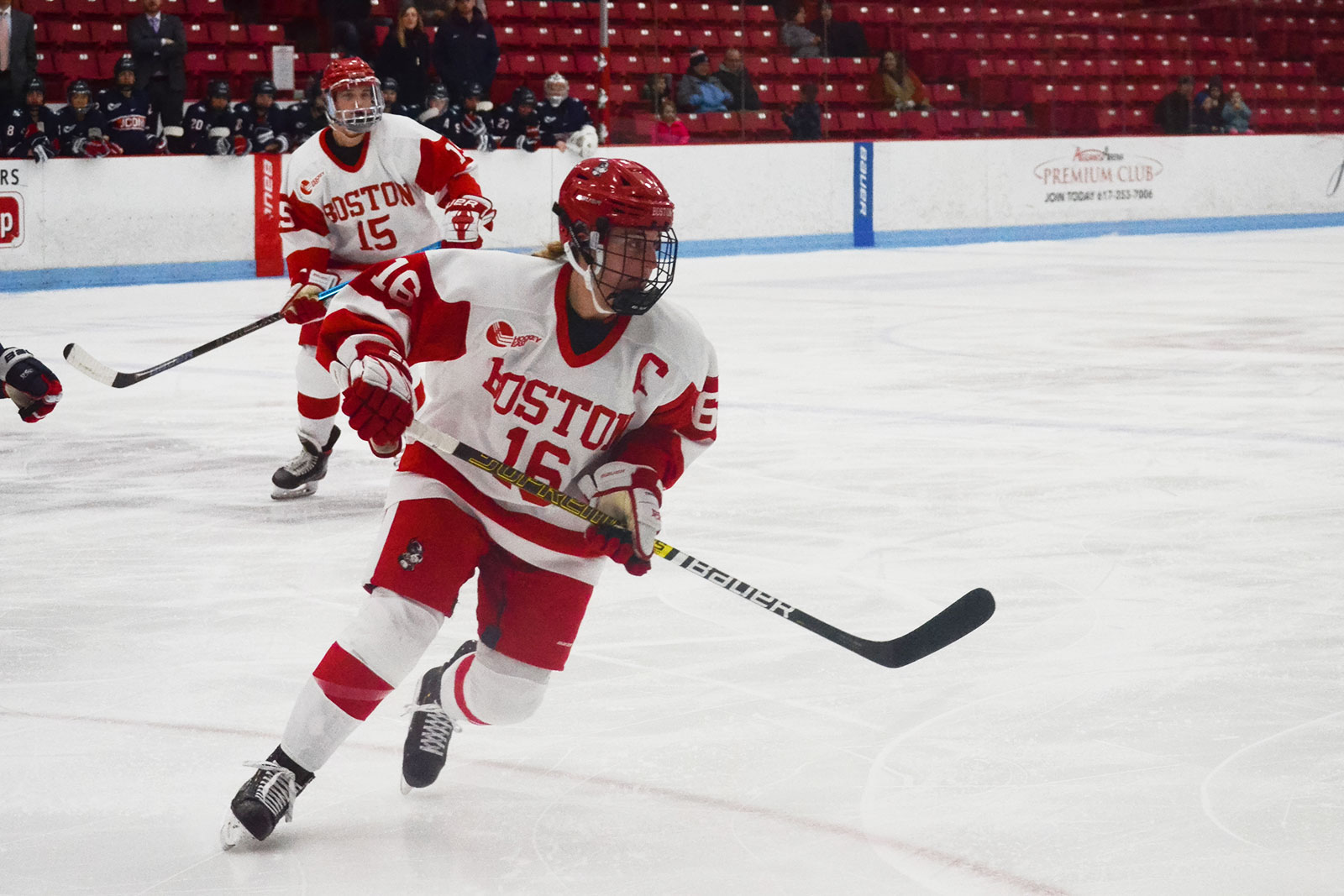 The forecast for Boston was dry Friday, but there was a deluge of goals at Walter Brown Arena as the Boston University women's hockey team opened senior weekend with a victory against the University of Connecticut, 6-2.
The Terriers (24-6-4, 18-6-3 Hockey East) scored five goals in 29 minutes, with redshirt senior forward Sammy Davis notching three points to bury the Huskies (16-16-2, 13-12-2 Hockey East).
Davis said her performance is supported by her teammates.
"The girls played pretty well," Davis said. "I think when the team's doing really well, it gives me a little bit of energy, so when we're all buzzing it's just really exciting."
Penalties were the story of the game for the Terriers as they were called for eight of them, but the penalty kill was able to neutralize UConn's special teams, holding the Huskies to only one power-play goal.
BU assistant coach Tara Watchorn said the Terriers have taken each opportunity for a penalty kill as a chance to improve all year.
"I think the penalty kill has been something we've been building all year," Watchorn said. "The girls have been doing really great with it, so I think just focusing on [it] as an opportunity to get better, was kind of the attitude we're going forward with."
 BU's offense only needed eight minutes to warm up before it began an offensive barrage, as the Terriers scored three goals and outshot the Huskies 13-8 in a lopsided first period.
 Both teams saw offensive chances for the first eight minutes, but it was the Terriers who struck first. Freshman forward Julia Nearis scored her 11th goal of the season with a tap-in in front of the net off a pass from senior forward Deziray De Sousa.
One minute later, junior forward Jesse Compher scored another goal for BU when she recovered her own rebound off Husky senior goaltender Morgan Fisher and beat her on the second-chance shot.
BU extended its lead further with another first period goal, as sophomore forward Courtney Correia found a rebound off Fisher's stick to give BU a 3-0 lead with six minutes remaining in the period.
The Huskies got that goal back quickly when junior defenseman Taylor Wabick scored just over a minute later to chip away at BU's lead.
The Terriers survived 30 seconds of five-on-three play and then another minute of five-on-four play before being awarded a goal for their efforts. Compher scored her second goal of the game on the odd-man rush as BU was receiving reinforcements from the penalty box to restore its three-goal lead.
Goals continued to rain on the Huskies' net with Davis joining in on the fun with her 17th goal of the season to give BU five goals before the halfway mark of the second period.
BU was called for five penalties in the period, but successfully shut down the Huskies' power-play offense, keeping them off the board in the second period.
Davis said it was a physical game and penalties happen, but usually the team can avoid being whistled for fouls
"I feel like we do a pretty good job at keeping level-headed," Davis said. "We kind of joked about it afterward, all seniors got penalties, I don't know if it's because senior weekend is coming up and we're trying to make a mark."
With seven minutes left to play in the game, BU faced another five-on-three disadvantage and this time, the Huskies were able to score their only power-play goal of the game, bringing the score to 5-2.
The Terriers restored their four-goal lead just four minutes later, with junior forward Nara Elia putting one between Fisher's legs to make the score 6-2, which eventually became the final score.
With the victory, BU has tied its best regular season record since the 2015-16 season, when the team won 23 games. A victory on Saturday will give the Terriers their best record since 2014-15 when they won 25 games.
BU returns to Walter Brown on Saturday afternoon for senior day festivities. The pregame ceremony will honor the team's eight seniors and puck drop is scheduled for 3 p.m.
Davis said the thought of finishing her BU hockey career is unfathomable.
"I don't even know if I can put a word on it," Davis said. "I guess it's bittersweet. You work so hard to get to this point, but I don't even want to think about taking the jersey off."