Starting Monday, legal immigrants may now be denied permanent residency based on their perceived likelihood of using public welfare.
A federal Supreme Court ruling from last month, split 5-4, that lets immigration officials deny green cards to legal immigrants who might use government benefits — such as food stamps and public housing assistance — has officially taken effect.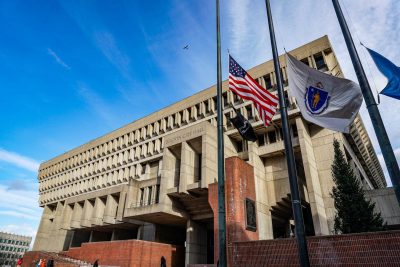 Immigrant rights groups held a roundtable discussion Monday at the Boston City Hall to give community leaders information about the new "public charge" rule, which advocates are calling a "wealth test."
Marty Martinez, City Chief of Health and Human Services, hosted the session and opened the talk.
"We're going to make sure that we fight every federal challenge that comes along," Martinez said, "while at the same time educating our neighbors about what it really means that we can spread facts and get the right information on the ground."
The Massachusetts Immigrant and Refugee Advocacy Coalition was among the participants in the discussion. Its communications director Marion Davis launched into a talk following Martinez's speech.
"There is a very, very serious threat to immigrants in our country today. Basically overnight, eligibility for green cards has been dramatically reduced," Davis said. "What the public charge rule does is it imposes a wealth test, or an income potential test, on people who want to get green cards."
The rule, according to Davis, makes it "very easy" to deny individuals permanent residency in the country on the basis of having low income, which she said is broadly defined: anybody making up to 250 percent of the federal poverty line can be subject to scrutiny.
"That's $65,000 for a family of four," Davis said. "That's not poor. That is working-class."
Income aside, the rule would also evaluate immigrants on factors such as education level, health and age.
"So forget about the Statue of Liberty, give me your tired, your poor, all of that. They basically just want your highly educated, your rich," Davis said. "Even though we know that the history of this country is of people coming here so many times with nothing, and then building their lives here."
Current green card holders applying for U.S. citizenship or to renew their expired cards will not undergo the public charge test under this Supreme Court ruling. Refugees and asylees are among others who won't have to worry about their legal residency.
Medicare will not be counted in the public charge test, nor will MassHealth for pregnant women, people under 21 years old or coverage that's funded solely by the state. What will be considered under public charge includes food stamps, cash benefits and non-emergency Medicaid for those above 21 years old.
Andrew Cohen, an attorney with Health Law Advocates, said the group had initially believed the rule would center around immigrant use of benefits, but once the court decision was released, they soon realized it was essentially about wealth.
"Because of the way in our society that lack of wealth and lack of income align with racial disparities, we can truly say this is a racist policy," Cohen said. "In so many ways, it's designed to penalize people of color, people from countries where incomes and GDPs are lower and where wealth is lower."
Several residents in Boston who did not attend the event expressed their opinions about the new federal policy.
Lisa Phan, 18, of Roxbury said she sees no reason why immigrants receiving public benefits should not be permitted legal residency.
"Since most immigrants are working anyways, they're working as much as we are," Phan said. "So if they get jobs, they have the income, why not get the benefits and get a green card as well?"
Dayana Portillo, 18, of Brighton said that all immigrants should be allowed to rely on government assistance if they need it.
"They definitely should," Portillo said. "I mean, if they're doing their taxes they're doing exactly what everybody here does."
Kaina Crow, 25, of Allston said that because other countries offer government assistance to Americans, she believes reliance on government assistance should not be an issue when considering the issuance of green cards.
"One of my friends went to Germany for grad school," Crow said. "Her tuition is next to nothing, her health care is like free out there. So I don't see an issue with us doing it as well if people need to come here to get into a better situation."