A year ago, Vikrant Sharma and his group of engineering friends were unsatisfied. They were part of an undergraduate research group that built and tested rockets, and while constructing objects to shoot into the air was fun, Sharma and his friends felt they were doing little to challenge the status quo.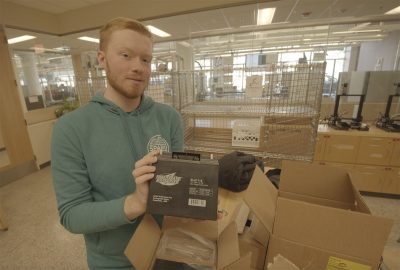 Ambitious sophomores in the College of Engineering, Sharma and Isaac Fluhr-Chapman, established the Robotics & Ambient Intelligence Labs at Boston University in August 2019, a nonprofit robotics research group.
"What we really wanted to do," Sharma said, "was to create a sort of pipeline to identify people who are interested, people who are talented and then use that as a leverage to create something larger."
A month after its inception, RAILS qualified to participate in the $10 million ANA Avatar XPRIZE. Managed by the nonprofit organization XPRIZE and sponsored by Japan's All Nippon Airways, the four-year international competition was first launched in March 2018 at the South by Southwest conference in Austin, Texas, according to the XPRIZE website.
To win, teams must develop a non-autonomous robot, or avatar, that enables its user to see, hear and interact remotely, according to the website. BU RAILS, Team Northeastern and Virtual Vegas are among the few collegiate American groups participating out of a global roster of 77.
Anders Larson, a sophomore in the College of Arts and Sciences and CFO of RAILS, said he sees the qualification as an accomplishment for the newly-formed club.
"We didn't expect to really get in, actually," Larson said. "We're the first undergraduate group at BU in engineering and that's setting a new precedent."
Gerald Fine, professor of practice, director of the Engineering Product Innovation Center and faculty member for RAILS, said he advised the group to consider the ANA Avatar XPRIZE competition after being approached by XPRIZE.
"In my role as executive director of [email protected], I met JoJo Bahnam, who is head of partnerships for the XPRIZE and also a BU graduate," Fine said. "JoJo was urging us to see if there were any teams that were interested in participating in the XPRIZE. At about that time, the founders of RAILS approached me and I think it was sort of a fortuitous meeting all at the same time."
Aside from the ANA Avatar XPRIZE competition, RAILS is gearing up to participate in BattleBots, the American robot combat television series that has remote-controlled robots spar in a combat elimination tournament.
Sharma said RAILS currently has five teams, each developing their own robots, and hopes to compete in 2021.
"The BattleBots [are] there for hands-on robotics," Sharma said. "The BattleBots teams, they number close to 60 … in competition with each other to see who can come up with the best design, who can come up with the best electrical system."
Much of the technical skill for building a robot is largely self-taught and relying on pre-existing technology, Sharma said.
"It's all reading papers and asking professors for advice on particular resources," Sharma said. "We learn it on our own."
Even for other side projects like website design, Fluhr-Chapman said learning is a group effort regardless of any member's past experience or skill.
"Instead of teaching people, we have all these resources that we ourselves learn from," Fluhr-Chapman said. "If they have the drive to learn that resource — just like we did — then they'll be working directly with us to do the work that we're doing."
Jessica Wang, a junior in ENG who joined RAILS to help with its fundraising efforts, said the appeal of the group is not so much in competitions and robotics research as it is in the people.
"What I really appreciate is that [RAILS] created this environment where you can be yourself," Wang said. "The group of guys that are in RAILS, none of them have ever interrupted me, ever talked over me, they've always listened to my ideas."
RAILS is currently working to meet its November deadline to show XPRIZE a proof of concept. Sharma said their efforts involve miniaturizing a gas chromatograph, which is a nose-like sensor to detect various gases, and a haptic glove, which can track and transfer human hand movements to a robotic hand. Sight, hearing and locomotion will be other capabilities developed down the line.
But the group's biggest hurdle — one that directly impacts their efforts and determines their success — is money, Fluhr-Chapman said.
"I realized that, in the infancy of [RAILS], the one thing that's going to get us off the ground is our ability to build exactly what we're doing," Fluhr-Chapman said. "You can't do research, you can't build a bipedal robot like we're planning to do without the money to do it. Those parts don't just come around out of nowhere."
RAILS has benefitted from sponsorship from BU, especially in its XPRIZE eligibility application, Sharma said, but the group is looking toward outside sponsors, like small tech companies and startups in the Boston area for seed funding.
Despite the odds stacked against them, Fine said he has much hope in RAILS.
"I think they've a long way to go, but I would say that they're very organized, they have a very good work plan and they're quite talented technically," Fine said. "These students are operating on the leading edge of technology right now. They're focused on a fairly audacious goal and isn't that what innovation is all about? I'm proud of them."
CORRECTION: A previous version of this article referred to Isaac Fluhr-Chapman as Fluhr-Campbell.