Korean-American pop star Eric Nam came to Boston Friday on tour for his first English album "Before We Begin," filling the Royale Boston with love felt by every audience member in attendance.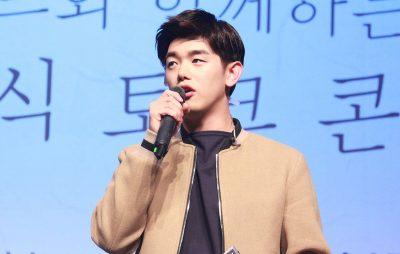 The audience was eased into the set with a toned-down and relaxed opening by pop duo Frenship, each equipped with only a guitar and their voices. After the sincere performance, which included the popular track "Capsize," Nam appeared and was greeted by screams of excitement for the opening song, "Come Through."
Donning an orange windbreaker, graphic tee and blue jeans, Nam captivated the audience with complex dance moves and his beaming charisma. He led the animated audience through a carefree "Runaway," dreamy "Wonder," energetic "I Don't Miss You" and heartfelt "Good for You."
Fans were especially charmed by the singer's easy-going interludes between songs where Nam spoke directly to the audience. Nam gave shout-outs to audience members celebrating their birthdays and the crowd joined together for a wholesome commemoration for the fellow fans.
The audience rode this upbeat, celebratory high with the anthem "Potion," a catchy track about living in the moment and celebrating youth.
The singer exhibited unguarded emotion in the following performance of "Don't Call Me," a break-up track about cutting out toxic ex-lovers. Nam later showed he is capable of self-discovery and maturity in "Idea of You," a deep reflection about the dogmas of love and how we often put those we love on a pedestal.
A sentimental performance of "How'm I Doing" shifted the hyperkinetic energy of the night, with audience members swaying as Nam crooned into his mic about wanting to be the best person he can be for the one he loves.
Next, Nam delved into "Love Die Young," the most honest and vulnerable track on "Before We Begin." Cellphone flashlights filled the venue, swaying in unison to the song's painful and bittersweet lyrics about the fear of losing love too soon.
Nam surprised fans with his rendition of "Cave Me In," a collaboration with rhythm and blues artists Tablo and Gallant, as an ode to old friends. Despite missing two members, Nam made up for it by displaying versatility and giving a nod toward his theme of the night: love as a universal language.
Romantic love wasn't the only topic up for discussion. Nam also cracked jokes throughout the night about the struggles of being Asian American, as well as the expectations and the tough love faced in typical Asian households. He shared anecdotes about his Korean mother, including her initial disapproval about his career choice and her embarrassment at the controversial dance moves in his choreography.
Shedding his boy-next-door image, Nam induced feverish screams of shock and admiration from fans with enthusiastic and slick body rolls set alongside the suggestive lyrics of "Can't Help Myself" and "You're Sexy I'm Sexy."
Again showing off his thought-provoking and charming side, the singer thanked fans for not only taking an interest in his music, but also for participating in conversations toward a cultural movement that advanced the appreciation for Asian cultures. Nam referred to recent social events, such as the film "Parasite" that won four awards at this year's Oscars, which included Best Motion Picture and Best Director.
The singer said on stage that his current tour has been what he thought to be an unreachable dream, one that has been 10 years in the making. Without the support of his fans and the increased inclusivity towards global music, Nam said he did not believe he could have made it.
Ending the show on a dramatic and trailblazing note, Nam led inspired fans through chants of "Congratulations," a feel-good final farewell and toast to the events of the night.
Effortlessly likable and socially-gifted, the singer delivered a fun, meaningful and thought-provoking show that stood out from the usual routine of concerts. In his show, Nam displayed his unadulterated dedication to his craft of both music and acknowledgment of Asian cultures, illustrating impressive growth in his art and an undying loyalty to his roots.