Incubators are vital for the survival of many newborns, but due to the extreme expense of these medical devices, many infants are not given access to something that could have saved their lives.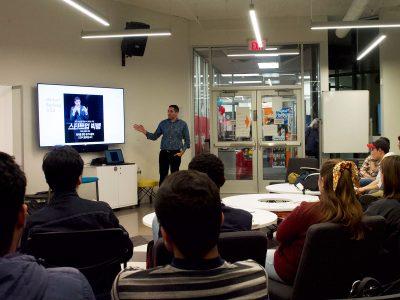 Wisam Breegi and his son Danny Breegi have pondered this devastating reality, leading them to create a startup company called "Breegi Scientific" to make affordable incubators available worldwide.
Danny, who graduated from Boston University's Sargent College of Health and Rehabilitation Sciences in 2013 and School of Public Health in 2016, spoke about the company at the BUild Lab Monday night. Around 25 students attended the event, all eager to learn about the incredible story behind Breegi Scientific.
The Breegis have a personal connection to the inspiration of their company. Wisam recalled the terrifying memory of his family going through this exact experience of not having access to an incubator when their newborn son needed one.
"In the hospital, there was an incubator, and Danny, my son, was actually born and we couldn't use the incubator because it was in the middle of the war," Wisam said in an interview. "It was February and it was freezing cold, the hospital didn't have electricity."
The father and son have been working on their company for the past six years. Their main motivation is to save babies like Danny who did not have access to the care they needed.
In the talk, Danny shared statistics about infant mortality rate. 30 million babies are born each year without access to critical care, he said, with 3.5 million dying from preventable causes.
"If they had access to care like an incubator, they would be able to be saved," Danny said at the event. "What we're doing is trying to solve one of the oldest issues of humankind and life as we know it."
Many hospitals do not have access to this life-saving device, Danny said. Poorer countries are given second-hand incubators, but many are not in use due to the fact that they cannot maintain the upkeep necessary to run them.
"Something very common in global health is called an incubator graveyard," Danny said at the event. "Places across Africa, South America, Southeast Asia, it's just a giant lot filled with used incubators that after six months, a year or two years, they got a condition, they throw them away."
The two were determined to make an incubator as low-tech as possible, but that still has all the necessary features to heal an infant, Danny said. They wanted to make the design as simple as possible while being the least expensive incubator on the market.
"This is a seven-day disposable plastic dome that looks like a tent," Danny said at the event. "It has sleeves, portals for tools and then it's connected to a reusable $300 control module."
Abhishek Thakkar, a global health strategy fellow at Breegi Scientific, said passion can help startup companies to succeed.
"[Breegi Scientific] is a startup so it is always tough to get funding or get your idea across," Thakkar said. "If you are true to yourself, basically that you know that whatever you are doing is good for [the] community and for the company."
Rakhi Toravane, a regulatory strategy intern at Breegi Scientific, said the company has its best intentions for the community with the incubator.
"It's a novel device and the features of this device are very amazing, like the disposable feature," Toravane said. "It's very feasible to use in the lower income countries, and in [the] U.S. also, because of the feature."
Hailey Hart-Thompson, a junior in the College of Arts and Sciences and College of Communication, attended the event and said it is important for the company to keep in mind the human aspect of medical devices.
"I thought it was really important that [Danny] not only focused on innovation and business around the problem he was trying to solve, but also the very human connection between devices and individuals," Hart-Thompson said.
By having a personal connection to the company with Danny's birth story and revealing heartbreaking facts on infant mortality, Breegi was able to captivate the audience in his talk about his company. An incubator is not just a medical device, it saves the lives of many newborns, Danny said.
Wisam said knowing his work can help save even one life is his motivation.
"I don't think there's a better vision than to think that you will be able to save one life," Wisam said. "People always say that we will be able to save millions. So I really think that that is what inspires me to keep the company and grow."