Art does not always have to be limited to paintings and sculptures displayed in museums. In the modern age, one of the most easily-accessible art forms can be found on a PlayStation or Nintendo Switch.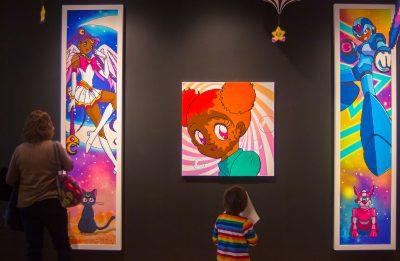 The newly-opened Massachusetts College of Art and Design Art Museum is currently featuring an exhibition called "Game Changers," which showcases artists from across the globe who have created contemporary art related to video games.
Tracy Fullerton, a professor of cinematic arts and director of the Game Innovation Lab at the University of Southern California, is one of the artists featured in the exhibition. Fullerton said she drew inspiration for her artwork, entitled "Walden: A Game," from Henry David Thoreau's book "Walden."
"For me, it's a very special book, and I think it has a lot of important themes and issues that are very relevant today," Fullerton said, "especially as we try to find more mindfulness in our lives and to really understand how we can better respect and have a relationship with nature."
Fullerton said she wanted to make a game where the participant could be present in Thoreau's experiment and try to be self-reliant in nature by simulating Thoreau's life during his time living at Walden Pond between 1845 and 1847.
Canadian artist Paloma Dawkins created four games with a nature theme featured in the exhibit: "Oceanarium," a game focused on deep sea-dwelling creatures who fear human invasion, "Gardenarium," a game that Dawkins said is about "aimlessly wandering towards your destiny and ultimate demise," "Palmystery," a ghostly stream of consciousness game, and "Songs of the Lost," a "psychedelic audiovisual experience," according to Dawkins' website.
Dawkins wrote in an email that she wanted players to feel a sense of awe when playing the games.
"I want to put my player in a state of childlike wonder," Dawkins wrote. "The same feeling we experience when we see something beautiful for the first time and we want to protect it."
Dawkins wrote that she hopes her work inspires people to be connected to the world and focus on protecting the environment.
"I think that is an important state for us all to be in right now in order to come up with novel ways to protect the environment," Dawkins wrote. "Nature is the ultimate teacher and I want my games to be a reminder of that."
Juan Obando, a Colombian artist and associate professor at MassArt, created a game featured in the exhibit called "Pro Revolution Soccer." The game was inspired by the relationship between the Zapatista National Liberation Army in Mexico and Inter Milan, an Italian soccer club, according to a description of the project on Obando's website. The two groups were supposed to play a game against each other but never did, which inspired the game.
Obando said he created the game by altering an already-established and well-known soccer video game, Pro Evolution Soccer, and inserting the army.
"I took the game on PC and I was able to hack it," Obando said. "I introduced the EZLN team with their balaclavas, with their masks, as a team that you can play the video game."
By hacking the video game but not destroying it, Obando was able to manipulate the players in the game, which he said relates to the goals of the army.
"Their military objective is not to overthrow the Mexican government," Obando said. "They are contained within the state of Mexico but they don't obey the rules."
"Game Changers" is among the first exhibitions featured in the MAAM, which opened on Saturday after nearly a decade of planning. Fullerton said she was happy to see the positive response from the community, and referenced the high turn out on opening day.
"Clearly it's very interesting to the community. Did you see the lines there?" Fullerton said. "The enthusiasm and the interest from the community was wonderful to see."
Anastasia Maher, a senior at Simmons University who visited the exhibition, said "Game Changers" supports the idea that art is meant to be enjoyed by everyone.
"I think that this exhibit as a whole is a good representation of what this museum is trying to do in making art more accessible," Maher said. "[Video games are] one of the first exhibits in showing that art doesn't have to be so elitist and inaccessible, and that it can be something that's found in everyday life and incorporated into everyday life."
"Game Changers" will be on display at the MAAM until April 19.