When Junia Janvier packed for her freshman year at BU, she brought her bags, books and idea: a start-up dedicated to help mentor young girls of color as they adjust to high school.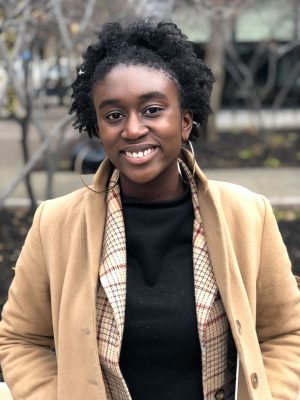 A recipient of the first-ever First Year Innovation Fellowship at the BUild Lab, Janvier, a freshman in the College of Arts and Sciences, spent her first semester at college refining her passion project, "My Sisters Keeper," a non-profit that would help seventh and eighth grade girls of color better acclimate to high school.
"I really just wanted to find [a network] when I was at BU," Janvier said, "and make sure I was able to integrate my education with my passion."
Though still in the planning stages, Janvier said she envisions My Sisters Keeper to include a series of workshops, bimonthly or monthly after school, in which the girls would learn self-care, self-love, self-expression and how to find their passions — both in her own middle school in Providence, Rhode Island and Boston.
"I'm still working on … the expectations but [the non-profit would be] something where the girls would know that they're being looked after, so they're not alone in the high school process," Janvier said. "Because I know for me, that was definitely a huge challenge."
Janvier said she decided to pursue this non-profit because of her personal experience transitioning from her middle school with predominantly students of color and an average class size of less than 20 to a larger, less diverse high school.
Though she struggled with the transition herself, Janvier said she hadn't realized she could help others until she returned to her middle school to lead a natural hair workshop, where she presented on care butters and the history of Black hair.
"[The workshop] was a moment to empower women of color about their hair," Janvier said, "especially in the space where you don't really feel that on campus all the time."
The workshop and a following conversation with a teacher inspired Janvier to craft a program in which she could connect with young girls and give them the tools they need — such as self-care and self-love, she said.
"The girls are just so smart and bright and I just really liked being there to talk with them, make connections with them," Janvier said. "And so I had an idea."
Janvier spent the fall semester at the BUild Lab refining her partially developed start-up, such as connecting with schools in the Boston area to gauge interest and communicating back to her own middle school. She said her next steps include forming a team to help her with the project.
Hailey Hart-Thompson, a First Year Innovation Fellowship coordinator and junior in the College of Communication who works directly with Janvier in the BUild Lab, said they are considering implementing the project as a summer program.
Watching Janvier take advantage of the First Year Innovation Fellowship, which offers mentorship, community support and a $500 seed grant, has been very fulfilling, Hart-Thompson said, especially because Janvier began pursuing her idea at home.
"To see someone who was that passionate in high school to come into a space where there's so many resources," Hart-Thomspon said, "it was kind of amazing to see her realize that there's so much support for her to get this off the ground."
Hart-Thompson said Janvier's story illustrates one of the key qualities the BUild Lab believes a start-up needs: an ability to address a problem, or "impact gap," in the world.
"[Janvier's] program really emphasizes confidence in a way that is tailored to young girls of color and really empowers young girls of color," Hart-Thompson said. "She's really focusing in on how to empower girls that were in a similar situation that she was, so she is finding the impact gap in her own experience."
Ahlea Isabella, marketing and communications manager at [email protected], said she interviewed Janvier for her new video series, "Voices of Impact," telling the untold stories of students driven to make a start-up because of a personal connection. Isabella said Janvier's story stands out because it relates to her own experience, which is why she was selected for the video.
"I think [My Sisters Keeper] is unique because [Janvier] is really diving deep into a community that she knows that she's experienced," Isabella said. "[She's] really, really thinking about what she can do personally, with her talents and her skills to make their experience better in middle school and high school," Isabella said.
Janvier said the most fulfilling part of her non-profit so far has been to connect with others. She said she hopes My Sisters Keeper makes a difference through connecting people with one another.
"[My Sisters Keeper] is a very people-oriented pursuit, it's great to meet new people and get to talk and really share," Janvier said. "I think that's what the purpose of My Sisters Keeper is, just creating a sharing space."