By Anastasia Samara and Angela Yang
The City of Boston has been testing out ways to incentivize its employees to save more money, and the results seem promising.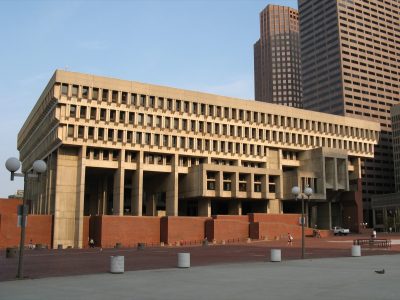 One pilot program encouraged employees of two City departments — the Boston Public Libraries and the Boston Centers for Youth and Families — to split-to-save, meaning they would deposit some money from each paycheck into a selected savings account.
The test period from June to October 2019 showed a double-digit increase in the percentage of employees in both departments who utilize the split-to-save method. Average weekly contributions amounted to $60 or more.
Current city employees who participated in the pilot are expected to save an average of $3,463 by the end of the year, according to a City press release.
Wascar Castillo, director of human resources for BCYF, wrote in an email that the pilot generated more awareness among staff members about the importance of saving up for cases of emergency.
"It is important that staff understand the importance and advantage of making financial decisions that involve taking control," Castillo wrote, "and the appropriate allocation of their financial resources such as their earnings."
To encourage their employees to save, the participating departments used economic incentives funded by a grant from the Rockefeller Foundation. After the pilot, Castillo wrote the city should look at additional programs around financial literacy.
"The fact that the office of economic empowerment was able to provide a $50 incentive to all employees who set up an emergency savings account," Castillo wrote, "was greatly appreciated by our workforce."
Jake Northrup is the founder of financial planning firm Experience Your Wealth. Northrup wrote in an email split-to-save is the best way for families to build up their savings with some direction.
"But they need to put in a lot of thought upfront about how their paycheck will be automatically allocated," Northrup wrote. "If they don't have a sufficient emergency fund of 3 – 6 months cash, they probably shouldn't be contributing to long-term investment accounts."
Castillo wrote he recommends individuals revisit their savings accounts on a yearly basis to make necessary adjustments. Otherwise, splitting to save offers the advantage of automation.
"You put upfront thought into how you want your money allocated in a way that reflects your values and then you automate the implementation part," Northrup wrote. "This really helps with the behavioral aspect of money since you will only spend what hits your checking account."
Eric Roberge, founder of financial planning firm Beyond Your Hammock, said automated saving methods are effective because they take the emotional factor of decision-making out of the equation.
"If you're feeling good one day and you're feeling great about your money, maybe you'll save a lot," Roberge said. "If you're feeling bad one day and you're not feeling so good about your money, maybe you'll save a little. So that just eliminates all of that fluctuation."
As for static emergency funds, Roberge said a good amount to store varies according to each individual's personal situations.
"The general rule of thumb is that you should have three to six months of your average monthly expenses set aside in an emergency account," Roberge said, "in case unexpected things come up."
Financial planner Mark Haser of Artemis Financial Advisors said college students and recent graduates should prioritize emergency saving over longer-term financial projects, such as retirement plans.
"Just because retirement really is so far away, getting their emergency fund in place is more important, in my opinion, at a young age," Haser said, "and then once you have that established, putting money away in various retirement accounts."
A few residents in Boston expressed their own struggles with financial planning.
Julia Hilty, 18, of Back Bay said people rarely account for potential emergency situations before they happen.
"I just had a passing in the family," Hilty said. "Nobody expects funeral funds. That's probably an emergency that nobody necessarily expects right off the bat."
Youngchae Jeong, 32, of Bay Village said he finds it difficult to pay for day-to-day expenses, and that insurance alone is often not enough to cover abrupt major emergencies.
"My income is really cutting the edge to pay for rent and babysitting," Jeong said. "People have insurance to cover emergency money, but $3,000 is not enough for a car accident."
Jeong said he believes Boston should ultimately expand this pilot program beyond just city employees, especially as the municipal government likely has data on what its residents need.
"I think the city really knows what the population has: what's the average income, and what's the average outcome for the people?" Jeong said. "I think that's the main point. Who's going to be the target?"
Jessica Russo, 28, of Fenway said that she thinks saving for unforseen circumstances, as well as educating people about saving money, is good planning.
"I think there's little education growing up in regards to planning for the future and saving so I think it's just a super smart idea," Russo said. "You never know what might happen in the future, and if you save now, that money can grow and really be a lot when you get older."