In law schools across the country, there has been controversy over the first year curriculum for J.D. candidates.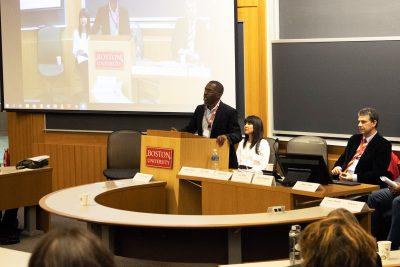 Nearly 200 faculty and students from across the country gathered in the foyer of the Boston University School of Law on Friday to attend the symposium entitled, "Racial Bias, Disparities and Oppression in the 1L Curriculum." Eight panelists, including two students, focused on the issue of diversity in the curriculums of first year law students, seeking to tackle that controversy.
The event ran from Friday to Saturday, hosting a total of 19 academics, to provide a space to have difficult conversations often absent from law school syllabi across the country.
Angela Onwuachi-Willig, dean of the School of Law, opened the symposium by speaking to her own experience as a law student of color.
"There were no discussions, for example, about race or even systematic class and property," Onwuachi-Willig said in her opening remarks. "Even when students of color, including introverted me, would muster the courage to raise points about race that were not readily visible to our peers, I cannot recall an instance when a professor used a point as an opportunity to facilitate a larger conversation."
Speakers on Friday's first panel, titled "Race and Private Law: The Role of Racial Disparities and Oppression in the Allegedly Neutral Law that Enables Free Interaction Between Equal Private Actors," discussed how private law is taught through a neutral perspective — one that does not take race, gender or socioeconomic inequality into context.
Emily Houh, who specializes in contract law at the University of Cincinnati, said academic requirements hinder incorporating contextual elements like race or gender into classroom discussion.
"The difficulty for the law student and the law teacher is that we are still obligated to learn and teach classical doctrines and formalist approaches, and to understand their centrality to the structure of private law," Houh said during the panel. "You have to take the bar exam, you have to do those things."
Osmudia James of the University of Miami said human psychology could not be divorced from engaging in and understanding the law. During the panel, she discussed the concept of the "reasonable person," a hypothetical person a judge usually instructs jury members to compare a defendant's conduct with.
While the idea of this hypothetical reasonable person is not meant to be exclusionary, James said it oftentimes unwittingly is because of whomever society perceives to be in power, typically abled-bodied, gender-conforming white men, James said.
"It's the assumption that [cis-gendered white men] are the baseline, if they have a measure against which we expect other people's perspectives, other values, other experiences," James said. "So to be considered a reasonable person, to be the one we imagine when we think about a reasonable person, is to be considered fully human."
University of Washington law student Cristina Rodriguez said she attended the conference to better understand diversity problems in legal programs, problems that she had not learned about previously.
"I'm finally getting the education that I want in law school," Rodriguez said after the first panel. "The issues are there [in the casebooks], it's just that the context is not talked about, it's not elaborated on."
Nia Johnson, who completed her J.D. at BU in 2019 and is a PhD candidate at the Harvard School of Public Health, said she believes this symposium can help combat issues of race and inequality at the academic level. In reference to the current presidential administration, Johnson said inclusion within the law is more important than ever.
"This is why we have to act responsibly about the way that we apply the law, regardless of the executive branch," Johnson said after the first panel. "We have to make sure we're teaching [students] how to reapply the law in the legislature combined with the people."
At the end of the symposium, Thomas Mitchell, a professor of law at Texas A&M University, said he recommends including diversity in teaching private law — not just for the sake of inclusion, but to make legal cases compelling in a way that piques student interest, he said.
"I think there's a lot of first year classes that students — white students, students of color — find alienating," Mitchell said in the panel. "By investing in narratives that people can relate to, I think they actually pedagogically help you understand things better."