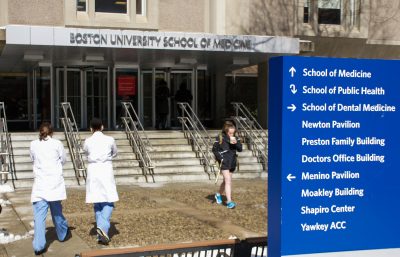 A grant for $1.4 million going toward student stipends was awarded by The National Institutes of Health's National Institute for General Medical Sciences to the Boston University School of Medicine's Post-baccalaureate Research Education Program Thursday.
BU PREP helps students who have recently graduated from a bachelor's degree program gain mentorship in lab settings as they apply to PhD programs. 
Andrew J. Henderson, a professor of medicine and microbiology and assistant dean of Graduate Medical Sciences, said most of the funding that comes from this grant will go toward stipends for students during their year working in research labs.
The program also provides guidance throughout the graduate school application process, and is specifically geared toward people from historically underrepresented groups who are pursuing biomedical sciences, according to the BU PREP website. 
Fadie Coleman, an assistant professor of medical sciences and education, said being able to provide mentorship to people applying for PhD programs who have not had access to mentors in the past is a key part of the program.
"It's a wonderful opportunity for you to really shape, mold and work with them," Coleman said, "as a partner to help them succeed."
Coleman said the program is three-pronged. It provides students with mentoring in and out of the classroom, it provides guidance through the graduate school application process and gives participants access to the academic community.
The program is currently running for its second year, and participants from its first year are continuing to pursue education in biomedical sciences. 
"I think it's an exciting program," Henderson said. "I think we've had really good success with students who are kind of discovering that they want to pursue careers in STEM."
One participant from the program's first year is in a PhD program at the University of California, San Diego, while the other two participants are working in labs in Boston.
Henderson said in order to increase diversity in STEM fields, development needs to go into all parts of the education pipeline — elementary school through graduate school. He said PREP's emphasis on developing the pipeline helped them earn the grant.
"If we're going to get more students in STEM and if we want those to be diverse students in STEM, we need to work on elementary school education, high school education, undergraduate education and graduate education," Henderson said. "One of the goals [of this program] was to help develop that graduate pipeline."
Coleman said the grant has come largely due to support from BUSM, and that the program will continue to succeed because of their supporters.
"This was born out of people who really care, and people who really wanted to make a difference," Coleman said. "I think Boston University School of Medicine has some really special people that really believe in the mission."
Amy Argentar, a junior in the College of Arts and Sciences, said the program seems like a good way to provide underrepresented students with role models in their field.
"I think the best resource for underrepresented groups is just seeing kind of a future version of themselves in a position," Argentar said.
Aditi Mittal, a sophomore in CAS, said while the program sounds great, she wishes BU would put more resources into majors outside of STEM.
"I do feel like BU is a school that is highly focused on medical sciences," Mittal said. "It would be really great if BU could focus on other majors as well."
Sophronia Vowels, a senior in the College of Fine Arts, said getting this grant from the NIGMS is an important part of being able to support the participants.
"Any program that gets funding can do a lot," Vowels said. "If you don't have the resources to do those things, a lot of that can just be unattainable."