After honoring seniors Max Mahoney and Adam Mikula with a pregame ceremony, the Boston University men's basketball team used a second half comeback to take down Bucknell University 74-71 at Case Gym on Saturday.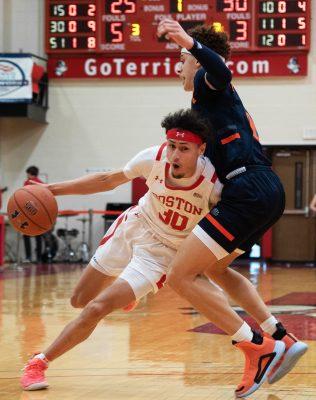 The Terriers (18-13, 12-6 Patriot League) were down by as many as 16 points in the second half before storming back to take the lead with less than a minute remaining to down the Bison (12-19, 8-10 Patriot League).
Mahoney said the ceremony was a nice recognition of the seniors' time on the team, and singled out Mikula, who made his first career start on Saturday, and the impact he's made on the team despite not being a big name on the stat sheet.
"You don't see [Mikula] too much, but he's one of the hardest working kids in our program," Mahoney said. "You've heard his story, starting as a [team] manager, working his way onto the team, working himself into a scholarship. You don't always see him, what he does everyday for us, in and out of practice, even off the court, he's just a fantastic kid. I'm really glad he ended up being my classmate."
Junior guard Javante McCoy drilled a pull-up jumper inside the key with under 30 seconds to play to give BU a two-point lead and eventually the win. McCoy finished with 17 points, three rebounds and three assists on 8-of-12 shooting.
BU head coach Joe Jones said he knows that other players will need to step up in key situations to win games, which McCoy proved on Saturday.
Jones said opposing teams design their gameplans around stopping Mahoney.
"No one's going to let Max [Mahoney] beat them at the end," Jones said.
BU struggled on offense in the first half shooting just 12-for-28 from the field including 1-of-7 from behind the arc, as well as going 0-for-1 from the foul line in the opening 20 minutes.
Despite the slow start the Terriers found themselves down only 30-25 at the break. Bucknell really hurt BU on the offensive glass in the first half by securing eight offensive rebounds for seven second chance points. 
Before BU found their second half groove, the Bison came out of the halftime locker room red hot. After a three pointer from sophomore guard Walter Ellis with 10:27 remaining, Bucknell had a 59-43 lead and looked like they were on their way to a win.
But the Terriers responded with stellar defense to end the game on a 31-12 run in the last 10 minutes. BU went 4-of-7 from behind the arc in the second half, including two from freshman guard Ethan Brittain-Watts to get the Terriers within single digits.
"We don't win that game without Ethan [Brittain-Watts]," Jones said.
Back-to-back jumpers from McCoy in the final two minutes tied it up and gave BU the lead before Mahoney grabbed his 10th rebound and added a free throw to extend the BU lead to three. Mahoney's game-high 23 points were his most in a game since a 29 point performance on Jan. 29 against Loyola University Maryland.
BU will enter the Patriot League Tournament as the number three seed and will host sixth seeded United States Naval Academy (14-15, 8-10 Patriot League) on Thursday in the quarterfinal round at Case Gym with tip off slated for 7 p.m. 
The two squads split the season series with each side winning in the opponent's building.
Jones said his team loves playing in front of the home crowd and that a raucous crowd gives his team a boost. 
"Last year was a struggle at home, there's no question [the crowd] helped our energy today," Jones said. "There's no doubt about it."